Make Your Business Presentations Remarkable
Feel more confident about your next business presentation by creating more professional looking slides. Find 750+ original articles and step by step tutorials to make your presentations more visual and memorable. Go through 200+ video tutorials to learn how to create stunning PowerPoint graphics, insightful charts, purposeful custom animation and more…
Select the section you would like to start with:
3 Key Sections
---
#1. Advanced PowerPoint Tutorials
---
Browse More PowerPoint Tutorials
---
#2. Creative Presentation Ideas & Concepts
---
Browse All Presentation Concepts
---
#3 Ready to Use Templates for Business Presentations
---
We have created products especially for business presenters. Find the right product to make your presentations more visual and structured:
How are these packs different? What kind of presentations are they useful for? Details here >

Subscribe and Download
Subscribe to the weekly Email Newsletter Success by PowerPoint and get PowerPoint Tutorials, Creative Tips and Ideas for Business Presenters, FREE .
6 Fantastic Reasons to Subscribe to 'Success by PowerPoint'… For $0
Whether you're a CEO, small business owner, trainer or anyone else who makes business presentations, subscribe here today because:
You'll be the first to hear about great new stuff from us
You'll have first access to our contests and giveaways
You'll know about our "Best of the Best" content
You won't have to come back to check for new posts!
Every email we send is designed to provide value
We'll never share or misuse your info (Privacy)
It's 100% free
To Sign up enter your email ID below


About the Key Sections: In the Advanced PowerPoint tutorials section, you will find 170+ tutorials to create diagrams and conceptual charts in PowerPoint. There are step by step instructions with screenshots and videos to help you create stunning presentation slides. In the creative ideas section, there are 100+ articles on presenting creatively. These include a range of diagram ideas for concepts, using analogy, visual metaphors and more. Many business presenters use Data as part of their slides. The third key section of Presentation Process covers ideas to make over boring data slides into interesting visual graphics. You'll also find examples of how to make your data graphs more insightful. In addition to these sections, you'll find articles and expert interviews on structuring your presentation process better and delivering confidently. If you don't have the time to go through all the tutorials, our PowerPoint template packs provide instant solutions to busy business presenters.
We wish you Happy Presenting
About Us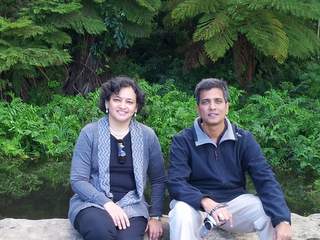 We are Arte and Ramgopal, a husband & wife team. We have a rich and focused experience in corporate & business worlds. This helps us understand your challenges better.
Read More>>
Return to Top of Presentation Process Home Page
Share Your Comments
comments