Home  > Presentation Design > Colors in PowerPoint
Learn to use the right colors in PowerPoint presentations and make your message more effective. Understand the significance of colors and where to use them for maximum effectiveness.
What is the purpose of colors in PowerPoint slides?
Colors serve a far more critical function in a business presentation than making the slides look attractive. They help you highlight a critical point, make your slide deck look consistent, convey emotions and make your message memorable.
You can pick the exact color of your Company logo using free software.
Choosing right colors for your presentations can help you enhance the effectiveness of your message. Here are some common colors used in presentations, their significance and where to use them for maximum impact.
Using the Color Red:
Take a look at the following PowerPoint title templates: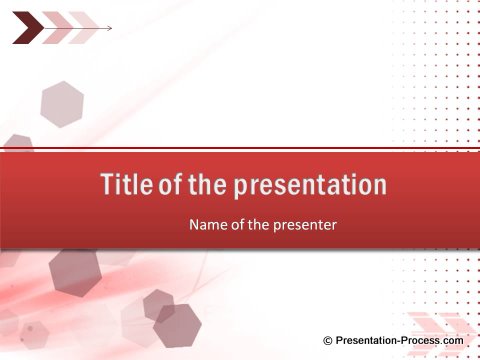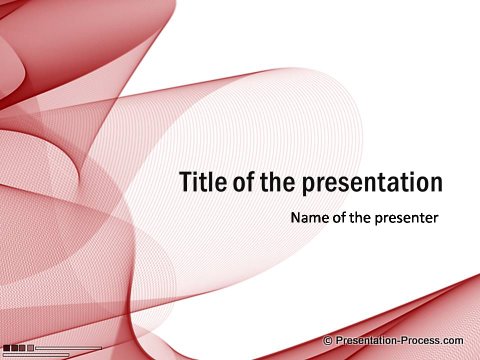 Can you feel the emotions the colors in the background convey? Do you feel a sense of energy and vigor conveyed by Red?
Red is a color for excitement. It infuses energy in you and inspires you to take action. You can download ALL 10 PowerPoint templates showcased in this article for free here.
When to use red colors in PowerPoint Backgrounds?
Use Red when you need your audience to take action. The action could be signing on the dotted line in your sales presentations or pushing harder to meet the deadlines in your project presentations. Use Red to drive results.
Just a word of caution: Red also signifies danger. So, use the color in moderation. This is especially true when you use the color in your finance presentations.
Using the Color Blue:
Take a look at the following Blue Colored Title Templates: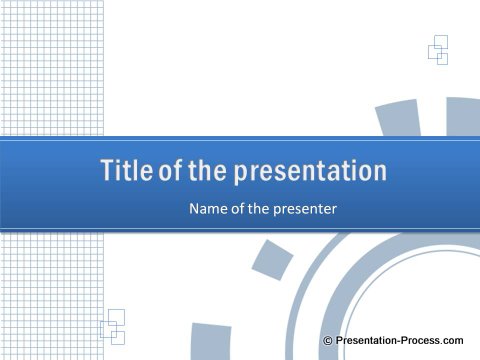 This Title Template has images with a Blue PowerPoint Background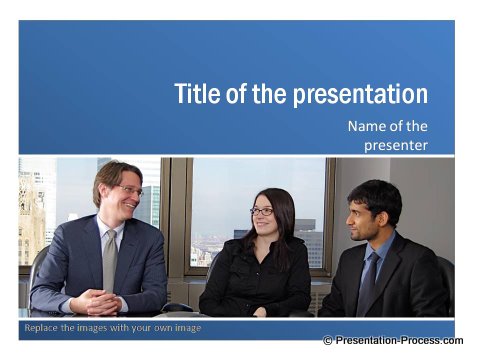 What kind of emotions do you feel when you see these title templates?
Don't you feel a sense of calmness, reassurance and trust? The images used in this PowerPoint template add to the effect.
That is because Blue signifies professionalism (probably the reason why most business presentations use a blue theme).
When to use Blue colors?
Use Blue as a base color when you want to inspire trust and credibility in your audience. If your presentation is about your company's values and tradition, blue should be your color of choice.  Blue colors in PowerPoint Titles are a great option for finance presentations and investor presentations.
Using the Color Orange in a PowerPoint Background:
What emotions do you feel when you see the colors used in the following title templates?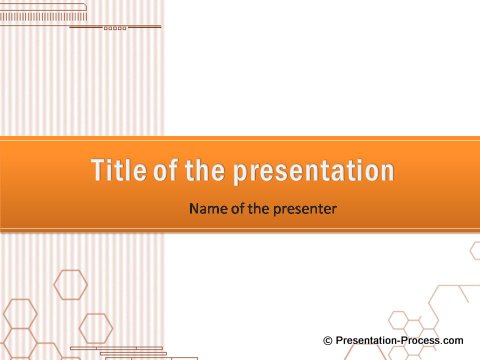 Did you feel a sense of warmth and happiness?
That is the impact of Orange. It evokes the emotions of a bright and sunny day. There is a lot of positive energy and joy generated by the color.
When to use Orange colors in PowerPoint?
Use this color to bring in cheer in your presentations. When your presentation is to youth or children, the color makes an instant connection.
When the presentation is to raise funds for a good cause or to announce a happy initiative for your staff – use orange to convey care and warmth. Avoid using the color in a big way in a serious setting.
Using Shades of Green:

Green represents nature and novelty.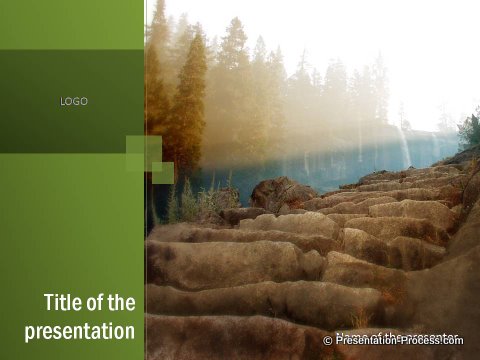 Green also represents abundance and cheerfulness.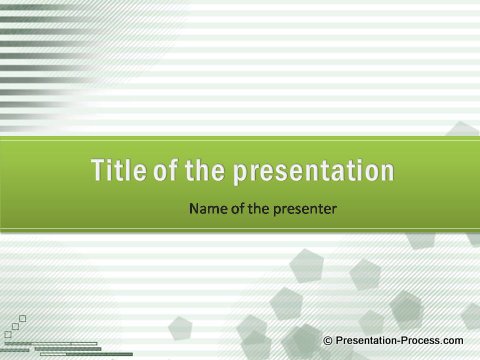 When to use Green color?
When your presentation is about health or ecology, green is a natural choice. You can use the color in your finance presentations to convey hope.
A word of caution: People affected by color blindness find it difficult to read Green and Red combination.
Using the Color Purple:
Purple is regarded as the color of royalty.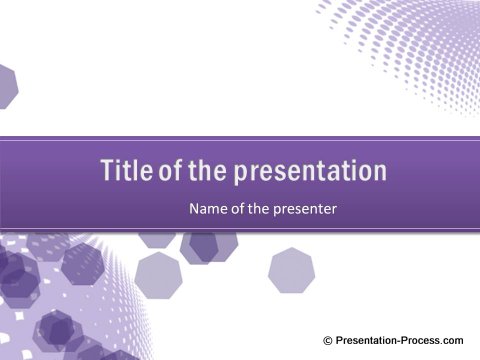 When to use the Purple color in the background?
Use the color to convey class, dignity and exclusivity. We haven't seen the color being used frequently in corporate presentations.
Banks and other financial institutions reserve the color to convey exclusivity. You can use the color in your brochures to convey luxury, richness and style.
Using the color Black:
What is the feeling evoked by the color used in the following title template?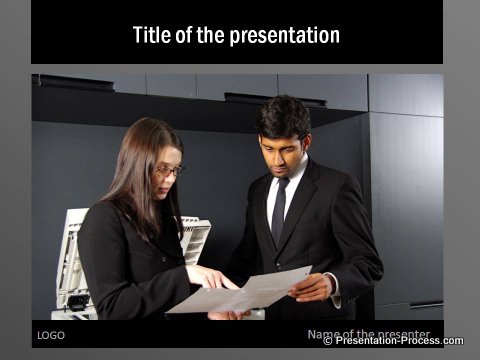 You feel a sense of sophistication and strength in the color. It also connotes conservative and conventional outlook.
When to use black color?
Since black is the result of absence of color, it makes other colors look brighter. So, it is used in the slide background to highlight product packaging in marketing presentations.
It goes well with most colors and hence used by most designers to add richness to their designs.
Conclusion:
Choosing the right colors for your presentation background can make your message have more impact and be memorable.
Try experimenting with different colors to get the feel you want conveyed. If you are not sure about the right colors to use, stick to white colors in PowerPoint Background with a few design elements to break the monotony.
Download these Title Sets Free
If you'd like to download ALL 10 PowerPoint templates showcased in this article, FREE please register and download here. On registering, you will also receive our fortnightly Newsletter – Presentation Process Updates for FREE.
Find More Professional Title Sets in PowerPoint
You can purchase a pack of 12 PowerPoint template sets suitable for all and any business occasions. For $49, it gives you full value for your money and is a must have collection if you are a business presenter.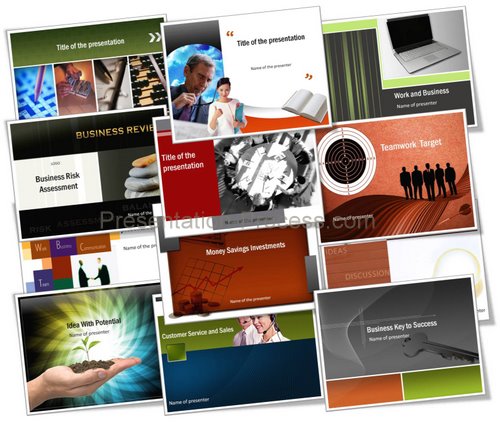 The 12 Title Templates Pack Sets contain:
Title slide with Professional PowerPoint background
Co-ordinated color scheme and
Matching Content Slides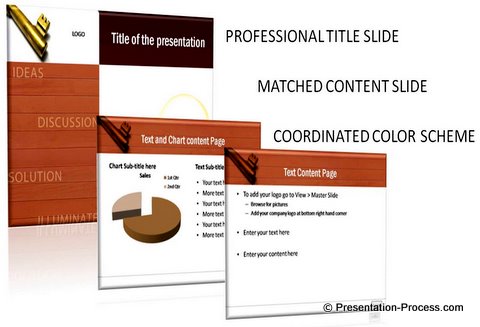 Title Slides cover the business topics of:
1. Business Handshake theme
2. Business Key to success theme
3. Consulting / Laptop / IT  theme
4. Key to Business success theme
5. Business Idea theme
6. Teamwork theme
7. Team together as a chain theme
8. Training and development theme
9. Customer Service theme
10. Business Risk or Assessment theme
11. Finance / Money/ Investment theme
12. Strategy or Sales Planning theme
Change the way you present today! Make an instant impression on your audience with these title slides.
It is simple. Just pay securely with your credit card or Paypal and download the file instantly.
Price: $49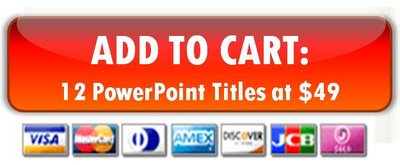 Format: Potx | For PowerPoint 2007 and 2010
File size: 4.5 MB
Download instantly on purchase

Note: Your credit card statement with show a charge to PAYPAL*PRESENT
Having trouble in payment or have a query? Contact us here.
---
Return to Top of Colors in PowerPoint Page
Share Your Comments
comments