Home >  Presentation Process Updates
Subscribe to 'Success by PowerPoint' and get PowerPoint Tutorials, Creative Tips and Ideas for Business Presenters, delivered FREE to your inbox .
As experienced managers and trainers, we have experience in the field of business presentations. Be it communicating strategy or creating training content. In this newsletter, you'll find tips, tutorials and insights to help you take your presentations to the next level.
6 Fantastic Reasons to Subscribe to 'Success by PowerPoint'… For $0
Whether you're a CEO, small business owner, trainer or anyone else who makes business presentations, subscribe here today because:
You'll be the first to hear about great new stuff from us
You'll have first access to our giveaways
You'll get our free e-courses on presentations
You won't have to come back to check for new posts!
Every email we send is designed to provide value
We'll never share or misuse your info (Privacy)
It's 100% free
To Sign up enter your email ID below
When you subscribe to 'Success by PowerPoint', you'll get:

Tutorials: Step-by-step tutorials to draw creative and useful charts and diagrams. Advanced PowerPoint 2010 and 2007 tutorials, you'll never find anywhere else. Learn 3D, Animations, innovative ideas and more…
Creative Tips and Ideas: Business presentations need not be dull and boring. Get concepts, metaphors and ideas to make your presentations more interesting and engaging. These ideas work, because we use them and train our clients too.

Expert Interviews: We speak with experts from a range of related fields like body language, Voice, Design from around the world. You get to read their insights as it applies to business presentations.

Special Discounts: We provide special discounts available only to our subscribers. You will also get advance updates about product releases.
Subscribe TODAY and get all of the following FREE…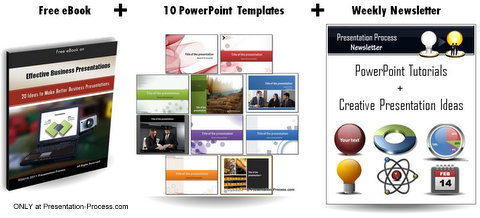 20 Creative Ideas for Effective Business Presentations eBook
3 Presentation Rubrics to help you evaluate your presentation skills, slides and delivery

When you register for the updates, you can get these valuable giveaways right away. These giveaways may change from time to time. We keep our subscribers updated about the latest giveaways at any time.
Subscribe by entering your Email ID here..

Your email ID is safe: We will NOT share your email ID with any one for any reason. We hate spam and promise not to send you anything except our Newsletter. Don't worry, you can unsubscribe anytime.
Have Feedback, Comments or Suggestions on what you would like to read?
Contact Us here. We love to hear from our readers.
Icon Courtesy : Super Mono Icon Set by Double-J Design
All the entries to the 1 slide contest for November 2012 are listed with our comments.
See Detailed Contest Entries here >>
Share Your Comments
comments