Home > PowerPoint Tutorials 2007>  3D PowerPoint Arrows
Learn to make your own cool 3D PowerPoint arrows in seconds for your business presentations with this simple video tutorial.
The 3D Arrow you'll make is: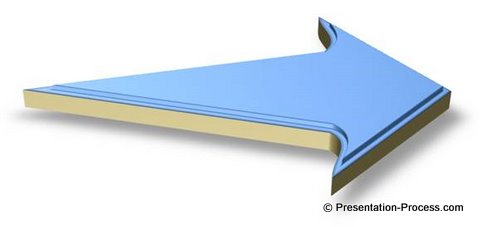 Uses of 3D PowerPoint Arrow
3D arrow is probably one of the most versatile diagrams you can use in your business presentations. We've shown you a number of ways to make 3D arrows in our PowerPoint 2007 tutorial section.
Today, we'll show you how to make a custom shaped 3D arrow that makes a professional impression in your business presentation. All it takes is a few seconds to make. See an example of how the shape is used in a slide: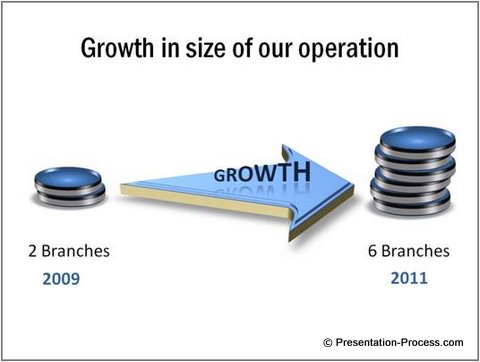 You can mix and match the shape with other elements to create your own set of diagrams. In this example, we have used a 3D PowerPoint Circle.

A custom shaped arrow never fails to impress audience. Watch the following video tutorial to create custom shaped 3D arrows in a step by step way:

Here are some templates can serve as an inspiration to make your own set of custom shaped arrows. These are some of the templates available our

750+ PowerPoint Charts & Diagrams CEO pack. Such PowerPoint diagrams can make your slides look professional instantly.

PowerPoint Diagram 1 – 4 stages:

The 4 stages in a process can be shown using these arrows combined with a rectangle shape.
Source: PowerPoint Puzzle Templates from Charts & Diagrams CEO Pack
PowerPoint Diagram 2 – Stages of Growth:
You can depict stages of growth using these custom shaped arrows.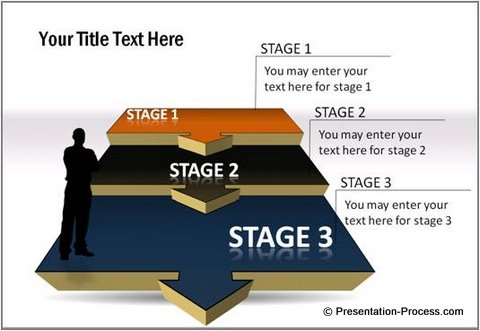 PowerPoint Diagram 3 – Process flow:
You can depict process flow using this elegant template.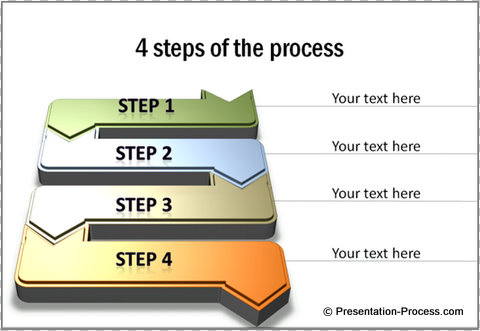 Find More Steps in PowerPoint from CEO Pack

PowerPoint Diagram 4 – 4 views:
You can depict 4 different views on an issue using this template. We combined an arrow shape with a circle to achieve the effect.
Source: Editable 3D Shapes from CEO Pack
PowerPoint Diagram 5 – 2 contributing factors:
This stunning custom made arrow almost looks impressive. You can use this to talk about two contributing factors to an outcome.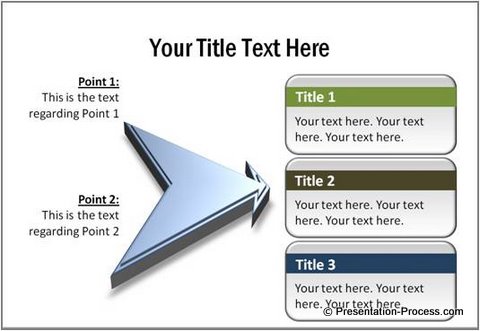 Source: PowerPoint 3D Arrows from CEO Pack
Conclusion:
You can create your own set of arrows by experimenting with shapes, lighting, shades and material. It takes some experience to get professional results. Keep practicing till you are happy with the results.
Remember, your key decision makers engage the most with your PowerPoint slides than with your brochure or bill boards. Investing one time on a professional diagram pack is a prudent business decision.
Related:Why PowerPoint should NOT be designed like billboards
Related: Branched 3D PowerPoint Arrows – Tutorials
Return to Top of 3D PowerPoint Arrows Page