Home > PowerPoint Tutorials > Special Effects > 3D Wall Graphic in PowerPoint
Learn to create a 3D wall effect in PowerPoint. Follow our easy instructions to create this useful graphic for your concept diagrams in business presentations.
The 3D wall graphic in PowerPoint you'll learn is:
There are multiple applications for this graphic in business presentations. At the end of the article, we will show you some examples. First let us learn to create the wall from scratch.
Step 1: Draw the base structure
Using 'rectangle' tool in auto shapes menu draw a rectangle and remove outline.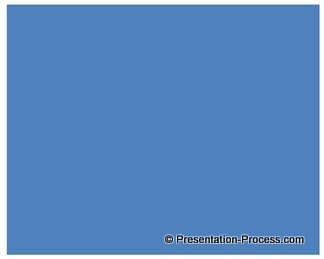 Step 2: Give it a 3D perspective
Right click on the shape and go to 'Format shape'. Under 3D rotation select the preset called 'Perspective contrasting right'.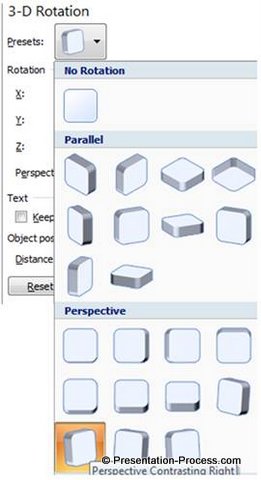 Make the angle for Z axis as '0' to avoid the slant which comes with the default preset. You will get the following result: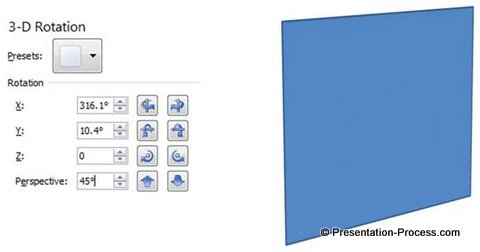 Go to 3D format tab and choose the bevel preset called 'circle' for the top surface.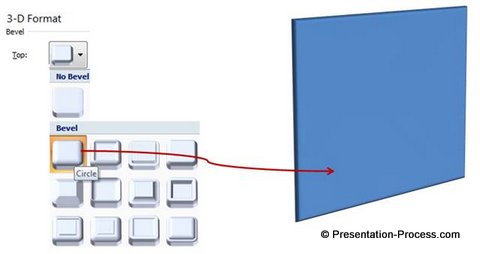 Add a depth of 30 pts to the 3D shape to get the following result:
 The wall shape is pretty much ready. However, the shape looks dull and boring. So, go again to 3D rotation tab and increase the perspective of the 3D shape to 95°.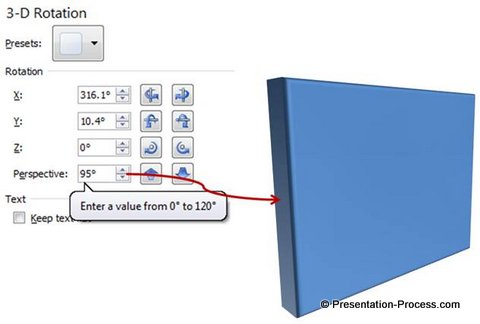 Now the shape looks interesting. You can choose to keep the shape the same way to represent a wall or you can choose to fill it with a texture. Here are some interesting results of adding texture to the shape: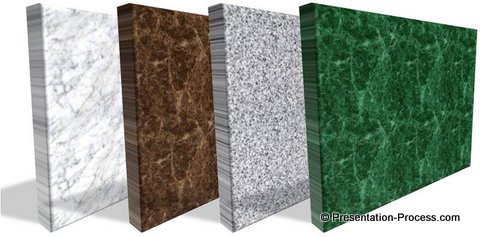 You can choose to use specific textures like 'Brick wall' to give a more professional look to the 3D Wall graphic in PowerPoint as shown below:
Related: Hand Drawn sketch effect
Applications of the graphic:
You can use the graphic to represent obstruction. For example, in the following diagram template we used the graphic to represent 'obstruction to reach No.1 position'.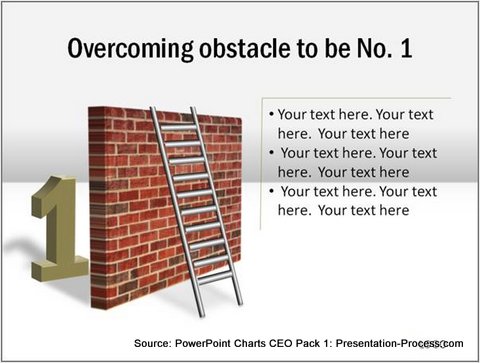 We used the graphic of a ladder to represent 'the way to overcome obstruction'. You can follow this link to learn how to create a ladder in PowerPoint.
In the following diagram template we used multiple copies of wall graphic to portray 'barriers':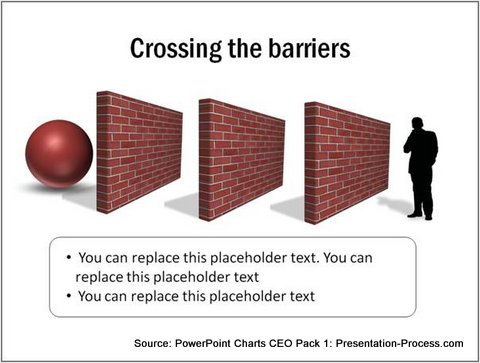 Source: Goals Templates from PowerPoint Charts CEO Pack 1
You can also represent the barriers creatively, like we have done with this extremely popular template from CEO Pack 1: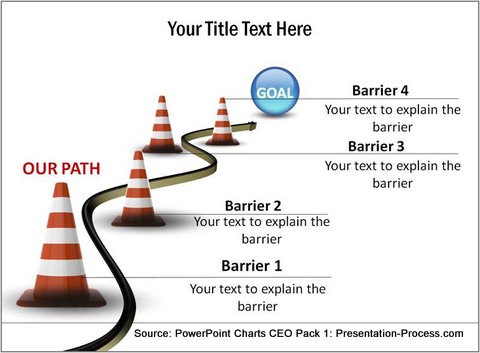 ---
It is not always worth your time to toil with the various settings of PowerPoint to create graphics and diagrams from scratch. You are much better off purchasing readymade diagram templates to save your effort and invest your time creating better content.
One of the better resources to consider for your PowerPoint diagram needs is our 'CEO packs'. The above diagram templates are taken from our 'PowerPoint Charts and Diagrams CEO Pack"
This top selling CEO pack has more than 715 premium charts, graphs, graphics and diagrams to help you visualize every business idea imaginable. Every template in the pack is unique. So, you get value for your money.
Using the templates from the packs is surprisingly easy. Just choose the template that matches your thought. Replace the sample text with your own text and your business slides get ready in no time. You can also pick elements from different slides and create a diagram template of your own. Creating professional quality business slides has never been easier.
Browse the CEO Pack here and see how it can change the way you create presentations.
---
Related: Bridge Template to Show 'Overcoming barriers'
Return to Main Special Effects in PowerPoint Page