Home > Presentation of Data Page> Column Chart in PowerPoint
Discover creative variations of PowerPoint column charts. Make your data presentations remarkable by adding relevant and useful additional information.
Who says column charts need to be boring? With a bit of creativity, you can make your column charts provide useful additional information to the audience. In this article, we will explore some creative ideas that take your column charts to the next level.
Variations of Column chart in PowerPoint:
Note: The chart templates we show in this article are part of our 'Visual PowerPoint Graphs pack'. The pack has a collection of more than 320 PowerPoint chart templates that are fully data driven. You can watch demo to learn more about the charts.
1.    Column chart with explanation in data labels:
Sometimes, when you send performance report to top management, they may not have the patience to go through your notes explaining dips and spikes in performance. The following chart template allows you to add your explanation as data labels for columns.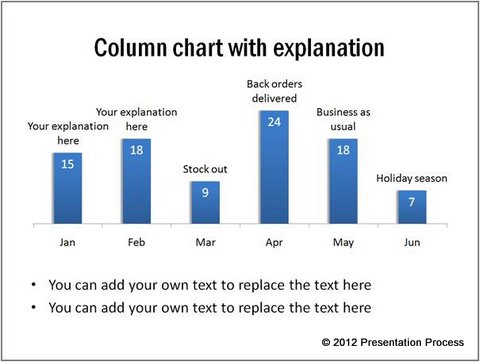 Source: Designer Column Charts from Visual Graphs Pack
Explanation is included as a data column in the embedded worksheet. So, you don't have to readjust the position of the text, each time you change values or add more columns.

2.    Column chart with gap values:
When your column chart shows a lot of ups and downs, it is not easy for your audience to calculate the gaps between values mentally. The following chart template solves the issue, by including 'absolute gap values' between columns automatically: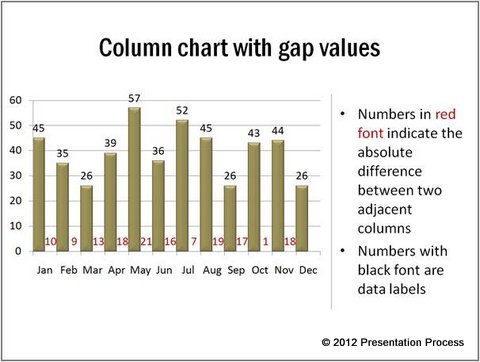 So, your audience can spend time making business decisions based on your chart, rather than doing mental calculations.
Related: 5 Steps to Present Data Better
3.    Column chart showing average performance with variation:
Sometimes, when you present average values from a data range, your audience may also want to know the upper and lower values of the data. The following chart template shows average performance with upper and lower limits.
Source: Designer Column Charts from Visual Graphs Pack
So, your audience understands the spread of the data in one quick glance.
Inference:
Thus, by adding useful additional information to your column chart in PowerPoint, you can make them more valuable to your audience. The charts are all the more useful when you add them to your business reports and dashboards, where you want to provide a lot of information in a limited space.
Smart option for business users:
If you are a busy business presenter, who doesn't have timeto create such insightful data presentations, we have a solution for you. We recommend you take a look at our 'Visual PowerPoint Graphs pack'. All the templates showcased in this article are from the pack.
We have done all the hard work of pre-formatting charts to bring out remarkable insights from your data.
The templates are surprisingly easy to edit. You just need to choose a relevant chart template from the pack, and replace sample data in the embedded worksheet with your own data.Your chart updates itself with changed values. Take a look at the demos to understand the ease of editing.
Why waste time creating your graphs from the scratch, when you have such useful solution available off the shelf?
Related: Unusual Chart Templates in PowerPoint
Return to Top of Column Chart in PowerPoint Page