Home > PowerPoint Tutorials 2007> Crossword Text Effect
Learn to create stunning Crossword text effect in PowerPoint. You can follow this PowerPoint tutorial in any version of PowerPoint 2010, 2013 or 2016. The video is created in PowerPoint on Office 365 by Ramgopal. Watch and learn from our video tutorial.
The effect you will learn to create with text is:
There are a number of uses for the effect you just saw. For starters you can make an elegant title template like the one you see below:
You can use the effect to represent your logo as an acronym for the values it represents. For example, PCT roadways may be written as P- Punctual, C- courteous and T – Trustworthy Roadways.
You can use this effect to show how two concepts are interrelated, for example, Profit and Loss.
Uses for crossword effect:
The uses are limited only by your imagination.
How to create this effect?
Though it looks sophisticated, the effect is fairly simple to create. Take a look at the following video to learn the technique in a step by step way:
Click play to view video tutorial
See a few variations of the effect:
Four quadrants:
This is another way the effect can be used. The raised platform and the accompanying text help to convey your points one after another. To learn to make the text in 3D view tutorial here.
Four causes:
See the angle in which the word 'RESULT' is written. Notice that we created an illusion of depth by making the text at the back to be smaller than the text at the front.
Source:  3D Shapes Section of PowerPoint Charts CEO Pack
5 steps in a process:
The numbers are slightly raised to give the illusion of embossing on the hexagons. You can also see the tutorial to create a 3D raised platform shape .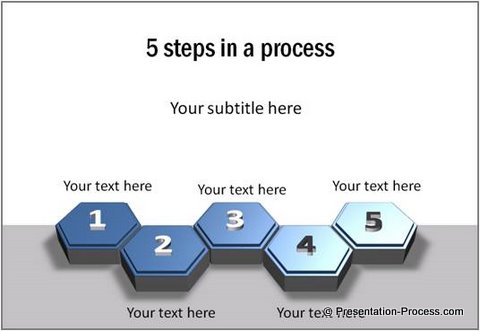 Source: PowerPoint Steps diagrams from CEO pack
The templates you saw are all from our ready to use PowerPoint Charts and Diagrams CEO pack. There are countless such effects used in each one of the 750+ templates.
By just observing the effects used in each template, you can improve your PowerPoint skills to a great extent. Seen that way, the pack is one huge tutorial to learn hundreds of PowerPoint effects and animations.
Conclusion:
In the various tutorials in this segment, we tried to help you create great looking slides. You can save time creating these elaborate effects by purchasing our pack. The one time investment on the pack is worth it.
Return to Top of Crossword Text Effect Page
Return to Main Power Point Tutorial 2007 Page to go through other tutorials.