Home > PowerPoint 2007 & 2010 Tutorials > Smart Art > Five Forces Model PPT
Learn to create five forces model with SmartArt PPT tool. Get inspired to create some interesting variations of the diagram in PowerPoint.
The Five Forces Model PPT template you'll learn is: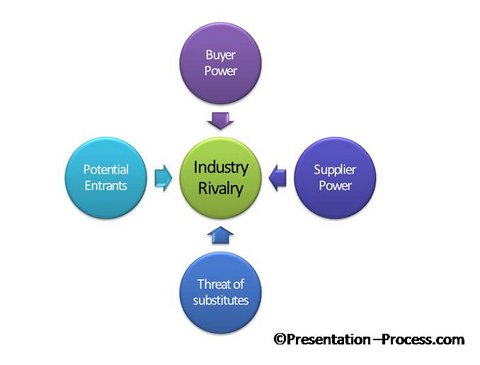 We will create the diagram using SmartArt tool. Let us learn to create the diagram in a step by step way.
1. Get Diverging Radial Graphic:
Go to Insert -> SmartArt and select 'Diverging Radial' graphic.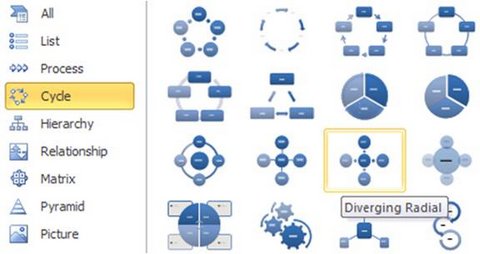 The graphic you get has arrows diverging from the center.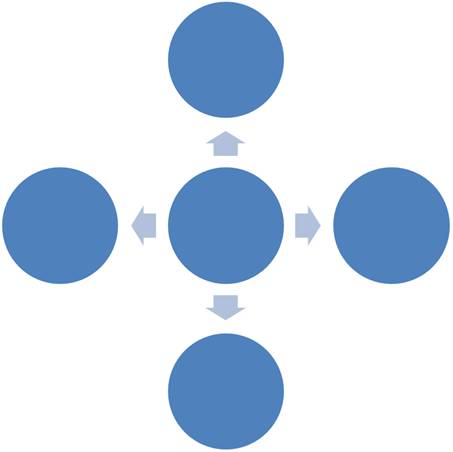 We need the arrows to converge to create our five forces diagram. So click on the arrows -> go to Arrange -> Rotate -> Flip Horizontal or Flip Vertical to flip them in the opposite direction: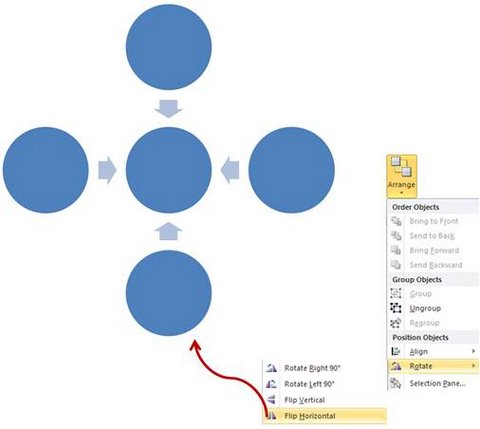 You can also see how we created a 3D Radial diagram with this same base graphic here >>
2. Add flourish to the diagram:
Click on the diagram and go to Design tab in PowerPoint ribbon. Choose one of the designs under 'Colorful' option:
The next step is to choose a quick style of your choice to add visual interest to the diagram: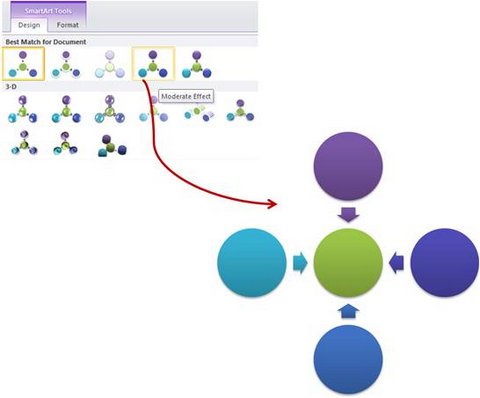 When you add relevant text like – Industry rivalry, Buyer power, Supplier power, Threat of substitutes and Potential entrants – your five factors model diagram gets complete.
Variations of the model:
Though the diagram created using SmartArt tool is elegant, it doesn't look different enough from the usual diagrams created using the tool. Let us show you some interesting variations of the diagram taken from our 'PowerPoint charts and diagram templates pack for CEOs – Volume 1'.
Here is a visual representation of the model: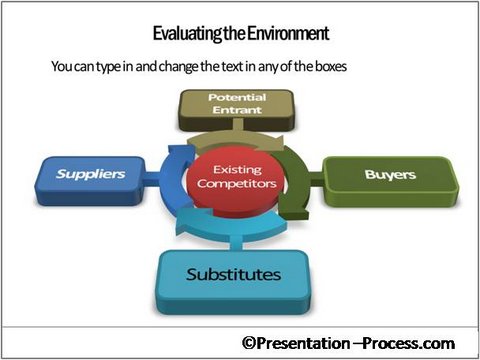 Source: Five Foces Model PPT templates from CEO Pack 1
You can try different variations of the diagram by placing the elements differently as follows: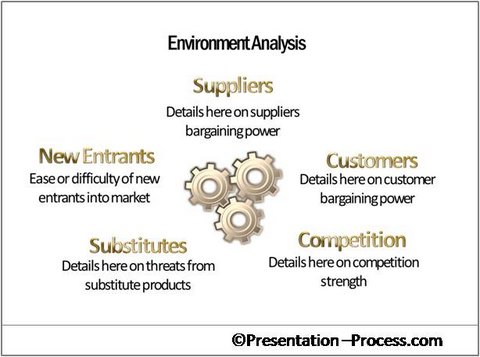 You can try some creative variations like this: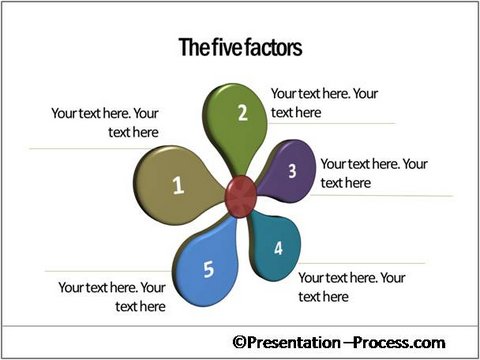 See More Creative Five Factors models from CEO Pack here >>
The model you choose depends on the way you choose to explain the concept.
Sometimes when you visualize a concept or an idea, it helps to have as many options as possible in front of you. That is when the diagram templates from our 'PowerPoint Charts and Diagrams Templates Pack for CEOs' comes in handy.
The CEO Pack ( Volume 1) has more than 750 premium charts, diagrams, graphs and graphics to help you visualize a range of business ideas. All the diagram templates are completely editable. So, you can customize the diagrams to suit your specific requirements.
Just choose the diagram template that captures your idea. Replace the sample text with your own text and your business slide gets ready in no time. You can pick and stick elements from various slides to create your own diagrams too. Creating professional business presentations has never been easier.
Browse the PowerPoint CEO Pack Collection here >>
Why waste time creating diagrams from the scratch, when you have such an elegant solution available off the shelf?
Related: 5 Creative Market Analysis Template Ideas
Return to Main PowerPoint Smart Art Page
Return to Top of Five Forces Model PPT Page
Share Your Comments
comments