Home >  Free PowerPoint Title Sets for Download
These are the 10 Free, Colorful and Easy to use PowerPoint Templates you can download by registering here.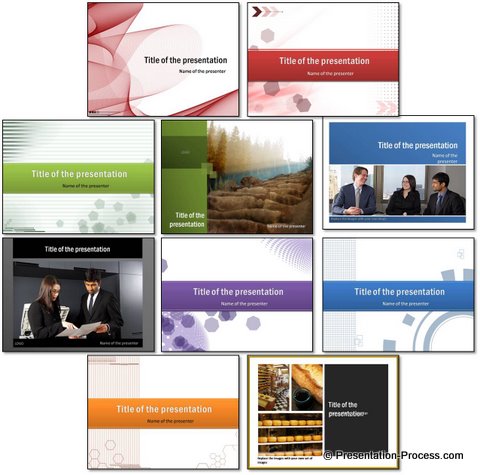 Description: File Size: 1.2 MB zipped file  File contents: 10 pptx files Content Description The Title Sets are in a variety of colors to suit any occassion. Colors include 2 Orange PowerPoint Titles, 1 Black PowerPoint Title, 2 Blue Colored Titles, 1 Purple Title Set and 2 Green PowerPoint Title Sets. The images can be easily replaced to custom the PowerPoint slide to your specific situation. You will get ALL of the following:
Download the zip file with ALL 10 PowerPoint Title Sets (pptx)
Register for our free weekly updates on new or exclusive tutorials & creative ideas from Presentation Process
…and more
Note: We will not share your Email ID with anyone. If you choose to register with us, you will receive bi-monthly emails with a quick note about latest site updates. You can unsubscribe at anytime.
Learn More About Presentation Process Updates Newsletter
Return to Top of Free Presentation Title Sets Page
Share Your Comments
comments