Home > PowerPoint Tutorials > Special Effects > Layering in PowerPoint
Here are creative ideas for layering effect in PowerPoint. Apply this useful technique to create some interesting visual effects for your business presentations.
Quick word about layering in PowerPoint:
Layering is a technique used predominantly in video production. The technique is used to create visual effects like – double rolls, ghost scenes etc.
When you overlay one object over the other on a slide – it is referred to as 'Layering' in PowerPoint. There are some useful applications of this technique in business presentations. We will discuss a few in this article.
Apply partial 'recolor' effect to a photo
Take a look at the following picture: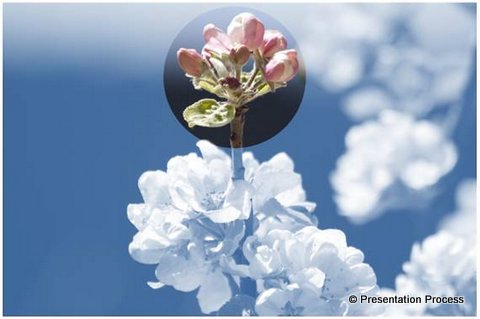 The flower buds in the picture seem to be in true color while the rest of the picture is in 'blue tone'. Here is how we achieved the effect:
First, we created a rectangle with a circular hole by placing a circle shape inside a rectangle and applying 'Shape subtract' option in PowerPoint 2010.
We then filled the new shape with the picture of flowers.
We applied 'Recolor' option to the image to get the blue tint.
We then overlaid this image on top of the original picture to the get the result you saw above.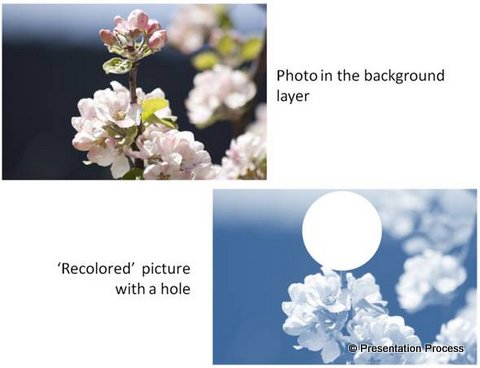 Tip: To learn more about this technique, please refer to 'Picture layering technique in PowerPoint 2010'.
Create interesting text effect in PowerPoint
Take a look at the text below:

The letters of the word 'Beach' seem to be filled with the image of a beach. Here is how we achieved the effect of layering in PowerPoint:
We wrote the word 'BEACH' on a white rectangle
We selected both the rectangle and the text while holding the 'Shift' tab and 'Cut' them
We then pasted them back as PNG image using 'Paste special' option
We removed the black letters using 'Set transparent color' option. This gave us a white rectangle with 'BEACH' punched out as a hole
We stuck the picture of a beach at the background
Tip: To learn more about this technique, please follow the article –'Transparent text in PowerPoint 2007'
Erase part of a picture
Let us say, you want to remove the upper row of singers in the following choir: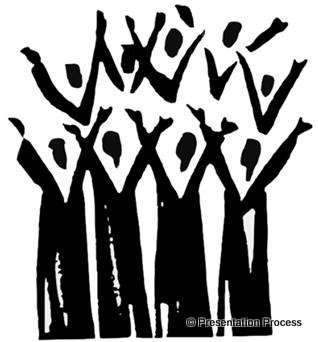 You can't use the 'Crop' tool because the tool will cut portions of the first row members too.  A simple solution is, to draw a freeform shape covering the unwanted parts of the clipart and fill it with the color of the slide background.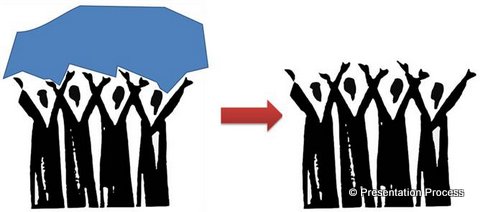 Create designer charts
Take a look at the following pie chart which uses layering in PowerPoint: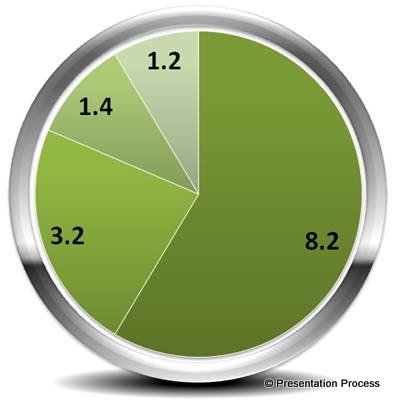 Instead of presenting the same old boring pie charts, you can use 'designer pie charts' in your business presentations. All you need to do is, to overlay the chart with a 'Donut' shape from auto shapes menu and fill it with a gradient preset.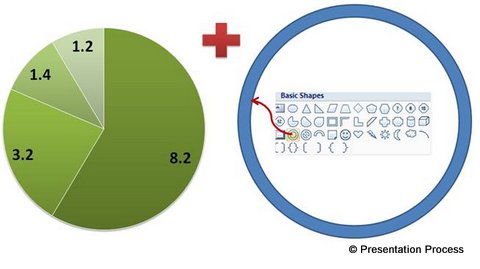 Tip: To learn more about this technique, please refer to the tutorial on creating Designer PowerPoint Pie charts.
Let your icons shine
Take a look at the icon of a shining globe here: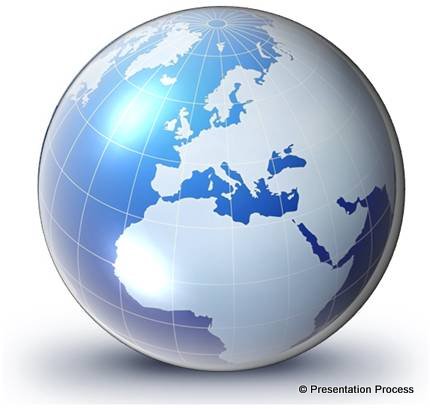 We achieved the sheen on the object by overlaying a 3D transparent sphere on a flat 2D image as shown below: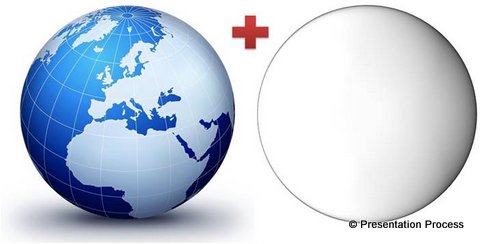 Smarter option for Business Presenters
There is no doubt that professional looking graphics make your message memorable. However, it takes a lot of time and effort to create high quality graphics from scratch. Most business presenters don't have the time to create such professional quality graphics for themselves. That is why we came up with our 'PowerPoint charts and Graphics 2 CEO Pack Bundle'.
The two CEO packs have more than 1600 premium charts, graphs, graphics and diagrams to help you visualize every business idea imaginable. Just choose the template that matches your thought and replace sample text with your own text. Your business slides get ready in no time. Creating professional quality business slides has never been easier.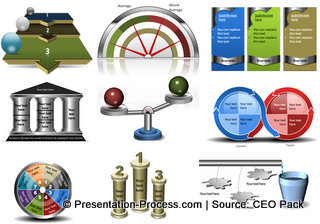 Why waste time creating your graphics and diagrams from scratch, when you can invest the time to create better content instead? Please browse through our diagrams collection and see how the CEO packs can change the way you create your business presentations forever.
If you liked this article, please leave us a comment below. There are 200+ advanced PowerPoint tutorials on this site to help you make better business presentations.
Related: Creatively using Borders in PowerPoint
Return to Main Special Effects in PowerPoint Page