Home > Presentation Ideas >  Presentation Graphics > Market Analysis Template
Creating a Business plan presentation? Discover some interesting and creative models to present your market analysis to your audience.
A quick word about Market Analysis Template:
When you create a business plan, market analysis template helps you understand your market from different points of view. It helps you evaluate your current position and judge your future potential. It shows you the direction to take and the dangers to avoid.
There are many useful templates to help you make the analysis. In this article, we will explore 5 simple and effective models of analysis.
Model 1: Porter's 5 Forces model:
Michael Porter's 5 forces model helps you evaluate the competitive strength and position of the business you operate in.
The following template gives a quick overview of the 5 forces that operate in the market. You can use this slide as a guide post to explore each of the forces in detail in subsequent slides.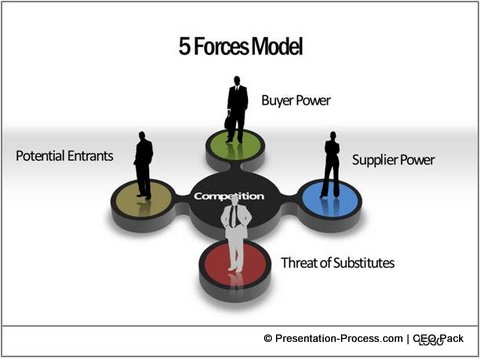 Source: Porters 5 Forces Model Templates from CEO Pack 
 Model 2: PEST analysis Template
PEST analysis helps you review your business from Political (P), Economic (E), Social (S) and Technological (T) perspective. The tool is usually used for strategic and marketing planning purposes.
The following template helps you give a quick overview of the 4 factors in relation to your business:
Source: PowerPoint PEST Diagrams from CEO pack
 Model 3: Variations of PEST:
There are some interesting variations of PEST analysis. Some experts have added Environmental and Legal analysis to the earlier four factors and called the model as PESTEL.
The following template helps you capture the variation:
 Model 4: SWOT analysis
While PEST analysis is to evaluate market position, SWOT analysis is to evaluate a business or project proposition. SWOT refers to Strengths (S), Weaknesses (W), Opportunities (O) and Threats (T).
The following market analysis template helps you capture an overview of the four elements. The visual at the background gives a context for the analysis.
Source: PowerPoint SWOT Diagrams from CEO Pack
You can find more creative ideas for SWOT templates here.
 Model 5: Buying process
Once you analyze the market and business unit, it is time to analyze the customer's buying behavior.
While there are many useful templates that explore the process in detail, here is a simple one that captures the buying process:
Source:PowerPoint Chain and Value Chain Diagrams from CEO Pack
You can explore more options to explain buying and selling processes here.
Marketing Analysis Template & More for business presenters:
As a business presenter, it is helpful to have a stock of useful templates in your templates library. The templates not only help you make better presentations, but also make you see your business from a fresh perspective.
We realize that busy presenters like you may not have the time to create an elaborate library of high quality templates. That is why we came up with our '750+ PowerPoint Charts and Diagram Templates for CEOs'. The pack is a treasure house of useful templates to help you visualize your business ideas and concepts fast.
Take a look at some of the samples from the pack:
PowerPoint PEST:
PowerPoint Porters:
Stylish PowerPoint VENN Diagram:
Stunning 3D PowerPoint Swot Diagram:
Multicolor PowerPoint 5 Factors:
Source: 5 Factors Diagram from PowerPoint CEO Pack
For your convenience, we made all the 750 templates in the pack as fully editable. So, you can copy our diagrams to your slides and replace sample text, to create professional presentations in minutes. Why waste time creating your slides from scratch when you have such useful product available off the shelf?
See PowerPoint Charts & Diagrams from CEO Pack here
Related: Strategy Diagrams: 3 Creative Ideas In PowerPoint
Related: 3 Unique Cycle Diagram ideas
Return to Top of Market Analysis Template Page