Home >PowerPoint Tutorials > 2007 Tutorials >Organization Chart in PowerPoint
Learn to create stunning 3D Org chart in PowerPoint. Add visual interest to your business slide by following this simple step by step tutorial.
A quick word about Org charts:
Whether it is a simple orientation presentation to new employees or a presentation to venture capital firm for raising funds for your new venture – org charts are essential part of most business presentations.
Usually slides with org charts are fairly boring. In this article, you will learn to create an org chart that is visually interesting. The chart is surprisingly easy to create.
The 3D organization chart in PowerPoint you'll learn is: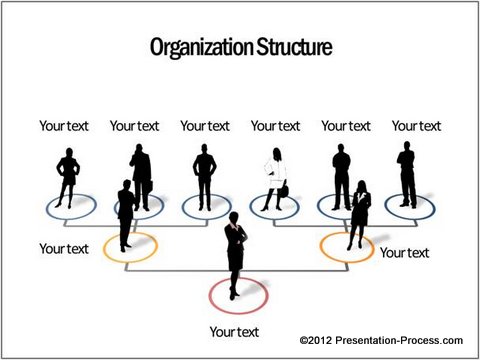 Isn't the chart interesting? The diagram adds human element to what could have been just boxes and lines. Let us see how to create this diagram in a step by step way.
Step 1: Create the hierarchy diagram:
The two shapes we will use to create the diagram are Oval and Line.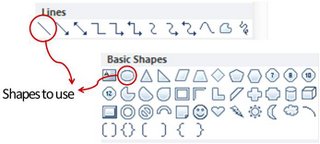 Go to Auto shapes menu and create a simple hierarchy diagram using the two shapes as follows: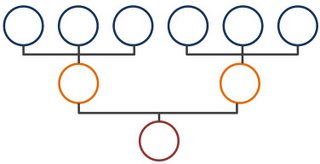 Choose the 'Shape Fill' color as 'No color'. Vary the line color for the circles to differentiate the levels in hierarchy. Once done, select all the lines and circles and group them using 'Ctrl + G' shortcut.
Step 2: Add 3D Perspective
Right click on the group and go to Format shape. Go to 3D rotation -> Presets -> Perspective relaxed as shown below: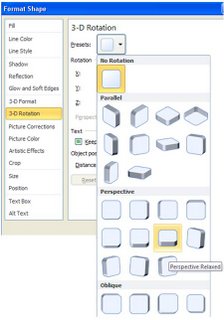 You will get the following 3d chart:

Step 3: Place Silhouettes
Place silhouettes of executives on each of the circles and write their names on top. You can find free silhouettes by searching on the net. The final result will be as follows: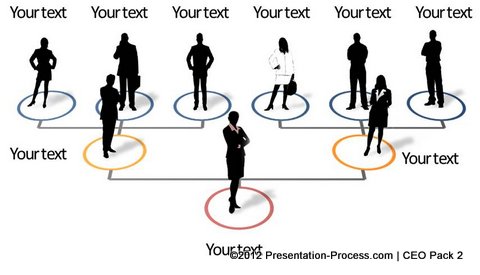 Thus by a simple application of 3D perspective you can make your boring org charts look remarkable.
You can create more variations of org charts using the same technique. We wish to show you some diagram templates for 3D org charts from our 'CEO Pack – Volume 2' to serve as inspiration. This pack has more than 815 readymade business concepts, business models and PowerPoint graphics to help you visualize business ideas. All the diagram templates are fully editable in PowerPoint.
Variations of Organization Chart in PowerPoint:
You don't have to settle for just a network representation for your org chart. You can represent the composition of a team using circles with 3D perspective as follows: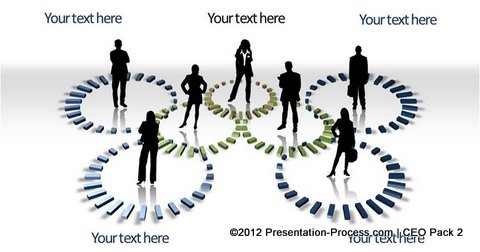 Source: Hierarchy Charts from PowerPoint CEO Pack 2
You can place the silhouettes on a connected 3D shape as shown below: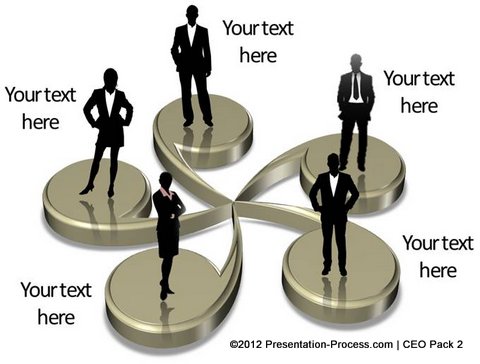 You can use simple icons instead of silhouettes if you wish and represent circles of influence as follows: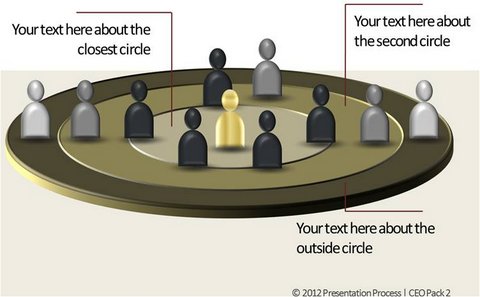 The variations are limited only by your imagination.
While good diagrams definitely make your business audience sit up and listen to your presentation, the diagrams are quite time intensive to create. Most business presenters like you are too busy to invest the time needed to build the diagrams from the scratch.
That is why we came up with our 'PowerPoint Charts and Diagrams Packs for CEOs'. The two packs have more than 1600 high quality diagrams to help you visualize every business concept imaginable. In fact, all the diagram templates you saw in this article were taken from the packs.
Editing the PowerPoint templates from the pack is quite easy. You just need to choose your template, replace the sample text with your own text and your business slide gets ready in no time. Creating professional business slides has never been easier. You can browse through the high quality solution available off the shelf here:
Please browse through our collection and see how the diagram templates can change the way you create your business presentations forever.
Related: Creative Organization Chart Ideas