Home > PowerPoint Tutorials > Special Effects > Photos in PowerPoint
Discover a simple way to arrange a stack of images in PowerPoint. Use the technique to showcase pictures in your business presentations.
The stack of photos in PowerPoint you'll learn is:
The technique is quite useful when you want to…
Show product pack shots in your marketing presentations
Show photos of famous touring destinations if you are a travel company
Create an elegant animated photo gallery etc.
Let us learn the steps to create the visual from scratch.
Step 1: Standardize the image size
One of the common issues while showcasing photos in PowerPoint is the variation in size of individual photos. When the photos are not of a standard size, you get a messy result when you stack them up. So, the first step is to standardize the size of various images. A simple way to do that is to draw a rectangle that represents the size of the photo you want to showcase.
 Select the photo and 'Cut' it. This will move the image to the clipboard of PowerPoint. Right click on the rectangle you just drew and go to 'Format shape'. Under 'Fill' tab go to 'Picture or Texture fill' and click on 'Clipboard' tab. This will fill the rectangle with the picture you just 'cut'.
 Now that you have standardized the image size – you can replace the 'picture' with any image of your choice using 'Fill picture' option.
You can create a hand drawn background effect with this option. See how here >>
The next step is to…
Step 2: Add a border and shadow to your image
Right click on the image and go to 'Format shape' option. Click on the 'Line color' tab and choose white color for the border. Go to 'Line style' tab and choose width as 24 pt. Let the 'Join type' be 'Miter' instead of the default 'Round' option as shown below:
 The next step is to add shadow. For this go to 'Shadow' tab and choose 'Outer' -> Offset centre preset. The result will be as follows:

 Make copies of this framed photo and replace with images of your choice. Since you would use 'Fill picture' option to replace photos the size of the photos will remain standard:
Related: 5 Wrong Ways To Use Pictures In PowerPoint
Step 3: Arrange and Animate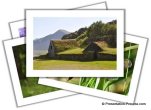 The last step is to rotate the images at different angles and stack them one on top of the other. Go to custom animation and choose 'Fade' option under 'Entrance' effect for each of the images. This will allow your images to come on'click', to help you explain your photos as they appear on slide.

Your stack of photos is now ready for display.
Variations to showcase images:
There are many more interesting ways to showcase your images. Let us show you some examples taken from our 'PowerPoint CEO Packs'.
In the following template, you can show one image per slide:
Source: Background Slides from PowerPoint Graphics CEO Pack 2
In the template below, we used a push pin to 'pin' the image:
 You can pin the image to a 'notice board' graphic as shown below:
 When you showcase your photos in PowerPoint effectively, you leave a lasting impression on your audience's mind. However, creating professional quality slides like the ones you just saw takes a lot of time and effort.
If you are a busy business presenter, who can't afford to spend the time needed to polish your slides, we have an elegant solution for you. We recommend you take a look at our 'PowerPoint charts and diagram templates packs for CEOs' here >>
The two CEO packs have more than 1600 premium charts, graphs, graphics and diagrams to help you visualize every business idea imaginable. You just need to replace the sample text with your own text and your business slides get ready in no time. Creating professional presentations has never been easier.
If you found this tutorial useful, you may like some of the other 170+ tutorials on this website…
Related: Showcase for Product Images in PowerPoint
Return to PowerPoint Special Effects Page