Home > PowerPoint Tutorials 2007>  PowerPoint 3D Arrows
Learn to draw stunning PowerPoint 3D arrows in a matter of seconds. Watch and learn from a simple video tutorial for PowerPoint 2007.
The 3D arrows you'll learn to draw are: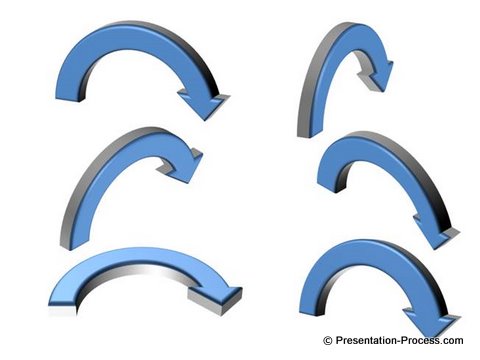 Arrows are the one of the most frequently used PowerPoint diagram shapes:

When you want to include 3D diagrams in your PowerPoint slides, it is helpful to have 3D arrows to show the relationship between objects.

It is surprisingly hard to find good 3D arrows. Even if you do get them, they may not be in the angle you require. So, learning how to make good 3D arrows is very useful for a business presenter.

In this article, you'll learn to make 3D arrows of your choice in a matter of seconds.

Watch the following PowerPoint 2007 Tutorial Video to learn the process:

Take a look at the versatility of 3D arrows in the following PowerPoint diagram templates:

Here is a 3D arrow used to explain a circular process: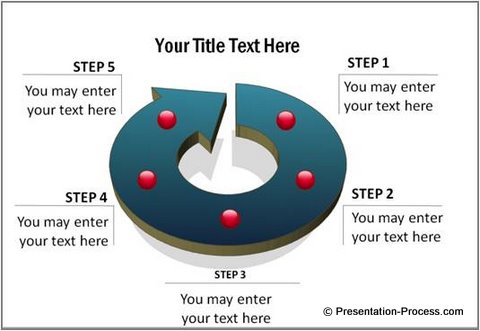 This 3D arrow shows how two factors lead to one outcome: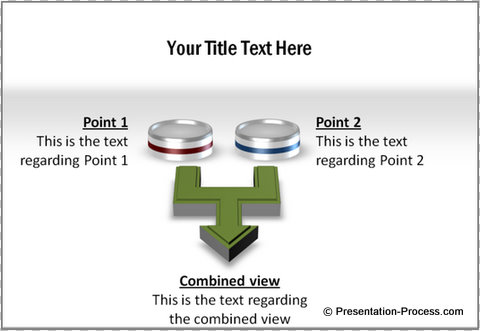 This is the other side of the coin. This 3D arrow shows how one factors leads to two outcomes: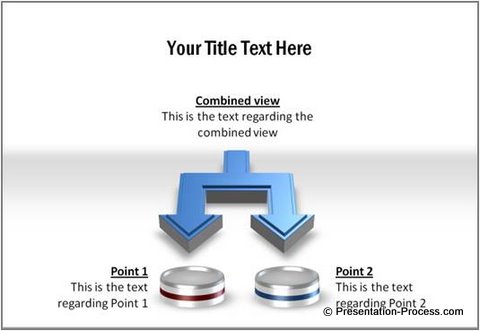 Source: PowerPoint Process Flows from 750+ Charts & Diagrams CEO Pack
These set of 3D arrows depict the stage wise flow of information: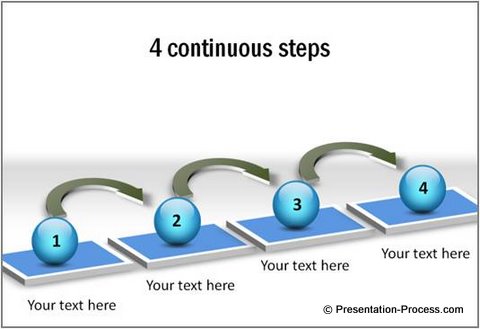 These four 3D arrows show four reinforcing factors in a circle: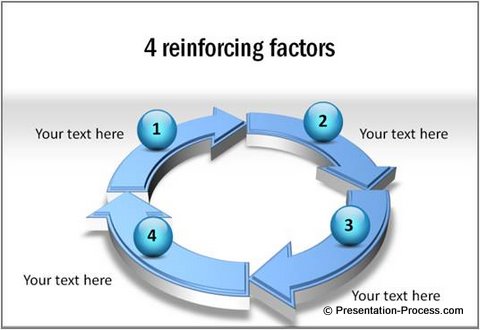 Source: PowerPoint Circle Diagrams from 750+ Charts & Diagrams CEO Pack
Conclusion
3D arrows add a good variety to your PowerPoint diagram arsenal. Their uses are limited only by your imagination. Experiment with 3D options in PowerPoint 2007 and create your own arrows.
If you are too busy to experiment, you may consider taking a look at our PowerPoint Charts & Diagrams CEO pack with over 750 unique templates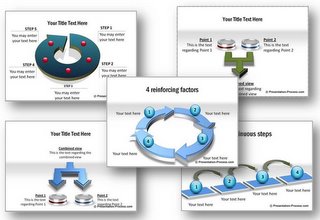 Related: Cool 3D Arrow Tutorial for PowerPoint
Related: How to make 3D Arrows with PowerPoint SmartArt
Return to Top of PowerPoint 3D Arrows Page