Home > All Tutorials > Tutorial Videos> PowerPoint 3D Diverging Arrows
Learn to create the useful PowerPoint 3D Diverging arrows to use in your presentations. The diverging arrows can be used to represent concepts of 4 points of view, different directions, points arising from the core, 4 related points, core diagram and cause effect diagram. These graphics were created in PowerPoint 2013.
Here is the final 3D Arrow diagram you will create by following this tutorial:
Click play to view the tutorial:
Here are some of the examples showcased in this video. These examples are taken from PowerPoint Charts and Graphics 2 CEO Bundle.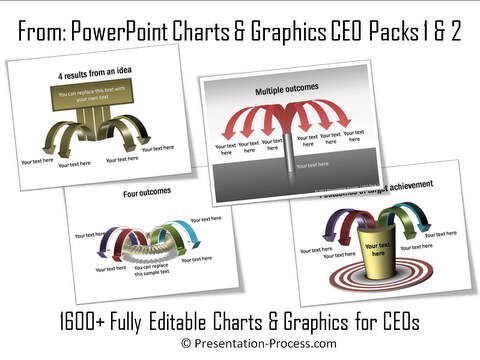 Hope you liked our tutorial. If you want to learn more such tutorials, please browse through this site. You will find 300+ PowerPoint tutorials and 80+ Creative Presentation Ideas. Thanks a lot for watching the video and happy presenting!
Related: Filter diagram in PowerPoint
Return to Main PowerPoint Tutorial Videos Page