Home > > > All Tutorials >> Tutorial Videos>> PowerPoint> Bulb
PowerPoint Bulb Video Tutorial showing step by step process of creating this useful element for business presentations
In this edition of Advanced PowerPoint tutorials series, you will learn to create a light bulb in PowerPoint using 2010 or 2013 version. A light bulb is a common metaphor for "idea". So, there are a lot of applications in business presentations once you create this graphic. Let us learn to create this useful graphic in PowerPoint.
Click play to view the tutorial:
Stay Updated about New Tutorials
Follow our Youtube Channel
Here is a sample of the PowerPoint Bulb Diagram we created: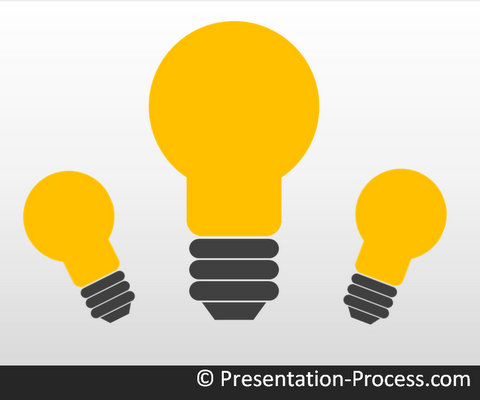 Here are some ways in which you can use this shape as an idea metaphor:
1. Show inspiration from an idea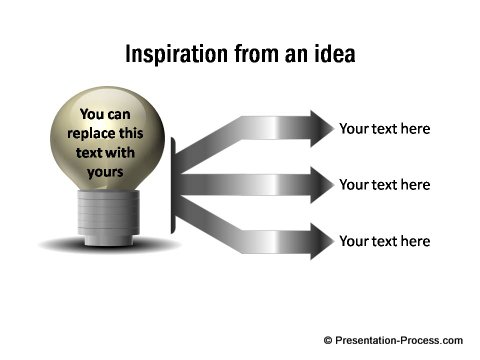 2. Impact of a bright idea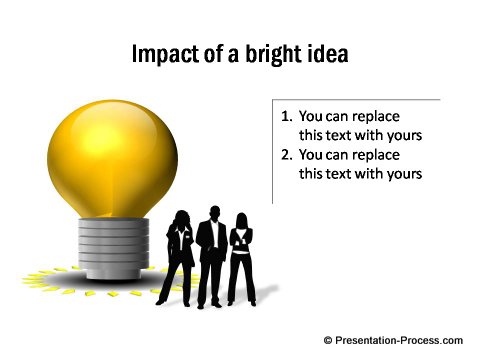 Source: Idea concepts from PowerPoint Graphics CEO Pack 2>
3. Steps in selecting good ideas
4. Animated Replicating a good idea
Source: Advanced Custom Animation templates for PowerPoint
 Hope you liked our tutorial. If you want to learn more such tutorials, please browse through this site. You will find 200+ PowerPoint tutorials. Thanks a lot for watching the video and happy presenting!
Related: Tutorial for Visual Diagram : Signal Tutorial
Return to Main PowerPoint Tutorial Videos Page
Return to Top of PowerPoint Bulb Video Page
Share Your Comments
comments