Home > All Tutorials >  PowerPoint Tips > PowerPoint Clipboard
Every time you select an item and press 'Ctrl +C' or 'Copy' button (or even 'Ctrl +X' or 'Cut' button), the item gets placed in the short term memory of your computer – called Clip board. You can paste the items in the clipboard to your slides. In this article, you will learn a few things not commonly known about the PowerPoint Clipboard tool.
1. Accessing the clipboard
You can access the clipboard pane by going to 'Home' tab in PowerPoint ribbon and clicking on the drop down option in the top left corner called 'Clipboard' group.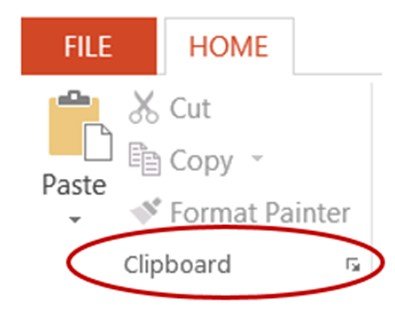 When the pane opens up, you will be able to see all the items that have been copied recently: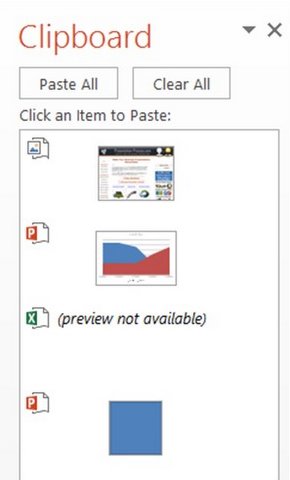 2. Clipboard has a large capacity
Do you know that clipboard can hold up to 24 items now? In the earlier versions of PowerPoint, the clipboard could hold just a single item at a time. Now, in the later versions of the software, the capacity of clipboard has been increased dramatically. This speeds up the time it takes to create presentation slides.
You may like: Top 2 Tips for PowerPoint to Save Time
3. Clipboard is not just limited to PowerPoint
Clipboard in PowerPoint holds any item you copied. This could include a web page you copied earlier, a chart in Excel or a complete slide. Take a look at this clipboard snapshot:


There are all kinds of things included in the pane.
3. Order of storage
The item you copied last will be shown on top of the pane, followed by the item you copied earlier and so on. Thus, when you press 'Ctrl + V' to paste an item, it always pastes the last item copied (in fact, the last item copied rests in the system clipboard instead of office clipboard for immediate access).
Related: Detaching the Tool panes in PowerPoint 2013
4. Pasting Clipboard items
To paste an earlier item in the Task pane, click on the small drop down arrow next to the item. You will get an option to 'Paste' or 'Delete' the item.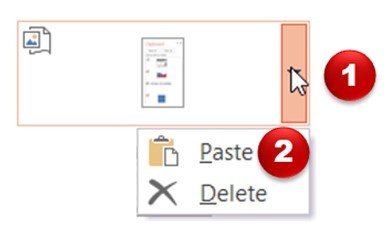 The options are indicated in the image above.
5. Using Clear All or Paste All
You can paste all the items in the clipboard on to a slide or clear all the items from the clipboard by pressing the following buttons: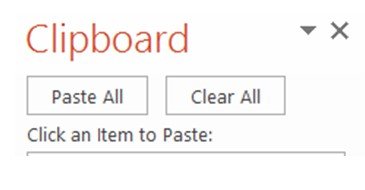 When you restart your computer, all the items in the clipboard are cleared as well.
Those were some interesting and useful things about clipboard option in PowerPoint.
If you found this article, please leave us a comment below. You will find 200+ PowerPoint tutorials on this site.