Home > All Tutorials > Tutorial Videos> PowerPoint Crop Picture
Learn to crop part of a picture to highlight a section of a larger image in your presentation. This PowerPoint Crop Picture tutorial has been created in PowerPoint 2013.
The typical crop tool in PowerPoint allows only a rectangular crop with straight edges. In this tutorial you will learn to cut in a circular shape as shown in this example below: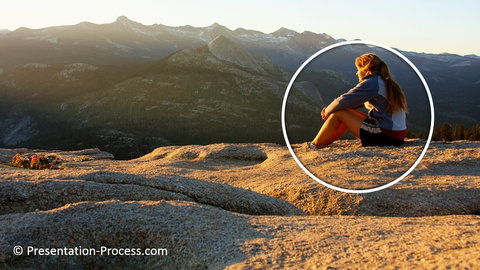 Click play to view the tutorial:
Stay Updated about New Tutorials
Follow our Youtube Channel
The PowerPoint slide samples showcased in this video are taken from Advanced PowerPoint Animations Pack with 750+ ready to use templates. Learn more about this useful resource for business presenters:
Hope you liked our tutorial. If you want to learn more such tutorials, please browse through this site. You will find 300+ PowerPoint tutorials and 80+ Creative Presentation Ideas. Thanks a lot for watching the video and happy presenting!
Related video : Picture highlight.
Return to Top of PowerPoint Crop Picture in Circular Shape Page
Share Your Comments
comments