Home > PowerPoint Tutorials > Special Effects > PowerPoint Effect
Learn the effect designers use to create impressive PowerPoint diagrams. See the video on how to create the sheen effect for your auto shapes.
A simple trick that makes an instant impression
Ever wondered why the diagrams created by presentation designers are more impressive than the ones made by others? The reason is – they use a simple effect in PowerPoint that brings a visible difference to their auto shapes. They use the power of 'sheen effect'.
What is the 'Sheen' PowerPoint Effect?
Sheen is that little transparent spot which reflects light on an object. It makes a regular PowerPoint shape look far more real, 3D and professional. You can make creative diagrams without PowerPoint Shapes as well.
In case you you PowerPoint shapes, see the difference brought about by a simple 'sheen' to a rectangular text box:
 In this PowerPoint tutorial you'll learn how to achieve exactly this effect for your auto shapes.
When to use sheen?
You can use sheen in PowerPoint slides…

Learn how to create sheen by watching the following video:

Here are the steps one again to review what you saw this this video:
Add a rectangle shape and remove outline
Right click on the shape Fill > Gradient Fill > Preset Color> Moss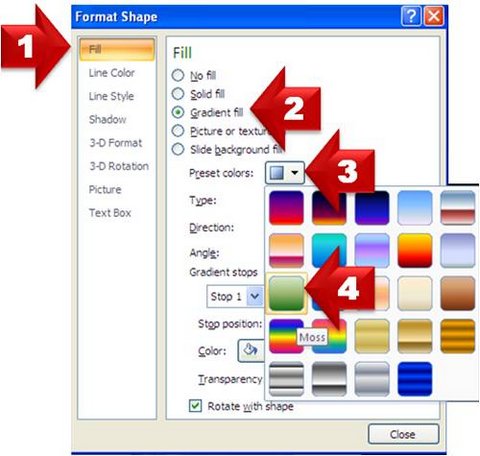 The Moss gradient full has 3 Gradient stops. We edited each one as follows…
Edit the gradient stops and Set Stop 1 to White fill with 60% transparency
Set Stop 2 to White Fill and 85% Transparency
Set Stop 3 to White fill and 100% Transparency
Close the Formatting Menu and you'll get a sheen like this: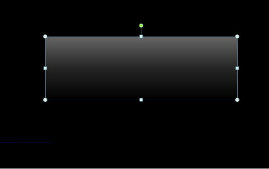 Here is what can you do with once you learn to create this effect…
Practical application of sheen effect:
Sheen Effect for Text Boxes
Source: PowerPoint Timelines from CEO Pack 1
 Another sheen effect used in presentation agenda
Source: Strategy from PowerPoint Charts CEO Pack 1

PowerPoint Sheen Effect in Circular Diagram
Can you see how professional this diagram looks?
Source: Puzzles from CEO Pack 1
Professional Sheen Effect used in Images
See More PowerPoint concepts from CEO Pack 1 >>
In each of the above diagram templates we used sheen to get the professional feel to the slides.These sample professional diagram templates are part of the 750+ PowerPoint Charts and Diagrams CEO Pack Volume 1.
A note to keep your presentation professional:
The sheen simulates the effect of light shining on objects. So, when you use sheen, make sure that it is consistent across all objects. Keep the transparency levels and direction of lighting consistent.
Related:3 Creative SWOT Analysis Template Ideas
Return to Top of Sheen PowerPoint Effect Page