Home > Presentation of Data Page> PowerPoint Info Graphic Example
Discover the power of PowerPoint info graphic to make your data presentations memorable. See a creative example that showcases the value of the tool.
Why use PowerPoint Info graphic?
Preparing for a data presentation can be tricky. The numbers that seem 'self explanatory' to you – appear 'confusing' to your audience. Your 'simple' charts – sometimes can leave your audience totally clueless. The reason is – 'presenter's curse of knowledge'.
When you create a data presentation, you get so deeply involved in your subject that you forget to see your numbers from your audience's point of view. You assume that your audience has the same level of knowledge and the context that you have. Your assumption obscures the message you want to convey.
A simple way to overcome this issue is to provide as much visual context to your numbers as possible, in your presentation. When you visualize your data, you are forced to see beyond the cold numbers and focus on the message conveyed by those numbers.
A useful tool that helps you visualize your data clearly is PowerPoint Info graphic templates. In this article, we will show you the power of info graphic template with a practical example.
Info graphic that shows percentage composition:
Let us take an example where you want to show percentage composition of expenses in a typical household.
The usual approach is to show the numbers as data table:
Or as a pie chart like this:
Related: Pie chart in PowerPoint: 3 Big Issues & Its Solution
The chart doesn't set the context to your audience clearly. Let us see how you can present the same information in a more memorable way:
You can show percentage composition as break up of a Dollar:
Of course, you can choose a currency appropriate to your country.
You can use a bar chart info graphic instead of a pie chart as follows:
Source: Currency Composition Info Graphic from Visual Graphs Pack
The advantage of a bar chart is – you can show actual values instead of just the percentages: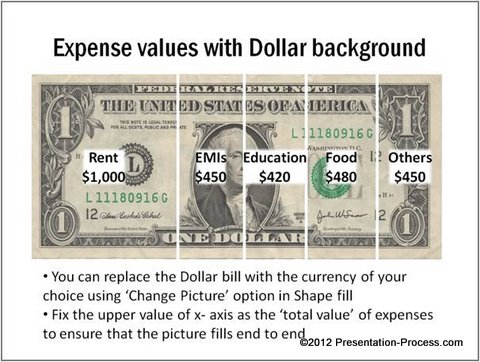 You can get creative in your expression:
Thus, your message stands out clearly, instead of getting lost as 'just another chart'.
Option for busy presenters:
While Info graphics are interesting and memorable way to present data, they are not easy to create from the scratch every time you want to make a business presentation. That is why we came up with our readymade data driven PowerPoint Graphs Templates pack.
The pack has more than 320 business relevant graphs and info graphics pre-formatted in PowerPoint. In fact, the PowerPoint templates you saw in this article are part of the pack.
The pack has probably the largest collection of data driven info graphics in PowerPoint available online.More importantly, editing the templates is super easy. You just need to replace the sample data with your own data and the preformatted chart template updates itself automatically.
Here are some more examples of remarkable PowerPoint info graphic slides from the pack:
Percentage Composition Infographic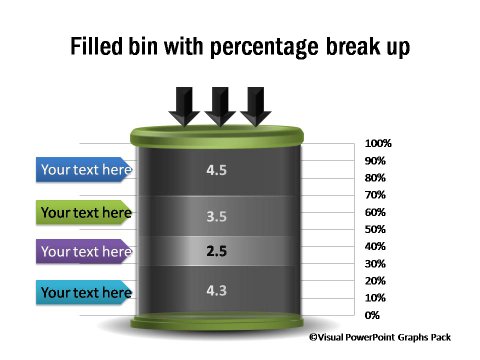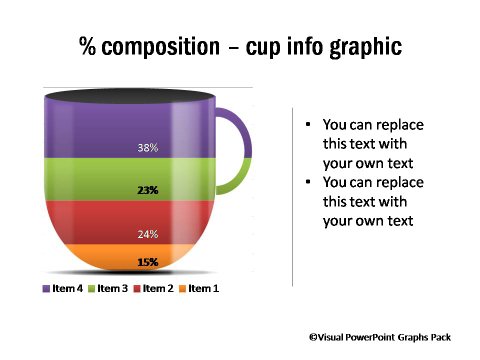 Creative Percentage Completion Dials

Why waste time creating your charts and graphs from the scratch, when you have such high quality solution available off the shelf?
Related: Create Hand Drawn PowerPoint Diagram Easily