Home > All Tutorials > Tutorial Videos> PowerPoint Layering Trick
In this effect tutorial you will learn a very cool PowerPoint layering trick. It is of a cheetah jumping through a hoop. We need to use a trick to create this effect as it cannot be achieved directly by placing the hoop behind or in front of the Cheetah image.
This effect can be use to show the business concepts like moving through obstacles, passing through a stumbling block, layers of filter etc.
We have used the image of a cheetah to show this animation. You can use any suitable image like the silhouette of a person to create your own template.
Here is an screenshot of animation that you will can create by learning the trick from this video: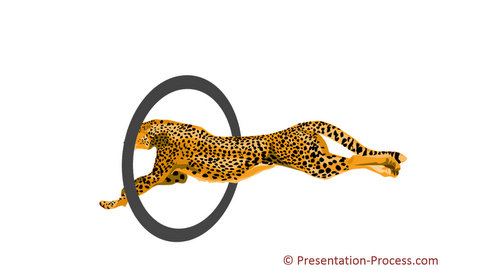 PowerPoint Features used in this video
| | | | |
| --- | --- | --- | --- |
| | Donut and Line shapes | | 3D rotation perspective |
| | Toggling yellow handle to reduce width of shape | | Paste Special Tool |
| | Picture Crop tool | | Send to Back / Bring to front Tools |
PowerPoint Versions in which you can follow this tutorial:
| | | |
| --- | --- | --- |
| | | PowerPoint 2013, 2016, 2019 and higher |
| | | PowerPoint 2010 |
| | | PowerPoint 2007 |
Click play to view the tutorial:
Find more tricks for layering effects in PowerPoint here.
Here are some examples of business concepts that use the trick shown in the video above. All the examples are taken from PowerPoint Charts 2 CEO Pack Bundle.:
1. Concept of perseverance created with arrows
2. Filter concept created with PowerPoint Layering Trick
3. Obstacle concept created with 3D text and Custom Arrow
4. Concept of Barrier created with custom arrows and freeform shape
The PowerPoint templates shown in this video are from:
PowerPoint Charts 2 CEO Pack Bundle

If you liked this tutorial and would like to learn more, please browse through this site. You will find over 350 PowerPoint tutorials and creative ideas for presentations.
Thanks you for watching the video and happy presenting!
Related: Create Stunning Zen Stones in PowerPoint

Return to Main PowerPoint Tutorial Videos Page