Home > Presentation of Data Page> PowerPoint Sales Funnel
Understand PowerPoint Sales or Marketing Funnel and its application in business presentations. Discover some useful readymade data driven templates in PowerPoint that depict the concept.
A quick word about PowerPoint Sales Funnel
A sales funnel chart, as the name suggests shows stages in the sales process. A typical sales process works as follows:
When you contact a number of prospective customers through phone calls, you may get a few appointments for personal visit
Out of those prospects you meet, there may be a few who are interested in listening to your sales pitch
Of those who listen to sales pitch, a few may be interested enough to request proposal for purchase
Of those proposals you send, a few may finally convert to sales
The rate of sales conversion varies from person to person. It may even vary from time to time and product to product. Here is the process represented with a simple Smartart.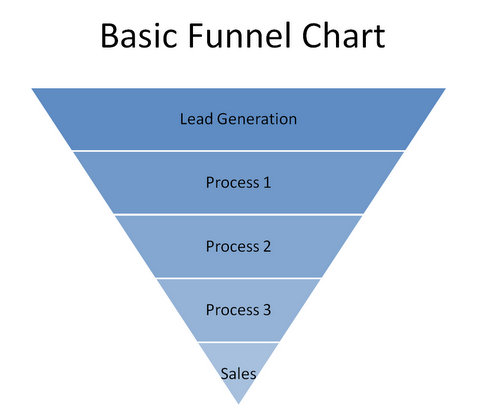 While most sales reports show 'units of sales' or 'volume of sales achieved', they don't show the effectiveness of sales conversion achieved by different sales people. In this article, you will discover ideas to visually represent sales conversion ratios of different sales people using data driven PowerPoint Chart templates.
Visualization of Sales Conversion:
A funnel is a simple and familiar metaphor to visualize conversion process. It helps you highlight specific areas of concern in a surprisingly intuitive way. Let us understand this with a couple of examples.
A typical sales funnel of a sales person looks as follows: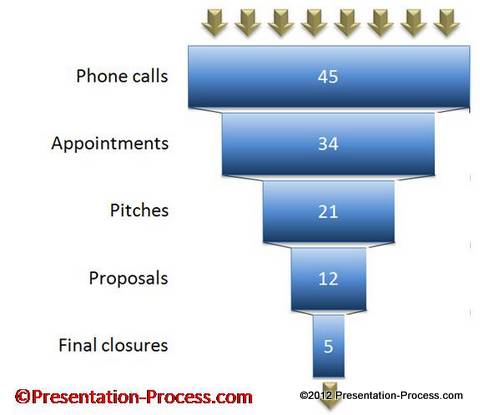 The following PowerPoint Sales Funnel charts indicate skill gaps:
The funnel chart below indicates that the sales person needs to work on his/her tele-calling skills: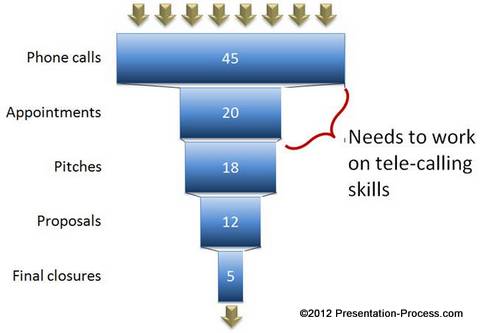 The following chart shows gap in closing skills:
Imagine having a dashboard that includes PowerPoint sales funnel charts along with the usual sales reports. Managers not only get 'apprised' of performance, but also get 'inputs to work on'. They can plan specific coaching sessions for individual sales people.
Here are some variations of PowerPoint Sales Funnel Chart to be included in your dashboard reports: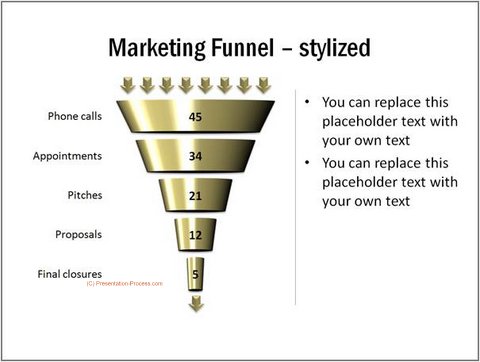 Source: Marketing funnels from Visual PowerPoint Graphs Pack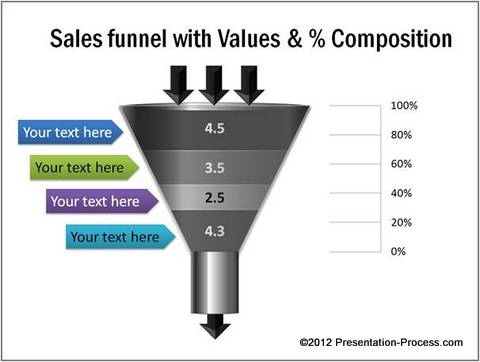 Related:Sales Reporting Charts from Visual PowerPoint Graphs Pack
Here is a data driven pictograph that conveys the message: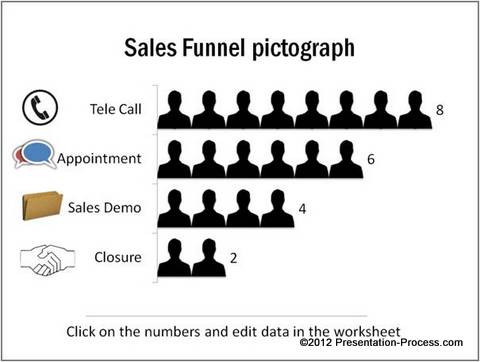 Related: Pictograph Idea: Recurring Theme with 3D Pill
Step by Step Tutorial on Creating Sales Funnel
Easier option for business presenters:
Creating a good sales funnel requires a lot of time and effort. Most presenters are too busy to spend time creating such insightful charts. If you are a busy business presenter, who is hard pressed for time, we have an elegant solution for you.
You can use readymade data driven PowerPoint chart templates from our 'Visual PowerPoint Graphs Pack'. In fact, all the chart templates you saw in this article are part of our pack.
Editing the charts is super easy. All you need is to replace sample data in the embedded worksheet with your own data. The chart updates itself automatically.
The pack has more than 320 business relevant data driven chart templates that are professionally designed by experts. The pack covers every chart type imaginable, and is a comprehensive and essential resource for any manager.
Why waste time creating your charts from the scratch, when you have such a high quality resource available off the shelf?
Take a look at the demo here to see how easy it is work with our chart templates.
Related:Sales Diagrams in PowerPoint: Get a Fresh Perspective