Home > Presentation Design > PowerPoint Slide Design
Here are 4 useful tips to keep your presentation slide design consistent. Follow these tips and get your business slides looking professional.
Why bother about PowerPoint slide design?
There is no doubt that content is king. But, good content presented with poor slides gets ignored by audience.
You don't have to be a gifted designer to create professional looking slides. Just keep in mind the 4 tips discussed in this article and your slides will look consistent and good.
Tip 1: Get your Master slides in place before you build content slides
Though this tip sounds basic, it is surprising to see the number of business presenters who totally ignore master slides and jump right in to building their slide content. Naturally, the position of their slide title, company logo and text fonts vary from slide to slide – giving the slide deck an unprofessional feel.
So, before you build your content slides, go to view -> Slide master -> Blank slide master and fix the various elements that impact the overall look and feel of your slide deck. It is a good idea to keep the title font and body font different for easy reference. Include your logo (if you must) and visually separate it from the body of the slide.
Remember, you can have different slide masters for your title slide, section headers and content slides. You not only save time by using these different slide masters, but also ensure design consistency across slide types. Take a look at these design templates for example:


By ensuring continuity in visual elements across slide types you can easily ensure consistency in slide design across the slide deck like this…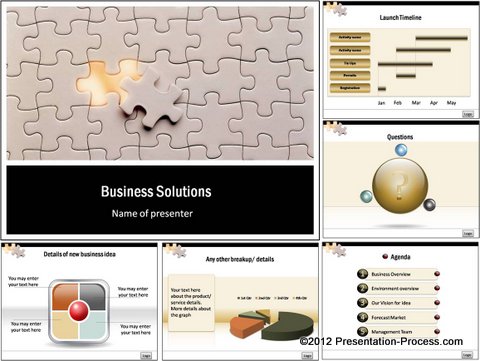 Source: Business Plan PowerPoint Template Sets
Dealing with common inconsistencies:
Sometimes, inconsistency in fonts creeps in when you insert a text box. The default font type of the text box may not match the rest of your body content. To avoid this PowerPoint slide design issue, change the font of the text box in line with your body content. Then, right click on your text box and use 'Set as Default text box' option. This saves you time in changing font type every time you insert a text box.
Related: Tutorial on replacing Fonts quickly
Tip 2: Organize your content with section headers and guideposts
When your presentation is long, your audience loses context. It is a good idea to divide your content into logical segments and orient your audience to your presentation structure right up front.
For example, if your presentation has 4 segments, give a quick overview of the four parts at the beginning of your presentation. Color code each of the 4 segments differently and follow the color code while elaborating on individual segments. Take a look at this example on SWOT analysis presentation:

This PowerPoint slide design technique only helps your audience follow your thought process easily, but also gives a very organized look to your slide deck.
Related: Creative Agendas to structure presentations
Tip 3: Keep your images consistent on a slide
A simple thumb rule is – don't mix visual types. If you want to use photos on a slide, then use just photos. Don't get tempted to insert a clipart on the same slide. If you want to use a 2D image on a slide, don't insert a 3D image right next to it.
We've seen professional presenters insisting on using 'same style of clipart' throughout the presentation to maintain consistency. For example, these three clipart styles are different:


Whenever you download clipart from Microsoft office site, make sure that you pick the same style of clip art for a given presentation. It may take just a couple more seconds to search, but the effort is worth it.
The suggestion holds good for icons, pictograms or any other image type you choose.
Related: Creative Pictographs in PowerPoint
Tip 4: Use consistent color scheme for your diagrams
Diagrams are quite different from clipart. The colors you use and the shapes you use impact the overall meaning of your business message.
When you use Smart Art to visualize your ideas, don't get tempted to use different 'Design' options for different diagram types. Just because they look cool, don't use different animations for different 'entrance effects'.
The thumb rule for PowerPoint slide design issue is – the color scheme, design option and animation effects in a presentation need to be consistent, unless there is a clear and specific purpose to bring in the variation.
Related: What Color Says about your presentation
To Conclude…
To keep your slide design consistent.. it's a good idea to purchase a professional diagram templates pack for your slide library. This not only makes your diagram slides look professional, but also saves tons of time in creating these diagrams from the scratch.
A good option is our 'PowerPoint Charts CEO Pack'. The pack has more than 750 high quality diagram templates which are fully editable for all your business presentation needs. It is probably one of the most comprehensive packs in terms of variety and conceptual depth – which are the main criteria while selecting your diagram templates for professional use. Here are some chart samples from the pack: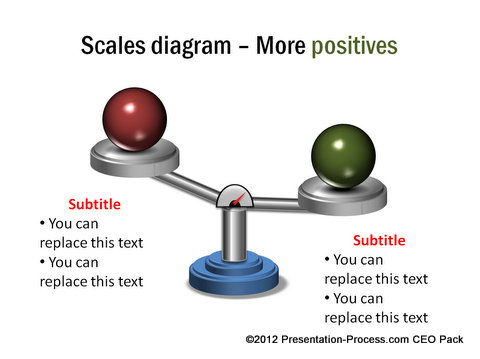 Source: PowerPoint Balance Diagrams from CEO Pack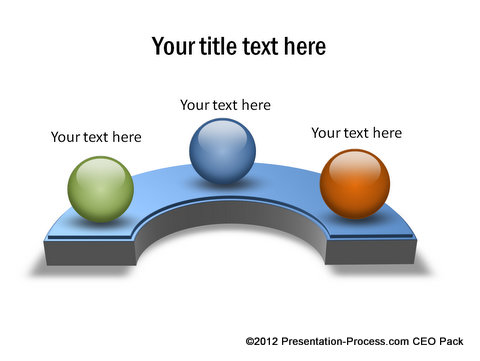 Source: PowerPoint Spheres from CEO Pack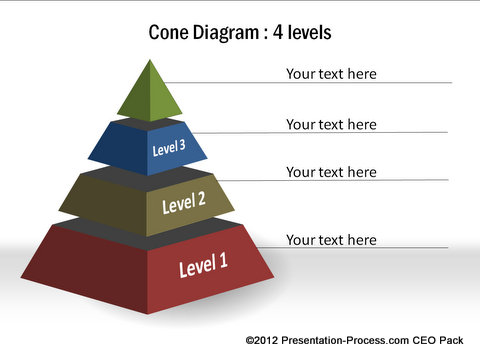 Source: Cones and Pyramids from PowerPoint Charts CEO Pack
As you might have noticed, it is not rocket science to achieve a professional look and feel for your slides. It just needs that little extra commitment to keep the elements on a slide consistent.
Try the 4 tips and let us know your views on how they worked for your presentations.
Related: Importance of White Space in Slide Design