---
From: PowerPoint Graphics, Concepts & Diagrams CEO Pack 2
Instantly download 815+ fully editable PowerPoint Graphics for CEOs.
Represent even MORE business ideas visually.
---
PowerPoint Spirals showing Progress

Description:Here are 19 variations of PowerPoint spiral model to add to your business presentations. The concepts you can portray using the templates in this set are: Progress timeline, going through the levels, passing through the loops, developing through the cycles, spiraling up, DNA spiral, cyclical process, spiraling wheel diagram etc. You can choose the diagram depending on the relationship you want to portray.
Going through Levels | Spiral Process
Horizontal Spiral Showing Intermediate Stages
Pass through Loops | Loops to Pass Through
Spiral Movement
Passing though Loops | Developing through Cycles
Positive and Negative Loops
Spiraling Up | 4 Segments
Wheel Diagram with Spiral
DNA Double Helix | Stages of Cyclical Process
Transition from one to another
Curved Movement | Cyclic Process
Spiraling Wheel Diagram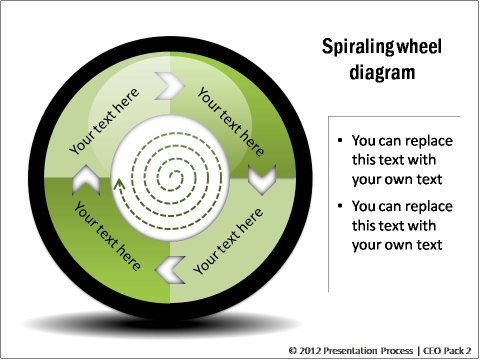 Related PowerPoint Graphics in CEO Pack 2