Home > PowerPoint Tutorials 2007>  PowerPoint Star
Discover a simple way to draw amazing 3D beveled Star in PowerPoint within 60 seconds. Follow our step by step instruction to create this beautiful diagram
The PowerPoint Star you will learn to create today is: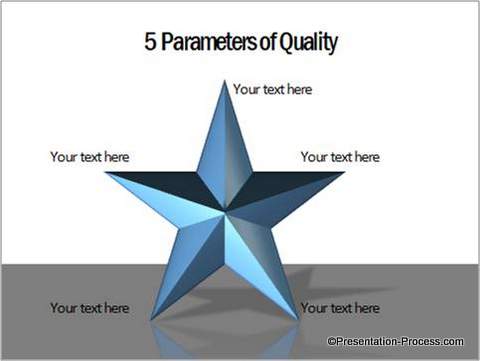 The shades, lighting and texture of the diagram are as good as an illustration made in Photoshop.
What is interesting to note is – while it may take a long time to create this diagram in high end software, you can create this stunning diagram in less than a minute in PowerPoint. We will show you how in this article.
Where to use the beveled Star diagram in your presentations?
You can use it to represent any concept that contains five connected elements. Whether you want to represent 5 factors that contribute to quality or 5 reasons that lead to success, you can use the diagram to convey your message.
Let us learn to create the diagram now:
Step 1: Draw the Star shape
Go to Auto shapes menu and select a star from the Stars and Banners sub menu. Draw the star while holding the 'Shift' tab.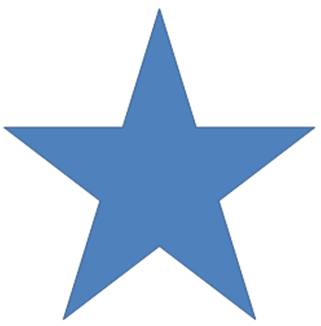 Related: Play with PowerPoint Shapes

Step 2: Create a 3D bevel
Right click on the shape and go to Format shape -> 3D format – >Bevel Top -> Circle. Choose the same option for Bevel Bottom too.
Now for some quick and simple maths….
From 'Format' Option find the height and width of the Star in inches. Multiply the height and width by 36 pts each. Enter the values against the top and bottom bevels.
In our case, the height and width of the star were 5 inches each. So, we entered 180 pts for the top and bottom bevels as follows:
The result is this stunning star: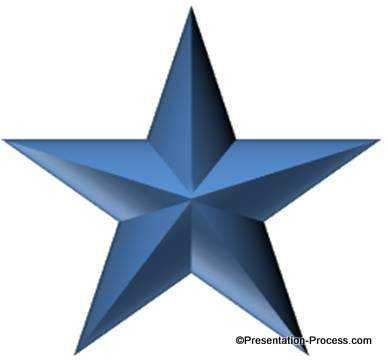 Related: Create PowerPoint Gear Shape in PowerPoint

Step 3: Complete the diagram with reflection and shadows
Add a rectangular bar at the bottom and use reflection and shadows for the Star to give a professional look to your slide.
You can add call outs and change color of the Star to suit your needs. If you had followed the instructions correctly, you would have a remarkable diagram template like this: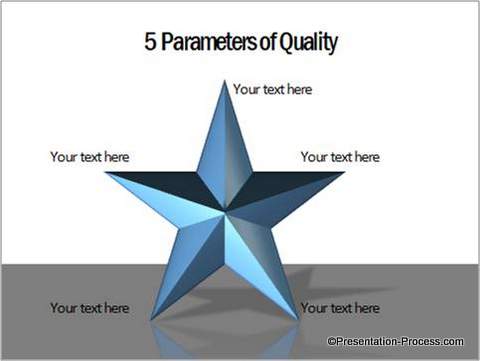 Variations of PowerPoint Star diagram:
These diagram templates are part of our '750+ PowerPoint Charts & Diagrams Pack for CEOs'.

Source: PowerPoint 3D Shapes from CEO Pack

Source: Extreme Custom Animation Templates from CEO Pack
If you are a business presenter responsible for making mission critical presentations or a trainer involved in designing e-learning programs, the diagrams in the pack will save you a lot of time, while making your message effective.
Don't waste time creating diagrams from the scratch when you have such high quality solution available off the shelf.
Since all the 750 diagrams in the pack are fully editable, you can make stunning presentations in minutes, by copying our diagrams to your slides.
See all 750+ diagrams from the CEO Pack here…
Creative Diagram Ideas for Sales Presentations
Return to Top of PowerPoint Star Tutorial Page