---
From: PowerPoint Graphics, Concepts & Diagrams CEO Pack 2
Instantly download 815+ fully editable PowerPoint Graphics for CEOs.
Represent even MORE business ideas visually.
---
PowerPoint Target Templates – Focus
Description: These diagram templates help you convey ideas around achievement of target. Some of the concepts you can portray using the templates are: Steps to fast track achievement of target, road map to target, steps in reaching target, multiple targets, missing target, hitting the bull's eye, multiple strategies to reach the target, going beyond achieving the initial objective, outcomes of target achievement etc.
Outcomes of Target Achievement | Factors leading to Target
Situation Holding back from Target achievement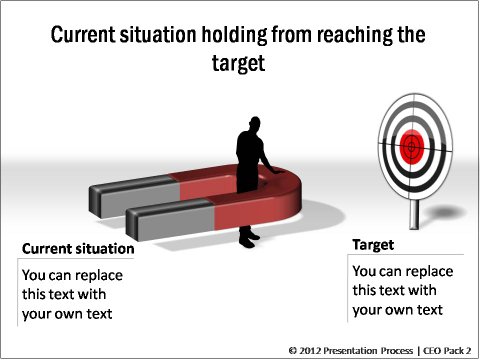 Steps to Fast Track | Roadmap to Success
Pushing Global Market Forward | Multiple Targets and Timeline
Points that Lead to Target
Missing Targets Multiple Times| Hitting Bulls Eye
Aiming for the Right Target | Things that have gone well
3 Stages to Goal Achievement | Steps to Achievement
Multiple Strategies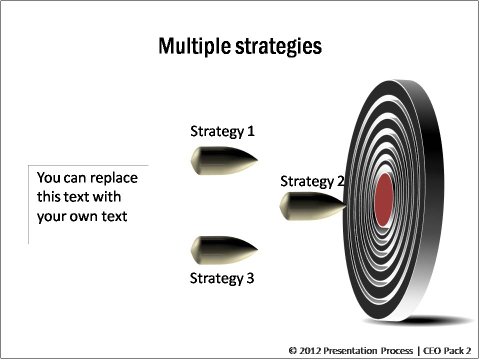 Going beyond Initial Objective | Three Strategies
3 Stages to Objective | Impact of Unstable currency
Related PowerPoint Graphics in CEO Pack 2
Return to Top of PowerPoint Target Templates Page
---