Home > All Tutorials >  PowerPoint Tips >  Replace Fonts
Wondering how to replace the fonts used in your PowerPoint presentation, especially the ones in text boxes for the entire presentation? Read on to find an easy solution to the issue.
Why replace fonts in PowerPoint?
Sometimes, when you create a presentation for someone else, you may have to make some last minute changes in a hurry. One of the changes commonly requested is – to change a certain font used in the presentation. For example, your client requests you to replace 'Calibri font'to 'Garamond' for all the slides.
It could also be that you find others don't have the same font on their machines and you need to change to a commonly used font so that they can view your presentation – the way you want them to.
Changing font using Master slide has its limitations:
If you have built your presentation using standard layouts of PowerPoint, you can easily change the fonts for the entire presentation in one go. You go to View -> Slide Master and make the changes required against text boxes in the Slide. However, the problem with this method is – the change does not affect the fonts used in text boxes inserted in your presentation.
Ineffective way to change fonts:
One way to solve the issue is, go to each slide and Change the font face by selecting the relevant text boxes. This is not only tedious but is also inefficient. You can't be sure that you made the changes in all text boxes.
You may also like: Tutorial for Beautiful diverging 3D arrows
The smarter way to modify fonts

There is a simpler and more effective alternative to solve the issue. Use 'Replace fonts' option in PowerPoint. Here is how to do it:
Take a look at the top right corner of your PowerPoint ribbon. You will find a drop down tab named 'Replace'. When you press the small arrow on the right hand side of the tab, you will get an option to replace fonts. When you select the option, a pop up window allows you to replace a font with another font.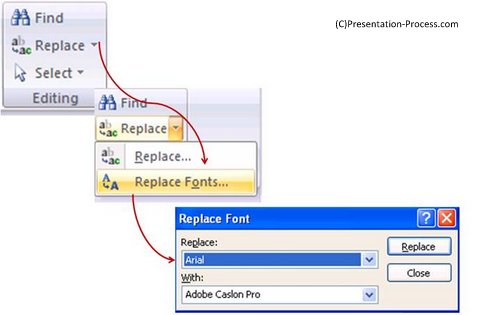 The change you make in the font reflects in the entire presentation, including the text boxes you inserted in your presentation.
This is a smart way to change fonts in your presentation.
Related: See how every PowerPoint Font you use has Personality
Find more such useful tips by browsing this site:
Small tips like the one you saw above can make your life a lot easier, especially when you create PowerPoint presentations frequently. This site has tons of such useful tips and tricks to help you create better presentations fast.
Please browse around the site, bookmark it and share the links with your friends. Of course, drop in a comment if you found our site informative.
Happy presenting!
Related: Create PowerPoint Handouts by Print to Word
Related: Printing from PowerPoint in the Right Format
See Main Page for more PowerPoint Tips