Home > Presentation Ideas > Presentation Graphics > Silhouettes in PowerPoint
Discover five creative ways to use PowerPoint hand silhouettes. Get inspired to come out with your own variations for your business presentations.
A quick word about hand silhouettes in PowerPoint:
Silhouettes of a hand are surprisingly versatile. They can be used along with other graphic elements to portray a wide variety of concepts with ease. They don't hijack the audience attention away from the main point being discussed. In this article, we will see some practical uses of hand silhouettes in business presentations. Before that…
How to create a hand silhouette fast?
All you need to create a hand silhouette is a white wall and some natural lighting. Photograph different kinds of hand gestures. The white wall at the background makes it easy to isolate the image from the background. You can use a male hand, female hand or a child's hand as model for your photographs.
Once done, follow the link to this tutorial to create silhouettes from photos using 'Remove background' function in PowerPoint 2010. Save the silhouettes as transparent PNG. That is all. Your hand silhouettes are ready.
You can also use hand silhouette images available on the internet. Just make sure you read and follow the license terms before using the images for your presentations.
You can also see this tutorial on creating your own silhouettes
Applications of Hand silhouettes:
Let us see some examples of using hand silhouettes for business presentations taken from our PowerPoint Charts and Diagram Templates  – 2 Pack Bundle for CEOs. The two CEO packs have more than 1600 premium charts, graphs, diagrams and graphics in PowerPoint to help you visualize every business idea imaginable.
1. Using the digits to summarize points:
While summarizing, it is common for us to count the main points covered in a presentation using digits in our hand. A simple hand silhouette can be used on a slide to simulate the action. Take a look at the following diagram template:
You can also use the template to list the agenda of your presentation. Let each item be expanded into a separate section later.
2. Using hand silhouettes as metaphors:
You can use hand silhouettes as metaphors for your business presentations. For example, 'shaking hands' represents concepts like striking a deal, collaboration etc. The following diagram template incorporates the metaphor: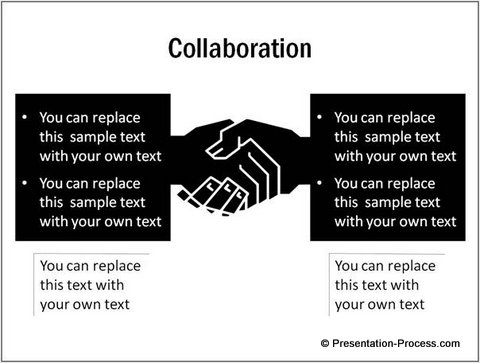 Source: Teamwork templates from CEO Pack 2
Notice how the hands seem to appear as extension of text boxes to capture the idea.
3. Using simple gestures to convey ideas:
We use quite a lot of hand gestures to support our talk. When we include some of the common gestures on a business slide, we add visual interest to the slide.  Take a look at the following idea: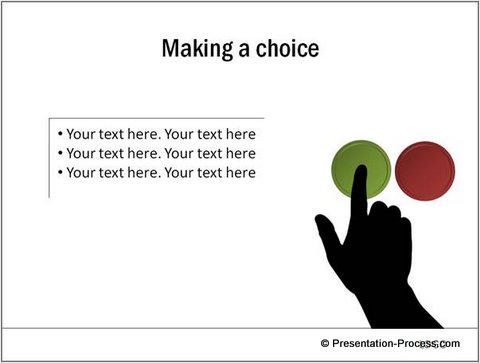 We used a simple gesture of choosing between options to discuss pros and cons of a subject. See more pros and cons templates taken from CEO pack 1 here >>
4. Using hand silhouettes in info graphics:
It is quite common to see hand silhouettes being used in info graphics as we have done in this PowerPoint template: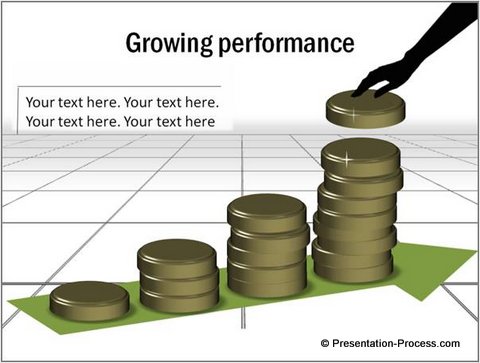 Source: Editable PowerPoint Charts from CEO pack
Here a hand seems to stack up 'items' along the path to future. The items could be – increasing revenues, profits, achievements etc.
You can also see how to create Chart Animation with a Twist
5. Using hand silhouette with other elements
The most convenient aspect of using hand silhouettes in PowerPoint is – in conjunction with other elements. For example, take a look at the following diagram template: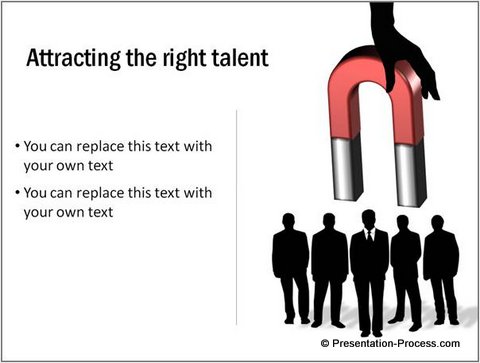 We used the hand silhouette along with the image of a magnet to convey the idea of 'attracting the right talent'.
In the following diagram template, we used the silhouette of 'a hand with a dart' in conjunction with four quadrants of SWOT analysis: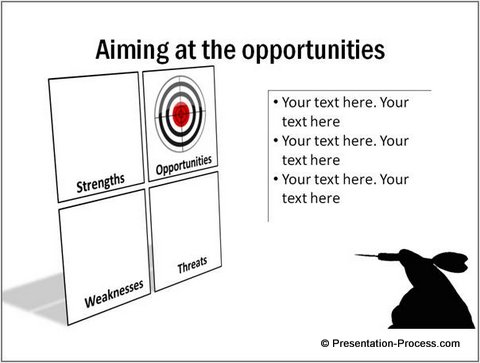 Thus, hand silhouettes in PowerPoint are quite handy to visualize your business concepts.
While visualizing concepts in a business presentation, you might have noticed that the more options you have to convey a concept, the more accurate is your visualization. That is why we came up with our 'PowerPoint Charts and Diagram Templates packs for CEOs'.
The two CEO packs have more than 1600 premium charts, graphs, graphics and diagrams to help you visualize every business idea imaginable. What is more, using the templates from the packs is extremely easy.  Just choose the template that matches your thought and replace the sample text with your own text. Your business slides get ready in no time. Of course, you can pick elements from different slides to create your own diagram templates.
Creating professional looking business slides has never been easier. Why waste time creating your graphics and diagrams from scratch, when you can invest the time in creating better content? Please browse through our diagrams collection and see how the CEO packs can change the way you create your business presentations forever.
Related: Ideas to Use Clipart in PowerPoint
Return to Main Presentation Graphics Page