Home > Presentation Design  > Slide Layouts
Find three reasons why using standard design for slides is useful in your business presentations. Move away from building your presentations from a blank slide.
Many business presenters have the habit of starting with blank slides and building content using text boxes and pictures on individual slides. In this article you will see three reasons why it makes sense to use a blueprint or standard arrangement of elements instead of random text boxes to build your slides.
1. They bring consistency to your slide deck
When you create a title or body content using text boxes, the text in different slides may be positioned in different places. This inconsistency not only makes the slide deck look unprofessional, but also confuses your audience.  Let me explain why…
When your audience sees the first few slides in your presentation, they look for patterns that help them understand the way you organize your information. The conventions you follow – help them sort and place the ideas they receive. When your slides lack consistency, the information becomes hard to process and remember.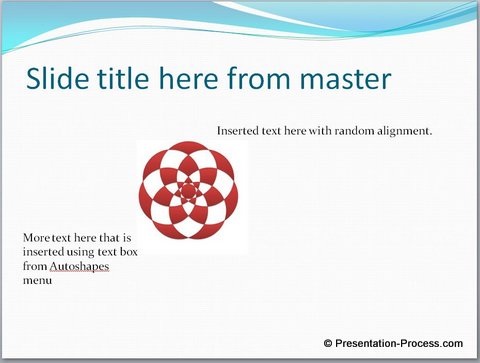 Layouts ensure consistency in representation. When they see large text on top of the slide in a certain place – they recognize it as title. When there is just the title and a line of text, they recognize it as section divider. Slide layouts ensure that the conventions are taken care of, while you focus your effort on building content. They make your job easier as a presenter.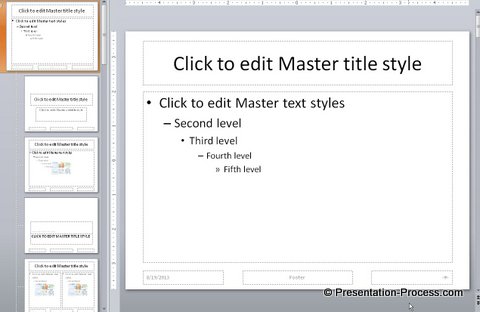 2. They are easier to edit
When you use slide layouts, you can edit the size and type of fonts across your presentation by accessing the master slides. When you enter text using text boxes, master slides become irrelevant. Editing slides becomes a laborious process.
Related: Ways to change fonts in presentation quickly
3. Layouts reduce the size of your presentation
Sometimes you may need to repeat certain slide elements for easy organization of information. For example, you may want to differentiate section headers from the rest of the presentation by sticking a certain background image on those slides.
Instead of sticking copies of the image on different slides you can stick the image to 'Section divider layout' and insert that specific layout every time you want to use a section header. This reduces the size of your file significantly, and makes it easy to share your file on email.
Finding variety in layouts:
While searching for layouts you don't have to limit your search to the standard layouts that are part of PowerPoint. You can create your own layouts to suit your specific requirements.You can even create standard templates for your team or organization. This ensures consistency in the look and feel of the slides made by your team. It is also easier to compare information across presentations.
You can also find a number of useful options to layout your slide content using SmartArt tool.
If you still need more variety, we recommend you take a look at our 'PowerPoint Charts and Diagrams Pack for CEOs'.
The CEO pack has 750+ creative slides to make your presentation standout. The design elements on each of the slide templates are arranged to bring clarity to your message.
Here is an examples of headline, text and clipart layout from the CEO Pack: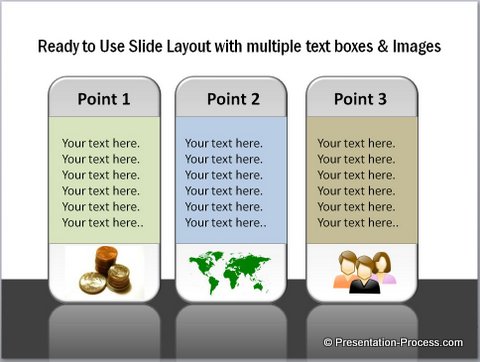 Here is a variation of picture and text layout: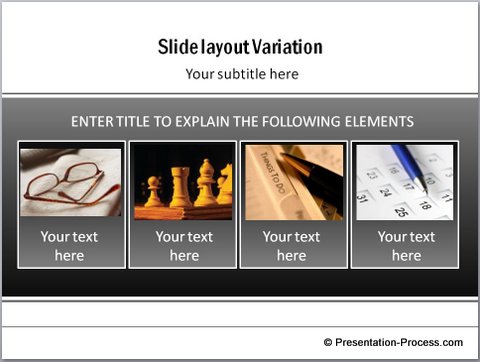 Editing the templates is surprisingly easy. Just choose the template that matches your thought, replace sample text with your own text and your business slides get ready in no time. Creating professional presentations has never been easier.
Please browse through our templates collection and see how the CEO pack can change the way you create your business presentations forever. Browse here
If you liked this article do browse around our site. You will find 500+ articles and tutorials on Presentations and PowerPoint.
Related: Principle of Design Balance
Return to Main Presentation Design Essentials Page