Home > PowerPoint 2007 & 2010 Tutorials > Smart Art > SmartArt Graphics
Combine Graphics in your PowerPoint SmartArt to bring out the full power of the tool. Find examples that help you understand the power of combining graphics to visualize your concepts better.
Combine SmartArt Graphics to unlock the full value of the tool:
You know that SmartArt is a useful tool to visualize business concepts. But, do you know that you can combine different layout options to get even more value from the tool?
In this article, we will share with you some ideas on how to combine two different shapes to visualize your business ideas better.
1. Mix Up Gear with Text cycle:
Here are two graphics from the Graphics Menu:
 Gears depict teamwork. Text cycle depicts the concept of 'align around a core'. When you combine these two useful graphics, you get the following result: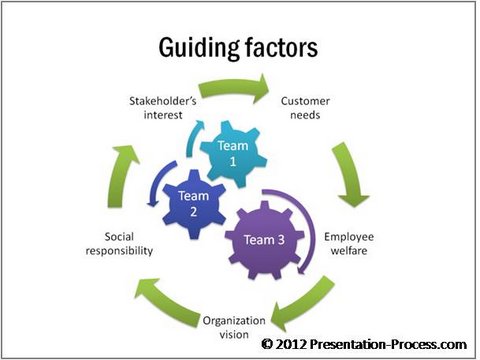 The slide shows 3 teams working together in harmony, while being guided by five environmental factors.
The graphics integrate seamlessly to convey one clear message.
Related: Gear Tutorial
2. Combining Basic target and upward arrow:
Here are two other useful graphics in SmartArt:
Basic target as the name suggests shows the image of target. Upward arrow portrays 'stepwise progression'.
When we combine the two, we get a useful diagram that explains Marketing strategy for a company: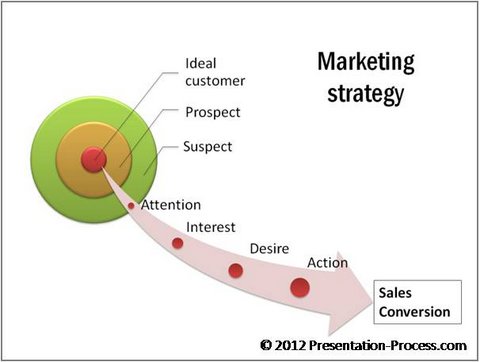 The target diagram on the left portrays the concept of identifying 'potential ideal customers' from the universe of suspects and prospects. The arrow shows how to convert the 'potential customers' into actual customers by following the principle of Attention- Interest-Desire-Action.
Related: Creative Sales Diagram Ideas
3. Combine Basic Venn with Process Arrows:
Let us mix up Basic Venn diagram with Process Arrows diagram from SmartArt menu: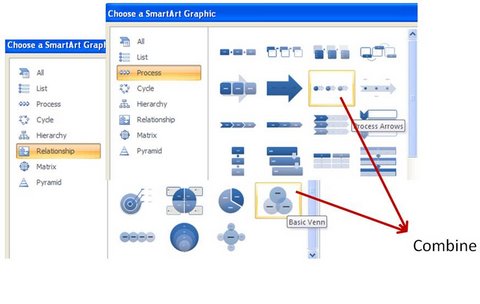 'Basic Venn' shows interrelationship between elements. 'Process arrows' show steps followed in a process.
When we add in both of them, we get the following diagram:
 The slide shows how a company has added another unit by following 'Find them; Grow them; Keep them' -philosophy.3 circles Venn diagram signifies 'expansion' in service offering (rather than just organic growth).
Related: Making Timelines Creative with SmartArt
Don't Settle for Default Options:
So, when you want to use diagrams for your next presentation, don't just settle for the default graphics. See how you can combine different graphics in the menu to visualize your ideas better.
Note:To combine SmartArt shapes effectively, you need to learn to edit the various aspects of the graphics. We have tons of articles that help you gain full control of the tool. Please take time to browse through the articles and enrich your skills.
SmartArt Options for business presenters:
All said and done, SmartArt Graphics doesn't offer you enough alternatives to help you visualize all your business concepts effectively. Moreover, the graphics are not easy to work with, especially when you are in a hurry.
That is why we came up with our '750+ PowerPoint Charts and Diagrams Pack' for CEOs. The pack has more than 750 high quality diagram templates that help you visualize every business concept imaginable. The templates are super easy to use. Choose your diagrams and replace sample text with your own text. Your professional presentation slide deck gets ready in no time.
Here are a few sample templates from the pack:
Source: Gear Graphics from PowerPoint CEO Pack
Source: Target Diagram Templates from PowerPoint Charts CEO Pack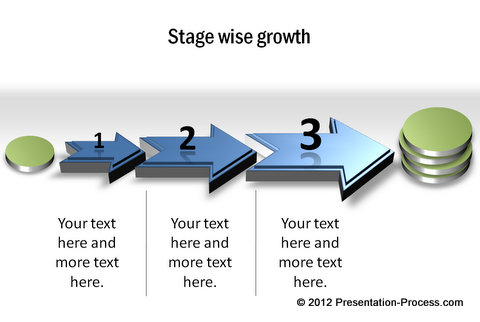 Source: PowerPoint Growth Templates from CEO Pack
Why waste time creating your diagrams from the scratch, when you have such high quality solution available off the shelf? Please browse through the diagram collection and see how the pack changes the way you create business presentations forever.
Related: 3 Creative SmartArt Graphic Ideas
Return to Main Smart Art Section