Home > How to Present>>
Speaking in front of at least a thousand people every single week makes Stephen Nellas' life exciting.  He has been a speaker for quite some time now and he is eager to share what he learned so that more people would love and value public speaking.

His battle cry is: "Public Speaking Is Easy!"  He shares in his website Public Speaking Is Easy all the tips, tricks, strategies, tools, and resource to help both budding and professional speakers get more out of their speaking careers.
In this guest post, experienced public speaker Stephen Nellas, urges presenters and speakers to go beyond mere memorization of speech.
He shares his technique to master your presentation and deliver it with passion.
Introduction to Speech Mastery
A lot of public speakers and presenters have lost the skill of mastery.  Especially because there are a lot of tools that can help you create and deliver presentations speedily.
Yes, mastery entails a lot of time.  But in my career as a public speaker, I've come to appreciate the power of mastery.  I've been using it ever since and it has given me amazing results not only in the success of my talks, but also in connecting with my audience.
Why master when you can memorize?
Let me lay down my cards here: I'm not saying that memorization is bad—you should give value to memorization.  It's a great tool especially when you're starting out in your career or when you're not yet used to giving presentations.
But I propose that as you try to move ahead in the learning curve, you have to make every effort to shift from plain memorization to speech mastery.  It's hard, I know.  Even the most seasoned speakers still rely on memorization just so they can get a very important point across.
There are two things that I absolutely hate about plain memorization:
It's a ticking presentation time bomb.  It opens you to the risk of being totally blank at some point in your presentation.  When you memorize your presentation, you need to know which words come first, and which words come after.  What if you forgot one of those words?
Disaster.
The other thing about memorization is that it boxes you.  You become rigid in your presentation.  And I know that every speaker affects the audience.  When they see you confident, they'll be more at ease in listening to you.  But when they see you rigid, they will almost immediately feel awful.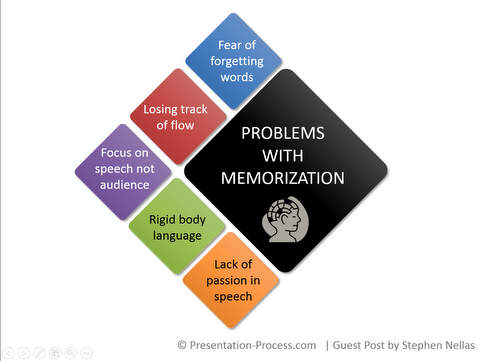 You'd want your audience to see you confident and ready.  When you're trying to present a new product or sales/business strategy, you'd want to be the most confident person in the room.  You'd want to show your audience that you're passionate about what you're sharing to them. The only way for you to do that is if you've mastered your presentation. That's the only way for you to persuade your audience to buy into your idea.
Ready to master your speech?
Here are three things that you need to know and do for speech mastery:
1. Prepare content with 3 "Lamp Posts"
Do you know what your main point is?
Good.
Now try to reinforce your main point with only 3 other supporting points.  I could almost hear your chagrin.
Most public speakers struggle with the challenge to trim down all the things they want to share to only one main point and only 3 supporting points.  I know this because I was like this before.
But I found that the audience can only assimilate and tolerate 3 important things that you share them.  Go more than that and you'll lose them—or they'll lose interest in you.
The number 3 is the sweet spot in presentations.  People easily remember the points and they are more willing to assimilate because they're not overwhelmed by lots of information.  Of course your audience wants to learn more things from you, but it can only learn a few things one presentation at a time.
It is also easier to master 3 points compared to 10 points.  With that you can spend much of your time expounding on the points and weaving your own experiences into those points.
Quick note:
If you'd like to learn more about creating a strong presentation outline, you can find detailed technique and examples here at Presentation Process.
2. Speech Mastery happens before your speech or presentation.
Mastery is the sum total of all the preparations you've done before the day of your speech.  And personally, I ask myself these questions to check if I've mastered my presentation or not:
Do I know the topic that I'm about to share with my audience?
Do I know the topic by heart?  What is my main point?
Do I feel passionate about the topic? Do I have experiences connected with it?
Do I have a clear mental picture of the whole presentation?
Do I know my 3 "lamp posts"?
When I answer all the questions in the affirmative, then I am confident to go on that stage or face my colleagues and give the kind of presentation they've never seen before.
3. Mastery comes with repetition.
Nothing beats practice, practice, practice.  When you want to master your presentation, you'll need to practice the delivery at least 3 times—from start to finish.  With this you can do the following:
| | | |
| --- | --- | --- |
| | | Time your presentation (and make the necessary adjustments in the next two rounds), |
| | | Once you hear yourself say the words, you'll know which words to use and which ones not to use, |
| | | You can create better timing and coordination with your slides—which help your presentation or speech come alive, |
| | | Create a mental picture/map of your presentation—which, in essence, is mastery already. |
So practice your presentation.  It can literally leapfrog your next presentation from good to great! Here are the 3 steps summarized:
Source: Bridge diagram from PowerPoint Charts CEO Pack 1
There you have it! I hope that you've found a new appreciation for mastery if you haven't already.  I hope that in your next presentation, you'd ace it and inspire your audience more effectively.
If you'd like to know more about speech mastery and public speaking, please check this article on my site
---
Stephen Nellas is based out of Cebu City and can be contacted through his website.
Website: Public Speaking Is Easy
Have a question or a comment? You can leave a comment for Stephen using the form below.
---
Return to top of Speech Mastery Page
Related: 4 creative ways to open a presentation
Return to Main Presentation Skills Page for More on How to Present