Home > Presentation Ideas > Presentation Graphics > Text in PowerPoint
Here are 12 ways to play with PowerPoint text to convey interesting business concepts. Get inspired to come up with your own variations.
Convey business concepts by playing with Text in PowerPoint:
When you visualize a business concept in an interesting way, you make your message memorable. Most presenters use just diagrams and graphics to visualize their ideas. In this article, we will show you the way you can play with text in PowerPoint to convey your ideas in a surprisingly memorable way.
The key to making memorable concept slides is to be bold and imaginative in the use of text related tools in PowerPoint. Play with 3D perspective, font sizes, font colors, text related animation etc. till you get the result you desire. Here are a dozen ideas for you.
1. Break the word into letters
Take a look at the following diagram template: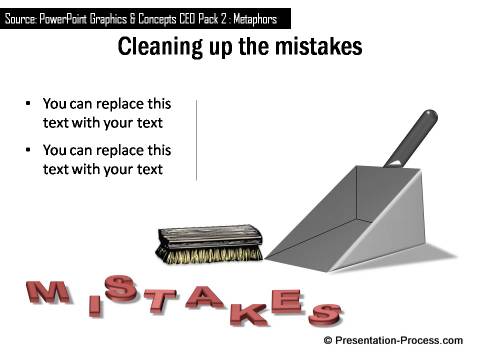 We broke the word 'MISTAKES' into individual letters and changed the angle of each of the letters in 3D perspective to give the appearance of letters scattered on the floor. We added relevant graphic of home cleaning equipment to convey the concept of 'cleaning up'.
2. Build a bridge over the text
It is not easy to visualize fuzzy concepts like 'Overcoming troubles permanently'. In the following diagram template we wrote the text 'Troubles' and built a bridge over the word. This conveys the idea of 'permanent solution' to overcome troubles: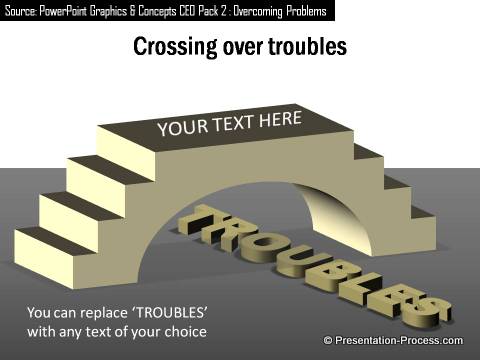 In the following diagram template we built a curved arrow over the word 'Obstacles'. We added a silhouette of an executive to this creative representation to convey the concept of 'Overcoming obstacles to move forward':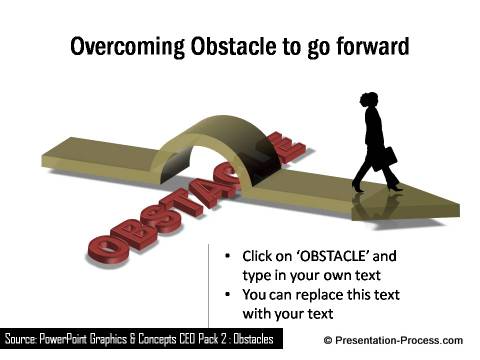 Source: Overcome Obstacles : PowerPoint CEO pack 2
3. Use text as graphic
In the following chart, we turned the alphabet "S" into a graphic for the timeline by using the 3D text bevel and perspective options.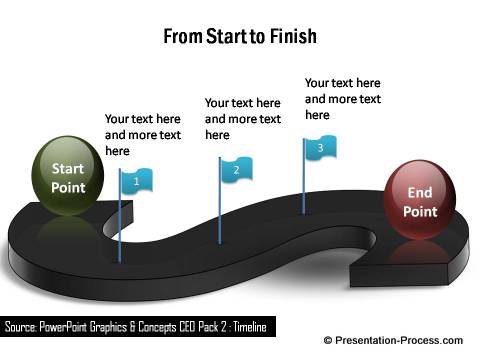 4. Put a Band Aid over the text
Nothing represents 'Temporary solution' better than Band Aid. When you paste the graphic of Band aid over the text 'Problems' – you get a simple way to convey the idea of 'Temporary solution to problems'. Here is an example: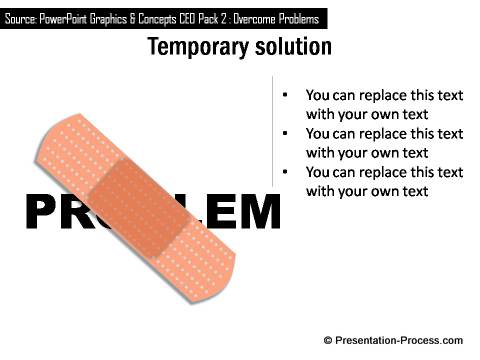 5. Highlight the text
It is not easy to visualize the idea of 'Throwing light on solution' using diagrams or graphics. Here is a simple way to achieve the result by playing with text in PowerPoint: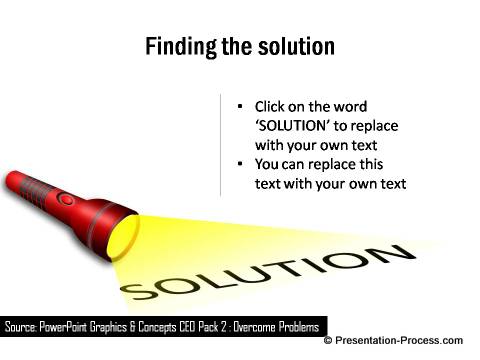 The above diagram template shows you the power of combining graphics and text to visualize concepts.
Related: Stunning Bulb diagram Tutorial in PowerPoint
6. Cut the text
A common way to convey the concept of 'Cost cutting' is to cut the text – 'Cost'. You can replace 'Cost' with 'Waste', 'Expenses' etc.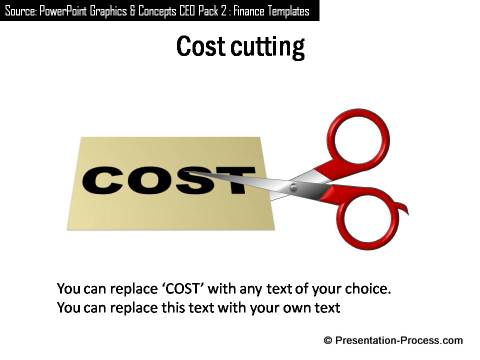 7. Protect your text with an umbrella
Established metaphors like 'Umbrella for protection' make it easy to visualize concepts with words. Take a look at the following template where we conveyed the idea of 'Risk protection' in a simple way: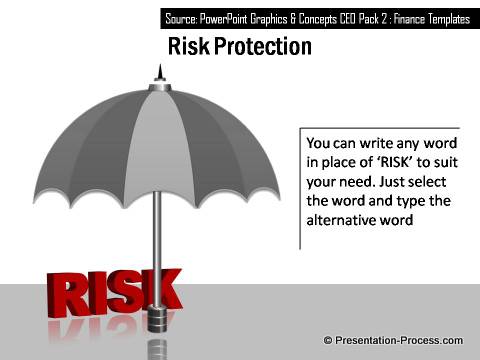 8. Stack up letters
Sometimes you can stack up letters to make your word. This not only adds visual interest to the slide, but also gives you creative opportunities to add relevant graphics alongside the text. Take a look at the following example: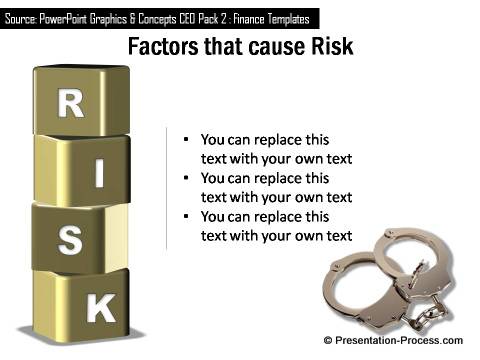 9. Play with the font size of text
When you break a word into individual letters and alter the font size you get interesting result like the one you see below: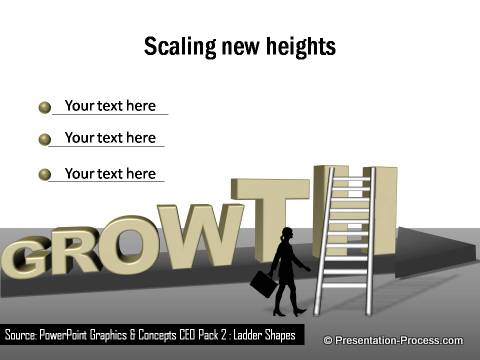 See More Ladder Diagrams from PowerPoint CEO Pack 2
10. Attract your word
Sometimes adding meaningful graphics like 'magnet' will help you convey some interesting ideas like the one shown below: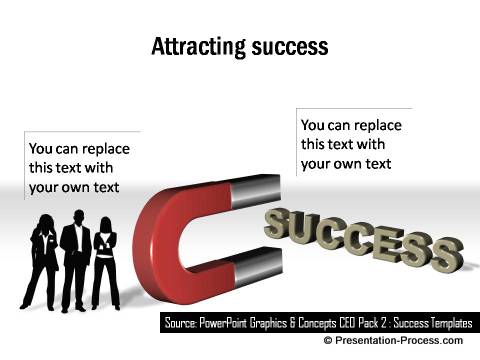 11. Add custom animation to the text
When you want to convey concepts like 'Change' – it helps to combine text effects with relevant custom animation.  For example, you can have the word – 'CHANGE' change color on click: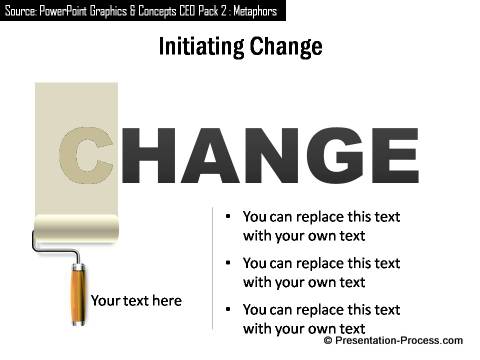 12. Combine vector graphics with text
In the following diagram template we combined the graphic of wool and knitting needle with text in PowerPoint. We ensured that the font looks 'hand drawn'.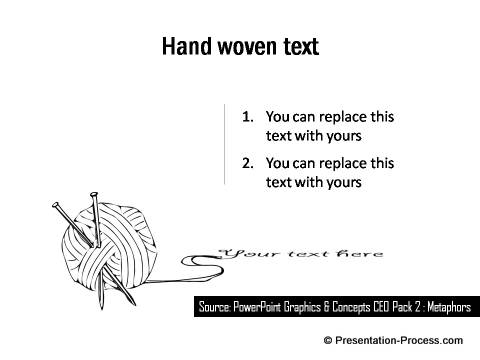 Related: Transparent Text effect in PowerPoint
Smarter option for business presenters:
Playing with text requires you to have proficiency in PowerPoint. If you are a busy business presenter who doesn't have the time to make such high quality graphics yourself, we recommend you take a look at our 'PowerPoint Graphics and Concepts templates packs Volume 2 for CEOs'. The packs has a wide range of 815+ charts, diagrams and concepts. In fact, all the example templates you saw in this article were taken from this CEO pack.
Just choose the template that matches your thought. Replace sample text with your own text and your business slides get ready in no time. Creating professional looking business slides has never been easier.
Please browse through our diagrams collection and see how the CEO pack 2 can change the way you create your business presentations forever. Browse here >
If you found this article useful, please leave us a comment below and share the article with your friends. You can find 100s more such creative ideas in this site.
Related: Curved PowerPoint Text Effect Tutorial
Return to Main Presentation Graphics Page