Home > Presentation Design > Time in Presentations
Many business presenters spend undue amount of time creating their presentations. Sometimes they even lose interest midway and give up. In this article, you will learn the single biggest factor that wastes your time in presentations and causes most frustration in the presentation creation process.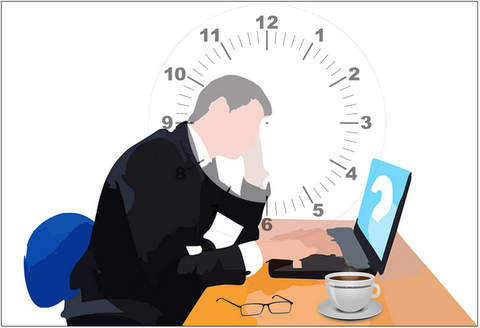 Most presenters don't realize that they need to go through three distinct stages in creating a presentation. They are:
Research stage
Slide creation stage
Polishing stage
The trap that most presenters fall into while creating their presentation is – they tend to work on two stages at the same time.
First, let me quickly explain the purpose of each of the three stages and then I will explain where most presenters get stuck.
1. Research stage:
The only purpose of this stage is to come up with a clear outline for your presentation.
You define the objective of your presentation. You outline your main arguments and supporting points. Once you have your points in place, you organize them to create a compelling story that flows smoothly.
2 Slide creation stage:
The only purpose of this stage is to come up with a slide deck that holds all the points outlined in the research stage.
Focus on the clarity of message in your slides. Remove irrelevant clutter. Make it easy for your audience to see your point on each slide.
3. Polishing stage:
The only purpose of this stage is to make your slides look professional.
In this stage, you make your design decisions like the theme colors, theme fonts etc. Organize slide layouts to ensure consistency in the look and feel of your slide deck across slides. Make your slides visually pleasing and easy to go through.
A summary of the 3 stages in creating presentations
Click on the image below for a larger view
3 Steps in Creating Presentations
---
Quick note:
The templates showcased above are from our 750+ Flat Design Templates Pack for PowerPoint. Want to browse through the templates and download them? Click here.
---
The biggest mistake made by presenters:
Most presenters waste time by working on more than one stage at one time. For example, when they are in the research stage, they try to create the slides. When they need to create slides, they are busy polishing their slides. When they are in the polishing stage, they try to add more content that messes up the presentation flow.
The biggest secret to saving tons of time while creating your presentation is – Focus on one stage at a time.
You not only will excel in each of the stages, but also will spend much less time at each stage. Your presentations will be clear, elegant and remarkable.
Conclusion:
If you liked the article, kindly share it with your friends. Please explore the different sections in the site to hone your presentation skills and PowerPoint skills.
Related:Presentation Resources to Save Time
Return to Main Presentation Design Essentials Page