Home > Presentation Ideas >  Presentation Graphics > Venn Diagram Animation
Improve your Venn or circle diagrams by using custom animation in PowerPoint. Bring out the full potential of the diagram in your business presentations.
Where does Venn diagram fit in your business presentation?
A Venn chart is a useful tool to visualize interrelationships between elements or ideas. The usual Venn chart drawn using SmartArt is not effective enough to portray the relationship completely. We will explore some useful alternatives that help you say more with the diagram.
First, let us see how to create a three circle Venn using SmartArt tool.
Three circle Venn using SmartArt:
Go to Insert -> SmartArt -> Relationship -> Basic Venn. Once you get the basic diagram, press the 'Design' tab and choose a format that suits your need. Add some reflection, insert a call out and you will get a slide like this: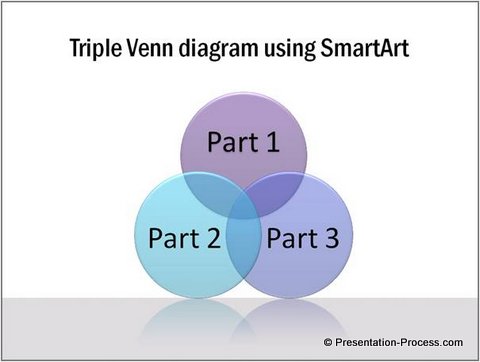 While the diagram looks good, let us see how we can improve this even more.
Related: Discover 3 Hidden SmartArt Capabilities 
Showing the Unique and Overlapping elements clearly:
Sometimes, you want to show the unique and overlapping elements in a concept clearly. For example, if you want to show how three teams contribute to a common project…
You want the unique area shown in different colors to indicate their individual roles
You want the overlapping areas in distinct colors to indicate joint responsibilities
You want the common area clearly highlighted to indicate common roles of all teams
The usual SmartArt Venn doesn't bring out the elements as clearly as the following alternative: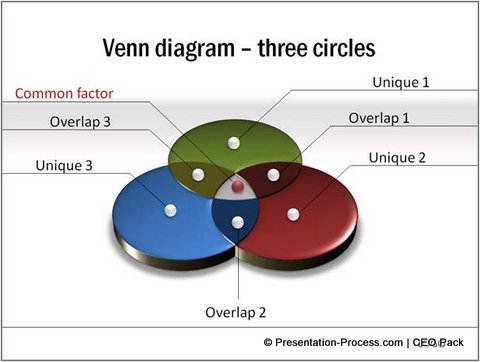 Related: See 25 Stunning PowerPoint Diagrams
Adding even more clarity with Custom Animation:
Let us say, you want to use Triple Venn Chart to portray a merger of three teams. You want to capture the roles and responsibilities of the teams before and after the merger. The usual Venn Diagram in SmartArt may not help you here.
When you use custom animation, you can tell your story in a clear step by step way. Take a look at the following example:
Please click on Play Button to view
Related:Build Information with Custom Animation in PowerPoint
Creative Options for business presenters:
You would have realized by now, that the default options available in SmartArt are not adequate to capture your business ideas clearly and completely.
Adding necessary variations to the diagram takes time and effort (which may not be available easily for busy business presenters like you).
That is why we came up with our '750+ PowerPoint Charts and Diagram Templates pack for CEOs'. The pack has a wide variety of diagrams to help you convey your business ideas clearly and elegantly. What is more, all the 750 diagrams in the pack are fully editable. So, you can copy the elements from different diagram templates to create your own diagrams.
Take a look at some of the samples from the CEO pack:
If you are a business presenter, the pack is a necessary tool in your kit. Why waste your valuable time creating slides from the scratch, when you can copy our diagrams to your slides, replace sample text and create professional presentations in minutes?
Related: 5 Creative Venn Charts ideas
Related: Segmented Venn Tutorial
Return to Top of Venn Diagram Animation Page
Please Share Your Comments & Suggestions