Home > PowerPoint Graphics > Visual Idea
Here is a powerful idea. Use a recurring theme with a pill diagram to establish a subtle connection between the various slides in your business presentations.
Why is recurring theme a good visual idea?
In an earlier article on PowerPoint slide design, we explored the power of 'Unity' orvisual chunking as an important design principle.  Chunking helps you tie different elements of your presentation together. It helps your audience retain the context of your presentation longer.
A simple way to achieve 'unity' in your business presentations is to use a recurring theme. For example – this agenda and slides use such a theme.
In this article, we will see the practical application of the idea. We will take the example of a presentation by a pharmaceutical company. We will use a recurring theme of a 'Pill diagram'.
A quick tutorial on creating a 3D pill in PowerPoint:
Draw a 'Rounded rectangle' using auto shapes option. Let the width be approximately 1.5". Adjust the yellow handles to get a full curvature at the top: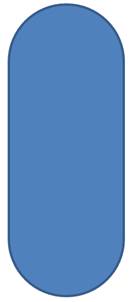 Right click on the shape -> Format shape -> 3D format ->Top and bottom bevels = 'Circle'. Keep the width and height as 54pt as shown here: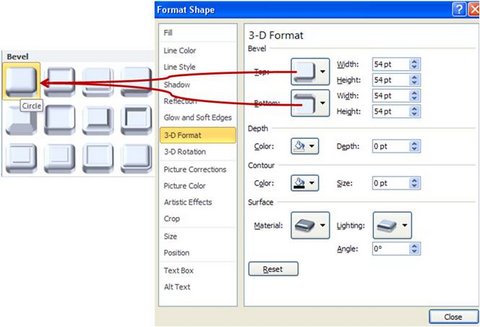 If you fill the shape with white color, you should get the following result: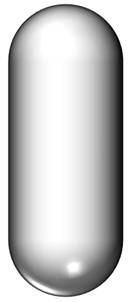 While this can serve as a pill, let us make it even better.
Make a copy of the shape. Color it differently. Then, 'cut' it using 'Ctrl +X' option. Click on the small arrow at the bottom end of 'Paste' button and use Paste special to paste it as PNG image.  Crop the top half of the image using 'crop' tool to get this: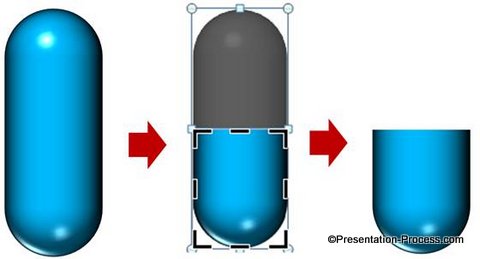 When you place this on top of the earlier shape and put a shadow at the bottom, your 3D pill diagram is ready: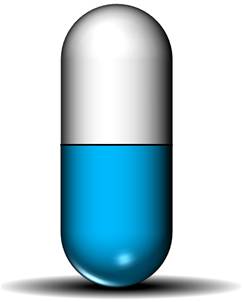 Using the 3D pill as recurring theme:
You can use the diagram to convey a wide variety of concepts. Let us explore a few:
1. Playing on the form:
Since a capsule has two colors, we can use the fact to represent merger of two companies, two brands, two departments etc. See this example: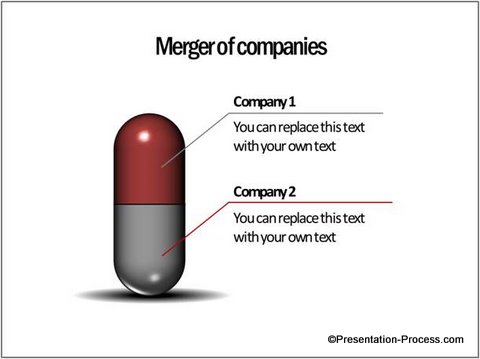 The above slide can be found as part of  PowerPoint Metaphor templates in  CEO Pack 2.
2. Pill as a metaphor for 'solution':
A pill is a natural metaphor for 'solution' to problems. We can play on this visual idea and come up with multiple options. Here are a few ideas:
Playing with the content inside a pill
Most capsules have granules of different colors inside them. These colored granules can represent different components of a solution. Take a look at the following diagram template for example: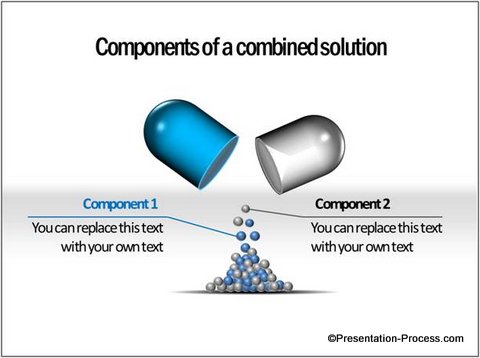 Source:  Overcoming Problem Templates from CEO Pack 2
Playing with different colored pills
You can use different colored pills as different options for solution. The slide could represent the predicament of choosing the right solution. Take a look at this template for example: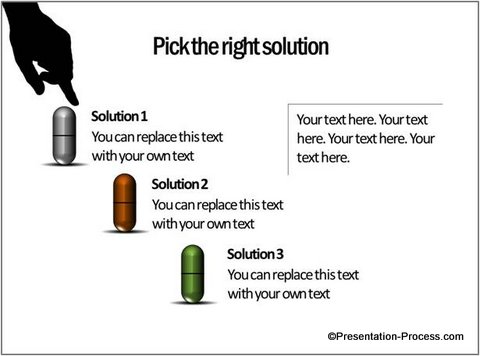 Using Pills as title placeholders
You can use Green and Red pills as title placeholders to discuss Pros and Cons of a solution. The following template shows you this visual idea: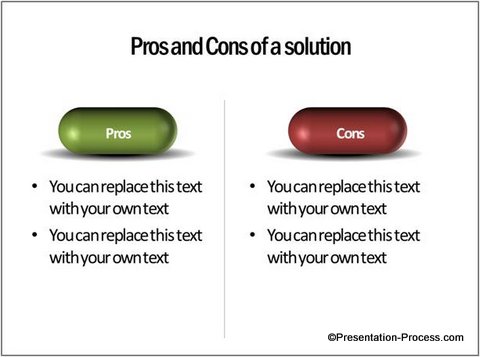 Source: Comparison templates from CEO Pack 2
Related: 5 Creative T Chart Template Ideas In Powerpoint
3. Using Pills in a Pictograph
You can take the theme all the way to your charts and graphs. For example, you can use the pill in a pictograph to represent revenue figures as follows: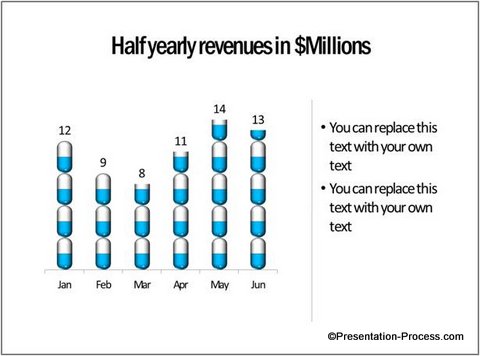 Source: Pictographs from Data-Driven Visual Graphs Pack
Source of inspiration for business presenters:
What you saw, is just a small example of how to use a simple diagram, as a recurring theme to tie the various components of your presentation. The idea can be expanded in hundreds of ways.
We hope that the article gave you some useful ideas on visualizing your business concepts. If you need more inspiration, we recommend you take a look at our '815+ PowerPoint Graphics and Concepts Pack for CEOs (Vol 2)'.  All of the diagrams showcased in this article are taken from that pack.
The pack has more than 815+ high quality fully editable diagram templates to help you capture every business concept imaginable. Please take a look at some of the samples from the pack: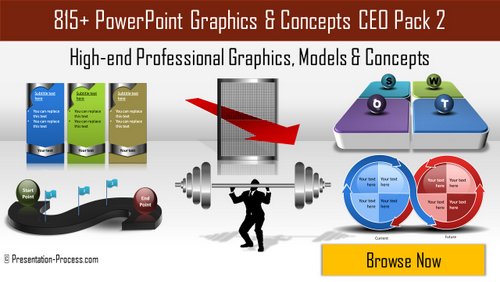 The biggest advantage in using the pack is – you don't have to waste time thinking of a suitable visual idea or creating the diagrams. You can copy our diagrams to your slides and replace sample text. Your professional presentation gets ready in minutes.
Please browse through our diagrams collection now and see how the pack can completely transform the way you create your business presentations.
Related: PowerPoint InfoGraph with Shopping Bag icon


Return to Top of Visual Idea – Recurring Theme of Pill Diagram Page