Home > Presentation Ideas >  Presentation Graphics > Visualization in PowerPoint
Discover some interesting ways to visualize 'Compare and Contrast' related concepts. See how the right graphics in PowerPoint convey ideas the right way.
Key to visualization in PowerPoint:
It is not always easy to visualize complex concepts in PowerPoint. The usual boxes and arrows can only take your visualization to a certain point. To convey your ideas effectively and accurately you may need to go beyond the usual.
In this article, you will find some creative ways in which we captured some subtle concepts related to 'Comparing and Contrasting' in PowerPoint. Let us see the examples right away.
Good and Bad thoughts:
Take a look at the following template where we visualized good and bad thoughts:


Source: Ideas & Concepts from PowerPoint Graphics CEO Pack 2
We added some subtle hints about angels and demons on simple thought clouds to convey the idea. Needless to say, the visualization is interesting and memorable.
You can create such expressive icons in PowerPoint. See this article for more…
Poor and Bright ideas:
We played on the traditional representation of 'idea' as light bulb. We made one of the bulbs in grey to represent 'switch off' position, and we colored the otherPowerPoint bulb in bright yellow to represent 'switch on' position. The diagram template turned out quite interesting:


Source: PowerPoint CEO Pack 2
Random thoughts and structured ideas
Sometimes when the concept you want to convey is soft and fuzzy, the visualization gets really challenging. During such times it helps to think laterally and capture the idea by using a metaphor. Here is an example of how we captured a fuzzy concept about the difference between 'Random thoughts and structured ideas' using the metaphor of a pearl necklace: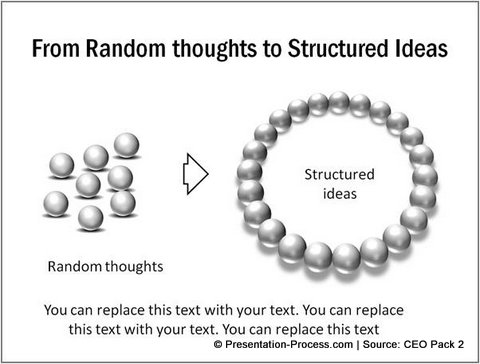 Clear and unclear vision
Sometimes the words you use to convey your thoughts give a clue about the kind of visualization to use. In this example, we visualized clear and unclear vision using the graphic of an eye wear.


The simplicity of the idea used for visualization in PowerPoint makes it easy for the presenter to connect with the audience.
You may also like: 5 Unique Slide Organization Ideas
Comments that are 'For' and 'Against' an opinion
Sometimes the best ideas for visualization are surprisingly simple. In this example, we have shown the comments that are 'For' and 'Against' an opinion by using quotes as text boxes. Here is the result of the visualization:


Source: Ideas from PowerPoint Graphics CEO Pack 2
Thus, you can come up with innovative ways to visualize your concepts when you step out of the box.
Smarter option for business presenters:
It is not always possible to come up with creative visualization ideas when you are under the pressure of a deadline. It helps to have a stock of ideas that inspire and guide in the right direction. That is why we came up with our 'PowerPoint Charts and Diagram Templates Collection for CEOs'.
The PowerPoint Graphics and Concepts CEO pack 2 has more than 815 premium charts, graphics and diagrams to help you visualize a variety of business ideas.
All the diagram templates in the pack are fully editable. Just choose the template that captures your concept, replace the sample text with your own text and your business slides get ready in no time.
Creating professional business presentations has never been easier. Why waste time creating your diagram from scratch when you have such a high quality solution available off the shelf? Please browse through our CEO Pack 2 diagrams collection and see how the CEO packs can change the way you create your business presentations forever.
Related: Concept Visualization Ideas from Everyday Phrases
Return to Presentation Graphics Page