Home > PowerPoint Tutorials > Smart Art > Arrows PowerPoint
Discover the hidden possibilities with SmartArt. Here we teach you how to draw 3D cyclic arrows using SmartArt object. Learn from the step-by-step video tutorial.
The 3D Cyclic Arrows PowerPoint Diagram you will learn is: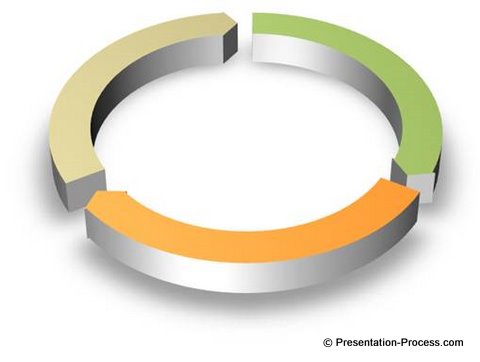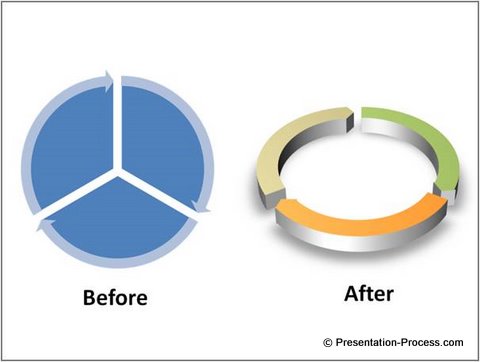 It looks as if it has no relation to Smart Art. But, you'll learn how to create this elegant diagram using a SmartArt object called 'Segmented Cycle'.
Since you have the option to create any number of sectors in a Segmented Cycle SmartArt object, by pressing 'Enter' in the text pane, you can create a diagram with any number of cyclic arrows using the method you're about to learn. That's what makes this tutorial so useful.
Before you learn the tutorial, I wish to convince you of the utility of 3D cyclic arrows in general. Here are some of the cyclic arrow diagrams from our 750+ PowerPoint Charts & Diagrams PowerPoint diagrams pack for CEOs.

1. 4 Reinforcing factors PowerPoint Diagram
You can use cyclic arrows diagram to explain reinforcing factors in a process or alignment around a clients needs. The tutorials for creating Glossy Ball is available here.
Source: PowerPoint Circle Diagrams | CEO Pack
2. The Missing Piece or Critical Factor PowerPoint Diagram

You can use the diagram to highlight the missing piece in a link or to highlight one critical factor out of many in a process.
3. 2 sides of the issue diagram
2 Cyclic arrows can depict two interrelated sides of the issue.
Source: Cycle Diagrams from PowerPoint CEO Pack
4. 4 interconnected processes diagram
You can use cyclic diagrams to portray loops or interconnections in a process.
5. Steps in a process diagram
Source: PowerPoint Circle Diagrams from CEO Pack
You may also like:
Ultimate Guide To SmartArt in PowerPoint
Here are the steps to create the diagram:
Go to Insert > SmartArt Option in the menu
Insert the Segmented Cycle chart
Select all objects in the chart by using Ctrl + A
Cut the selected objects using Ctrl + X
Delete the bounding box. This ensures that the object is no longer a SmartArt chart
Paste back the chart
Delete all the parts of the chart except the 3 circular Arrows
Group the Arrows using Ctrl + G
Increase the width of the arrows by pulling in the yellow diamond handles
Select the object, Format it > 3D Rotation Option and set it as Relaxed Perspective
Go to 3D Format Option, set Depth to 30
Change the Fill Color to suit your requirement
Your cyclic 3D Arrows are ready!
Related: Create Branched PowerPoint Arrow
Conclusion:
Even though we publish a wide variety of remarkable tutorials in this segment, you need a lot of practice to get the design right. Keep trying different alternative arrows in PowerPoint till you are happy with the result.
Here is a sample of the same diagram from the CEO pack
If you are too busy to experiment, consider our 750+ PowerPoint Charts & Diagrams pack. The above template is also from the same pack. Why compromise on the professional look and feel of your slides, when you can achieve surprising results in a matter of minutes with these ready-to use diagrams?
The pack has Over 750 unique PowerPoint diagram templates to help you visualize any business idea or concept quickly and creatively. Just 'Copy- Paste' and your presentations get ready in minutes.
Click here to learn more about PowerPoint Charts CEO pack…
Related: Boring List to Smart Graphics in PowerPoint
Return to Top of 3D Arrows PowerPoint with SmartArt Page