Home> Presentation of Data > Chart Templates in PowerPoint
There is no 'one right way' to represent your data. Discover chart templates in PowerPoint that show useful variations to express your message accurately.
Be Creative with Your Chart Templates
Many presenters have rigid views about using certain chart type to depict certain kind of information. Let us take an example:
One of the common requirements in a data presentation is to show total and its components. The requirements could be to portray…
Sales numbers of the country and the regions
Costs of a company split department wise
The usual way to represent such data is to use a pie chart as follows: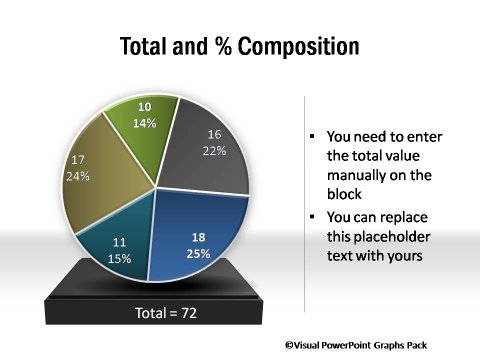 While a pie chart is a good way to depict the data, you can show the same information in other ways too.
In this article, we will explore some more interesting ways to show total and its components. Each option has its own advantages.
Related: Pie chart in PowerPoint: 3 Big Issues & Its Solution
Using Column Chart Templates in PowerPoint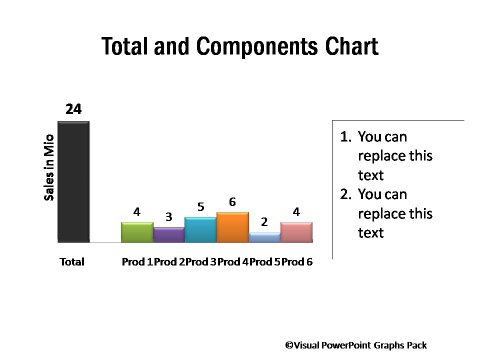 The above chart clearly depicts total and the share of components.
The chart is especially useful in cases where the number of components is more than 6.
Generally, when you have a large number of components to show – it is visually easier to differentiate heights than to differentiate angles in a pie chart (Use bar of pie or pie of pie variation, if you prefer to use pie charts in such cases).
The chart looks uncluttered and elegant. So, you can include it in newsletters and internal magazines.
Related: How Design for PowerPoint Slides differs from Print Design
Using Stacked Column Chart
Sometimes, you may want to show total and its components for multiple teams in the same chart. A useful alternative is to use a stacked column chart as follows: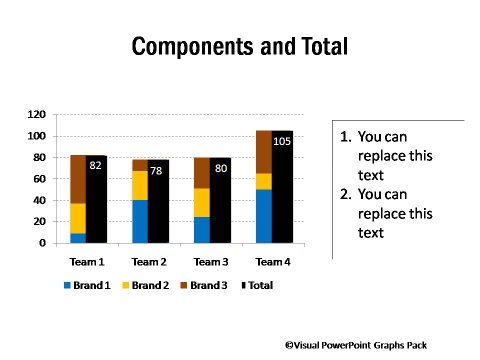 Source: Total and composition Charts from Visual Graphs Pack
You not only can see the percentage composition of individual teams, but also can compare the totals of different teams in the same chart.
A Simple Alternative using stacked columns: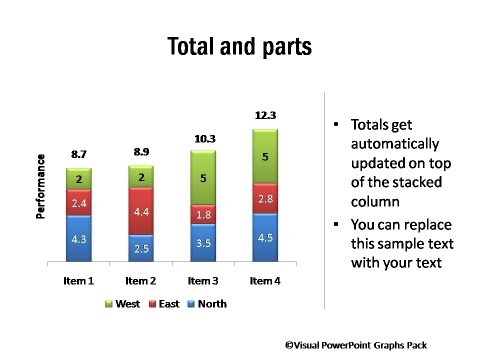 Such chart templates in PowerPoint provide a simpler alternative. They use stacked columns where the totals of the columns are displayed on top of the columns.
Inference:
As you could see, there is no 'one way' to show data in a business presentation. Having multiple alternatives helps you present your message in a more accurate and effective way.
We wish to share with you a useful resource that has tons of data driven PowerPoint chart templates to meet all your data visualization needs.
In fact, all the chart templates you saw in this article are part of the pack. Please click here to browse the collection from our 'Visual PowerPoint Graphs pack'. The pack has more than 320 data driven chart templates that are super easy to use.
Source: Jaws Graphs Comparing Products from Visual Graphs Pack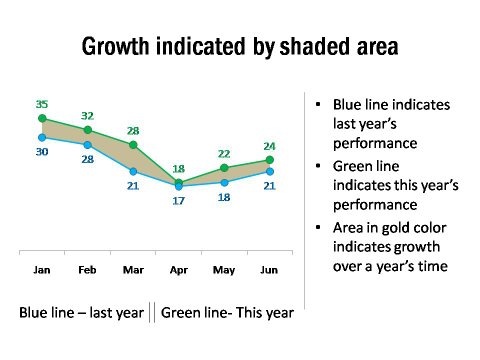 Source: Performance to Achievement Gap Comparison
Once you select the chart that captures the message you want to convey, you can replace the sample data with your own data. Our pre-formatted templates take care of the rest. Watch the demo here to see how easy it is to edit the templates.
Why waste time creating your data charts from the scratch, when you have such a high quality solution available off the shelf?
Related:Make Your Performance Graph Templates Memorable
Related: 5 Tips for Better Data Presentation