Home > Presentation Tips>  Create PowerPoint Presentations
Don't let your hard work in creating slides go waste. Learn a methodical way to recycle your PowerPoint slides and save loads of time.
Mindless Copy-Paste vs Recycling Slides
When pressed for time, most presenters resort to the Copy- Paste method to create PowerPoint presentations. They pick up some slides from HR department, some from marketing department, some from PR presentations and of course some from Google and make a new presentation and call it their own.
Such hybrid presentations lack a unique character or identity like this strange creature here…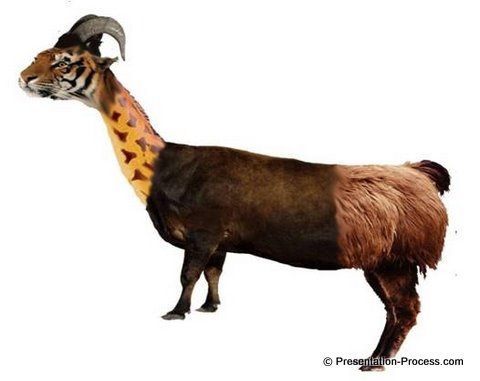 The reason why those presentations don't work is – the presenter wants to skimp on the effort and time to think through the presentation content.

However recycling slides is different. The idea here is to save the time and effort in building slides. It is not about skimping on the thinking involved in creating a logical story.
Shift in mindset needed to break down presentations:
Let me give you a quick analogy to make my point here.
When you construct a house, your entire focus is on the comfort and happiness of your family. But, when you break it apart to build a new house, you start looking at the house in a very different way. You start thinking about how you can reuse the antique door and the fancy doorbell in your new house.
The same kind of mindset is needed when you break down your old presentation to reuse elements in your new presentation to create invaluable presentation resources.
When you create a presentation, your entire focus is on achieving your presentation objective. But, when you break down a presentation, you need to evaluate the slide components for their re-usability. Let us see how we can go about the task in a methodical way.
Three type of slide components:
Slide components in a presentation can be divided into three types. They are
Fact based Slides
Design elements
Let us understand each one in detail.
Concept slides:
A concept slide is used to convey an idea. Examples are slides that explain a process, function, value proposition etc.
Concepts are usually explained by way of diagrams and visuals.  Sometimes, presentation analogies and metaphors are used to explain some tough to understand ideas.
Action point: create a concepts swipe file/ folder:
Create a folder to store all the slides that contain concepts and ideas. This swipe file will serve as a great inspiration, whenever you struggle to think of a simple and elegant way to explain your ideas.
In fact, make a habit of collecting good concept slides wherever you see them. They save you a lot of effort and help you create PowerPoint presentations – fast.
Fact slides:
These are slides that convey important data regarding your product, company or industry. They are helpful to keep your presentation current and credible.
Action point: create a facts folder:
Store all relevant facts and figures concerning your company and industry in a separate folder. Don't forget to quote the source of your information.
Design elements:
You derive the full value of recycling slides by reusing the design elements in your presentations.
Action Point – Reuse Title slides:
When we create title slides, we take a lot of effort to create the a well-designed one. The benefit is that the next time we need to create a title slide, we just select a specific photo in the title slide and replace it with a more appropriate one to suit the specific presentation.
Action point – Reuse diagram slides:
A good diagram takes effort to create. Every element is honed to create the right impression. It is a smart idea to reuse these diagram elements over and over again. You may replace the words, replace the icons and create new diagrams to suit your specific needs.
Since you know you'll reuse the elements, you can take the time required to make the right diagrams.

Source: PowerPoint Presentation Diagrams Pack
If you don't have the time to create them, you can purchase a high-quality Diagrams Pack. You can read through this article before you decide on a diagram template pack.
Conclusion on how to create PowerPoint Presentations Fast:
When you know how to create PowerPoint presentations by recycling, then, creating good presentations can be effortless. You can make your slides look extremely professional by making a onetime investment in the right template tools and reuse them forever in your business presentations.
Related: Presentation tips to avoid
Related: Tips to Make Your Presentation Flow