Home >All Tutorials > PowerPoint 2007 Tutorials > Hand Drawn PowerPoint
Create Hand drawn diagrams easily with PowerPoint. Follow our simple instructions to learn the secret behind creating hand drawn effect in PowerPoint.
Magic of Hand drawn PowerPoint Diagrams:
Hand drawn diagrams make complex concepts appear simple. They give a personal touch to your diagrams. That is probably why they are used so often in e-learning presentations.
Unfortunately, there is no tool available in PowerPoint that allows you to create hand drawn effect instantly. In this article, we will show you a simple workaround that gives a hand drawn feel to your diagrams.
The diagram template you will learn to create today is:

There are two reasons why the diagram looks hand drawn:
1) The lines of the drawing are rough and imperfect.
Here is the magnified view of the diagram:

It is the imperfection that gives the diagram its 'hand drawn' feel.
2)The font used for the text is – Segoe Print. You can use any other font that gives a hand written feel – to suit your need.

'Cut' the shape and paste it as '.wmf format' (Windows Metafile) using Paste special option.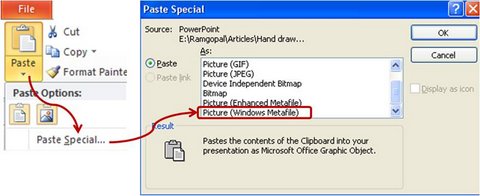 Right click on the image and 'ungroup' it twice (Yes – 2 times).
Delete the blank transparent box that holds the segments together. When you click on the ungrouped image, you can locate it on top as shown here:

You can separate the image into three parts:

Keep just the filled arrow portion and delete the rest.
When you fill the arrow with 'white' and give a thick dark outline to the shape, you get the following Hand Drawn PowerPoint Arrow:

Our hand drawn arrow is ready.
Step 2: Repeat the process for a circle

Related: Creative 3D Circle Diagram
Step 3: Finishing touches
Make multiple copies of the hand drawn arrow from step 1. Paste them by rotating the angles slightly. Stick the hand drawn circle from step 2 on the left. Add relevant call outs. Choose a hand written style font for the text.
Your final Hand Drawn PowerPoint diagram template should look like this:

You can create your own variations using chevrons, rounded rectangles etc. to suit your needs.
For More Innovative Ideas
As a business presenter, you may like to have instant access to a wide variety of hand drawn diagram templates to communicate your message quickly and effectively.
We are happy to recommend our Hand Drawn Graphics Pack with 300+ EDITABLE hand drawn PowerPoint charts.
Here are some samples from the pack:
Source: Hand Drawn Graphics
Source: Hand Drawn Growth Concepts from Pack
Source: Hand Drawn Concepts and Ideas

Why waste time creating your diagrams from the scratch, when you have such a high quality solution available off the shelf?
Do visit the Hand Drawn Graphics Pack page to find more such creative PowerPoint presentation ideas.
Related: Interesting Circular Arrow Alternatives
Return to Main 2007 Tutorials Page

Return to Top of Hand Drawn PowerPoint Diagram Tutorial Page