Home > Fear of Public Speaking>  Hand Gestures
Your hand gestures are probably the first indicators of your nervousness when you are on stage.
In view of this, let us see…
The three common situations where you are likely to show nervous gestures
Tips to control your movements during those situations and
The mistakes to avoid while correcting your nervous gesture
Let's dive right in.
Your hand gestures echo your thoughts
As humans we learnt to communicate with our hands long before we learnt to use words. Even today, we echo our words with hand signals, for reinforcement.
If your words indicate you are confident, but your hand gestures show you are not, your audience can sense the difference easily.
The good news is…
… you can control your tense hand gestures, and make a positive impression on your audience, by being aware of your anxious movements.
Unfortunately, most presenters are not aware of their nervous hand gestures, unless mentioned by someone from the audience.
So the first step in conquering your distracting hand gestures in public speaking…
…is to video record yourself, and observes the times where you show nervousness. You can also evaluate your personality type as a presenter to understand your strengths better and gain confidence.
From our experience, there are three situations where most presenters make nervous hand movements. If you control your presentation anxiety in these 3 situations you'll project confidence.
1. Nervous moments at the start of the presentation:
This is when presenters get self-conscious and wonder what to do with their hands.  So, they either put it into their pockets and start jangling their car keys or fold their hands across their chest in a defensive posture.
Defensive Body Language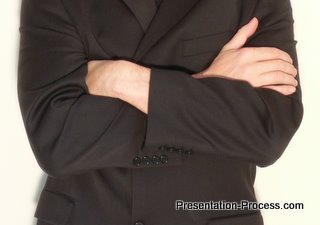 Variations include – standing with hands in fig leaf position or hands tied to the back like General Patton or wringing hands like they are trying to extract juice out of leaves.
How to control your initial hand movements and appear confident?
Choose one place where your hands are comfortable and practice standing that way at the beginning of your presentation.
Most professional presenters….
…keep their hands slightly bent forward, with elbows resting above their waist level. Their palms comfortably support each other. This is called the 'neutral position'.
Another comfortable position to stand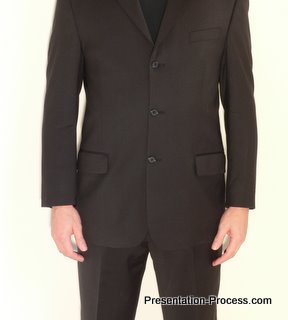 The idea is not to attract any undue attention to your hands and to establish eye contact with your audience.

2.  Nervous moments while moving from one idea to another
When you finish explaining a point and move to the next idea, there is a brief phase where you are not sure about what to say. That is when nervousness begins to grip you. Your fear triggers distracting hand movements. Relax, it is possible to manage public speaking anxiety.
What to do to gain control?
Remember to return to your 'neutral position' and throw a quick question to your audience on what you just covered.
While they are busy thinking…
…you will get your time to compose your thoughts and move to the next point graciously. As an added bonus, you get some nice audience participation to liven up your talk.

3.  Nervous moments during the question and answer session
Sometimes, the unexpected traps and loaded questions from your audience may leave you unsettled. Your hands may show your restlessness by wanting to clutch something for support. You can learn to handle tough questions with confidence.
How to control your nervousness during this phase?
Realize that you don't have to answer every question then and there. You can always park some questions and return to them when you have more information or better control of your emotions. This will minimize the number of 'unsure' moments and help keep your nervous gestures in check.
Stick to the scope of your presentation and give short and specific answers. This will help you control your nervousness to a good extent.
Learn more about this in show to answer tough questions with confidence.
Mistakes to avoid while correcting your gestures
While trying to avoid nervous hand gestures, never make the mistake of changing your natural style. Your gestures portray a picture of what you think. They reflect your character.
In fact, if your style looks too well-rehearsed and polished, you may come across as artificial and phony. That's why we don't suggest you practice anything beyond the 'neutral position' – to stabilize your movements.
In a nutshell…
Record yourself and notice your hand movements during the three common nervous moments. Practice the 'neutral position' to stabilize your nervous gestures.  Retain your natural style.
Above all, focus on your audience and your passion for your message – and your hand movements will take care of themselves.
Found this article from Presentation Process really insightful and different?
If you are really interested honing your presentation skills and working with detailed examples and exercises on everything from creation to delivery…
…we recommend, Powerful Presentations Presentation Skills Training in the form of a downloadable Video.
Business Presentation Skills Training Video

Business Presentation Skills Self-Learning Video + Slides
It teaches the comprehensive step-by-step process to create remarkable presentations. It covers everything from presentation outline, creating slides to delivery in a clear and simple manner. It's like having 2 days of high-quality training at your convenience.
With our 30-day risk-free guarantee, you have nothing to lose and everything to gain.
Buy NOW!
Instant Download | File: 137 MB Zip file with Flash, PDF & Pptx

Price : $125    $99 Only

Note: Your credit card account statement will show payment to PAYPAL*PRESENTN.
Read more about this training…
Return to How to Present Main Page