Home > Presentation Examples > Magnet Concept
Use the magnet as a visual metaphor. See the amazing conceptual uses of a simple horse shoe magnet diagram in your business presentations.
Drawing visual inspiration from everyday objects for your business presentations:
Creating the right visuals for a business presentation is always a challenge. You may toil for hours on end trying to visualize your 'business concept' – and yet achieve very little success to show for your effort. In such instances, it is a good idea to draw inspiration from everyday objects you see around yourself.
In this article, we will show you some amazing conceptual uses of a simple horse shoe magnet diagram.
The magnet concept:
A magnet can be used as a visual metaphor for attraction. You can use different properties of a magnet to portray different messages on your business slides. Here are some interesting concepts that can be communicated using the metaphor of a magnet.
1. Concept of attraction:
A magnet 'attracts'. So, metaphorically you can use it to communicate attraction of any kind. For example, here is a diagram template on attracting money: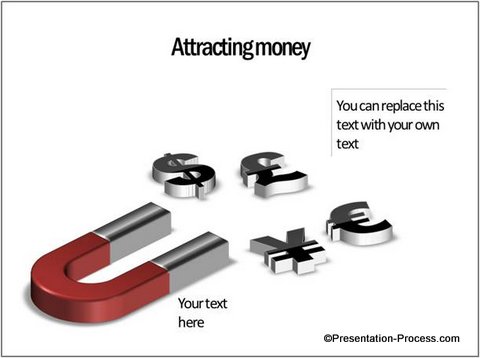 You can use it convey…
How your business idea is attracting investors from around the world
How your positive attitude attracts money
How your new product seems to appeal to new markets etc.
If you add the image a team on one side of the magnet and 'success' on the other side, you get a whole new concept altogether: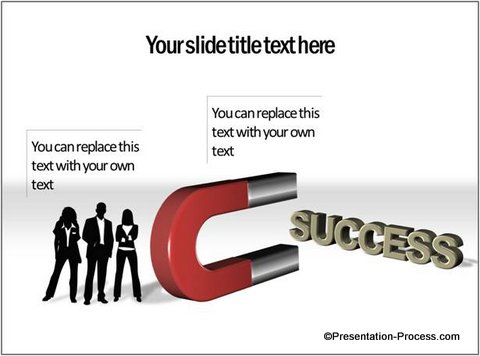 Related: Strategy Diagrams: 3 Creative Ideas In Powerpoint
2. Selective attraction
A magnet attracts elements selectively. It works as if 'it knows what it wants'.
This amazing trait of a magnet can be used to communicate business concepts that involve selective attraction. Take a look at the following magnet concept: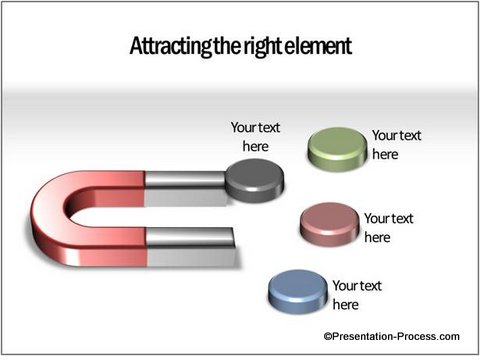 The coins could signify different things. For example, you can use the diagram to communicate…
The rules you use to select the right prospect for your business
The method you use to 'pick' the right choice from among various options etc.
You can add the silhouettes of some executives under the magnet, and your slide on recruitment is ready: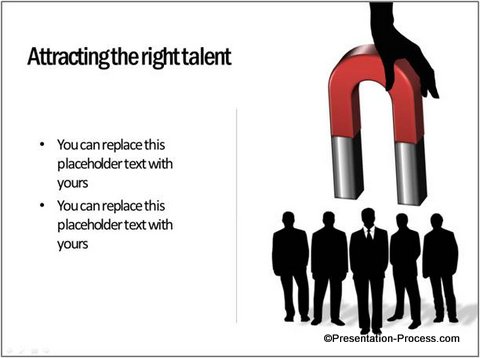 Related:  Useful PowerPoint Concepts: Lock and Key Diagram
3. Holding back
You can even talk about how your current situation is holding you back from achieving new targets. See this interesting diagram template that conveys the concept:
The uses of a magnet concept are limited only by your imagination.
Related :  Tutorial for a Stunning PowerPoint 3D Target 
Horse Shoe Magnet Tutorial using PowerPoint 2010:
It is surprisingly simple to create a horse shoe magnet. Just follow these simple steps:
Step 1:
Draw a rounded rectangle using the auto shapes menu. Adjust the yellow handles to get full curvature at the top. Make a copy of the shape.
Right click on the shape -> go to Size and rotation option -> Reduce the size to 60%. Change the fill color and remove outline. Place this copy in the middle of the earlier shape. You will get the following result:
Step 2:
Select the outer shape first and inner shape later while holding the 'shift' tab. Press 'Shape subtract' option: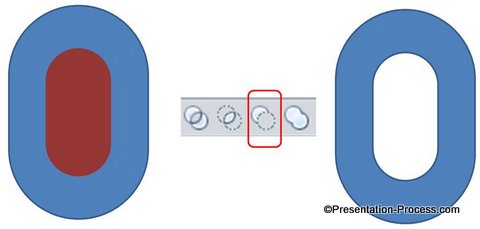 Step 3:
Now draw a rectangle along the bottom half of this shape. Select the earlier shape first and the new rectangle later while holding the 'shift' tab. Press 'Shape subtract' option: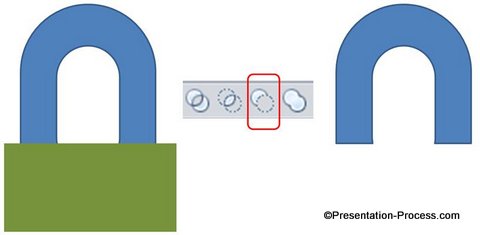 Step 4:
Now just add two rectangles at the bottom of each of the ends and your horse shoe magnet is ready.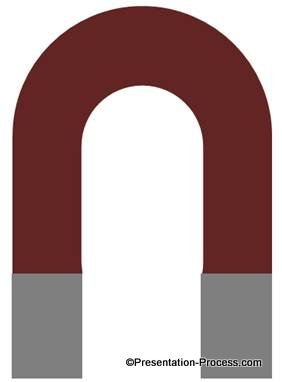 When you apply 3D perspective, you will get a visually attractive magnet like this:
Now, you can use the magnet concept to communicate any idea you want.
Related: Visual Presentations – The Right and Wrong Way
More ideas for business presenters:
Creating such diagrams can be quite time consuming for busy business presenters like you. That is why we came up with our '750+ PowerPoint Charts and Diagram templates pack for CEOs'.  The pack has more than 750 high quality diagrams that are fully editable. You just need to copy our diagrams to your slides and replace sample text. Your presentation gets ready in minutes.
Take a look at some of the samples from the 'CEO pack':
From Confustion to Clarity  | Concept of Discussing Issues

Team Concepts: Pulley Metamphor &  Team Motivation

Source: PowerPoint Concepts from Charts & Diagrams CEO Pack
Why waste time creating diagrams from the scratch, when you have such high quality diagram solutions available off the shelf?
Spend your valuable time on sharpening your presentation content rather than toiling with diagrams. Please browse through our diagrams collection and see how the pack can change the way you create your business diagrams forever.
Related:Visual Presentation Ideas: Amazing Clock diagram
Related:  How to get ideas for Charts and Diagrams from everyday life 
Return to Top of Magnet Concept Page
Return to Main Page to See More Ideas