Home > Presentation Ideas>  No PowerPoint Please!
Audiences sometimes,have a mental block when it comes to PowerPoint® slides.
We've seen posters in conference rooms saying " No PowerPoint, please!".
They believe that without PowerPoint, one can communicate better.
We believe that saying no power point slides is attacking the wrong problem. You can't blame the tool when it is used wrong.
However, if you are a presenter with a – no slides policy- then this no power point section is for you.
In this section, we will show you how to make effective business presentations without powerpoint.
You'll learn a lot of different methods to convey your ideas by involving your audience in your presentation.
Want a glimpse of what you'll learn in this section? Here it is…
Say it with a pencil
Did you know that…
You can make convincing presentations on the back of an envelope?
You can win over a tough crowd with a humble board marker?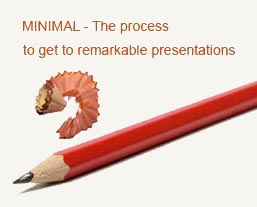 Yes. You can grab your audience's attention, persuade and move them into action, when you unleash the power of PowerPoint diagrams.
You can use this skill to…
Explain a complex strategy to top management or
Excite your team about the new incentive plan or
Make a business presentation to your clients.
No one (absolutely no one) teaches you this "no power point" skill anywhere else.
You don't need to have artistic skills to draw insightful diagrams, because the process we teach you has everything to do with your thinking skills and not your artistic skills.
Say it with 3 minute games
Did I hear you say- "Me creating games?! Forget it!"Most people who attend our workshops felt the same, till they experienced the amazing impact a simple 3 minute game had on their audience.
Let me assure you, A-N-Y-O-N-E can learn this method in a matter of minutes. You'll learn to make a lasting impression in your audience's mind, just by using materials readily available in a meeting room.
We'll teach you the process in a simple step-by-step way.
Again, No one teaches you this invaluable skill, anywhere else.
Whether you are a trainer or a business manager, you'll find that these games convey a lot more in 3 minutes than a 3 hour presentation using power point slides.
Apart from the above two methods, you'll learn a number of small ideas and techniques to communicate your message without clicking a mouse.
Return to Top of No Power Point Page

Return to Main Presentation Ideas Page