Home > PowerPoint Tutorials > Special Effects > PowerPoint Gradient Fills
Discover the common applications of default presets in Gradient Fill option. Get inspired to use the presets the right way for your business presentations.
A quick word about PowerPoint Gradient Fill Presets:
A gradient fill is a gradual blend of colors. The extent of mix of colors depends on the position of the stops. While you can create your own gradient fills by mixing colors of your choice, PowerPoint makes it easy for you to add gradients to shapes, by including a set of readymade presets. The following are the standard gradient presets that come with the software.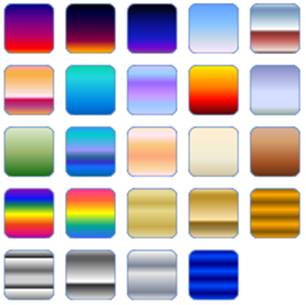 In this article, we will take a look at the applications of these standard presets in presentations.
The set that is most useful for business graphics:
While there are 24 gradient presets that come with the software, a few of them seem to have more applications in business presentations than the others. The set is:

 Let me share with you some example diagram templates taken from our 'PowerPoint Charts and Diagram Templates pack for CEOs' where we used the presets.
Here is a pillar diagram template that uses a variation of the preset called 'Chrome II':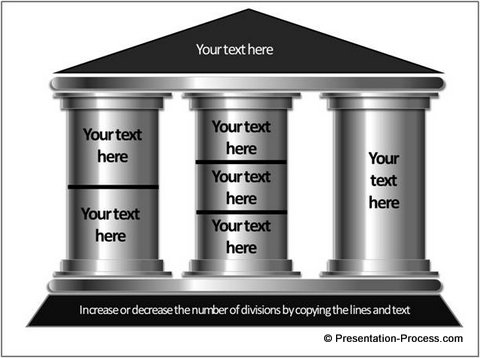 The following diagram template uses Gold preset to create circular platform: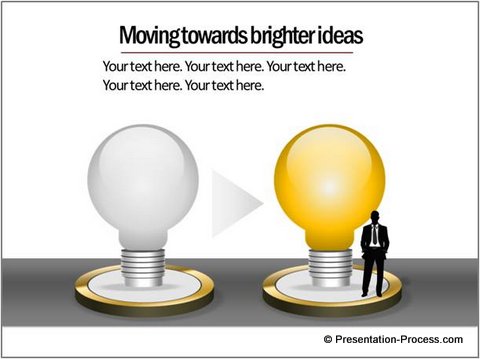 Source: Concept templates : CEO Pack  1

In the diagram template given below we used Gold and Silver presets: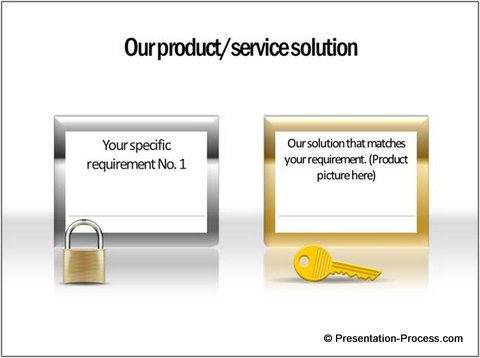 Source: Concept templates : CEO Pack  1
The metallic PowerPoint gradient fill presets are not only useful to shade shapes, but also are useful to color the frames as shown in the examples above.
Related: Creating PowerPoint Picture frame
Presets useful to create Graphics:
There are certain Gradient fill presets that are appropriate only for certain situations. For example, take a look at the following diagram template: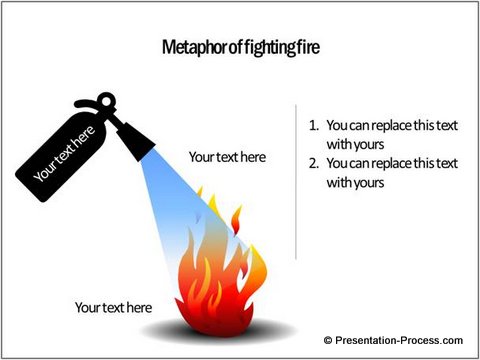 Source: PowerPoint Metaphors from CEO Pack 2
We used the preset called 'Fire' to achieve the result. There are not many other business situations where we would like to use such strong colors to fill shapes.
Presets with narrow range of applications:
Unfortunately a large number of presets in gradient fill are very specific in their application context. For example, take a look at these rainbow presets. You can't possibly use them anywhere apart from creating a rainbow or a CD graphic: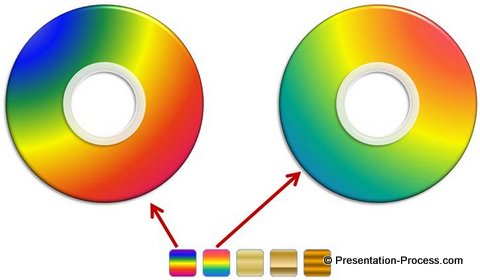 The same way, there are presets that can possibly be used only to shade skyline as follows: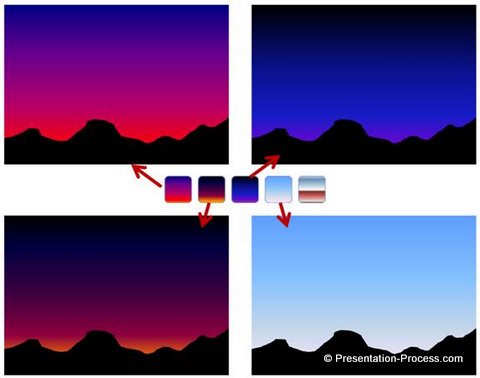 Since most business presenters use stock photos for such applications the presets are rather redundant.
The kind of preset you use depends on the specific need of your business slides. Most presets can't be used without making some adjustments in stop positions. However, presets are a good starting point from where you can refine the type of shading.
You may also like: Visual Diagram Idea: The Amazing Signal
Smarter option for business presenters:
Working with gradient fill to achieve professional results takes time and effort. Most business presenters don't have the time to experiment with the options to get the best results for their graphics. That is why we came up with our 'PowerPoint Charts and Diagram Templates for CEOs'.
We have done all the hard work for you in choosing the right gradients and shapes. You just need to choose the template that matches your thought, replace the sample text with your own text and your business slide gets ready in no time.
Since all the 1600 premium charts, graphs, graphics and diagrams in the pack are fully editable – you can even pick elements from different slides to create your own diagram templates. Creating business presentations has never been easier.
Why waste time creating your diagrams from scratch, when you have such a high quality solution available off the shelf? Please browse through our diagram templates collection and see how the CEO packs can change the way you create your business presentations forever.
Related: Create Hand Drawn Sketch Effect
Return to Main Special Effects in PowerPoint Page