Home > Presentation Concepts > Presentation Examples
In the following before and after presentation makeovers, you will see the difference visual diagrams can bring to your PowerPoint slides.
PowerPoint Makeover Examples
Visual Presentation Makeover
Topic : Social Media
A practical example of converting a text based slide on impact of social media into a visual presentation using a simple powerful diagram.
Visual Diagram Makeover
Topic : Managing Email
Convert a text based slide into simple powerful visual diagram. See the significant difference in impact between the two formats.
Boring Table To PowerPoint Diagram
Topic : Business Presentation
See a presentation example of how you can makeover a boring table into a simple PowerPoint diagram. See the difference in clarity and effectiveness of the message.
Visual Concepts Example
Topic: Computing Interest
Learn how to simplify complex ideas by expressing them as Visual Concepts. In this article, we will makeover a standard text based slide you would see in any training or corporate classroom.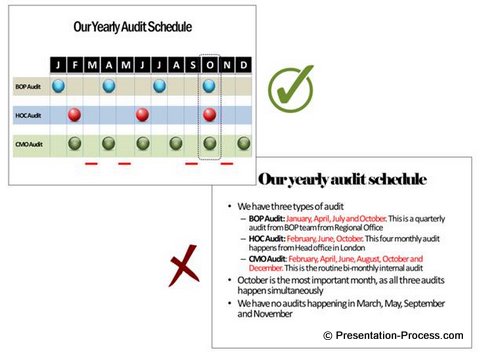 Visual Audit Presentation Makeover
Topic: Yearly Audit
An example of how a boring text based slide on the topic of yearly audit schedule can be made more interesting and clear by organizing information in a visual way.
Information Visualization Makeover
Discover 3 steps to visualize information better. Move from the usual text based slides to memorable visual presentations easily.
A Quick word about Presentations
Most presenters usually don't go beyond listing points as a standard bullet point. They stay with the standard text formats provided by their presentation software.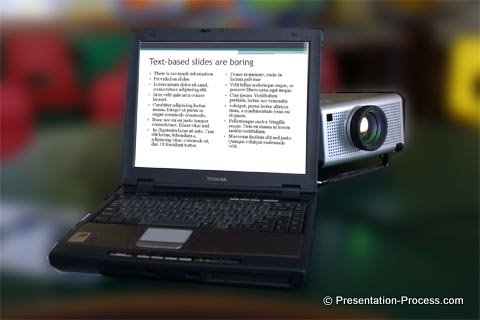 Why create visual presentations?
Audiences today are over-communicated. They are therefore inattentive when faced with the regular text based slides. Over time, with the experience of creating critical business presentations, we have found Visual Diagrams to be a powerful tool.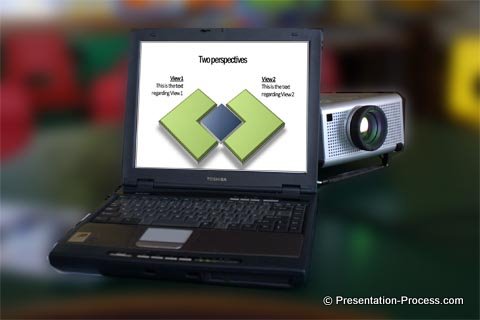 Visual Diagrams have multiple advantages.
Add depth to your ideas:
Diagrams are not only visual but they help to add depth to the core idea.
Truly Professional:
Diagrams can create an impact in the any serious presentation. Unlike clipart or generic images, they keep the presentation focused and professional.
Really Versatile medium:
They are extremely versatile and can be used to explain any situation or process. You also dont need to spend time looking for an exactly matched photo to represent an idea.
Audience focused:
A good diagram makes your information easy to absorb, puts your audience at ease and creates the curiosity so they listen to your presentation.
In our Visual Presentations eBook, we show you how to create visual diagrams with our proprietary 3 step process. There are multiple before and after business presentation examples to ensure you can learn the simple process thoroughly.
Return to Top of Presentation Examples of Making over Slides Page