Home > PowerPoint Tutorials > Special Effects > Silhouettes
Learn to create useful a silhouette in PowerPoint in a matter of seconds. Watch and learn from this simple PowerPoint tutorial video. From version PowerPoint 2010 onwards, Microsoft has integrated a lot of features that were available in image editing software and made it easy for any presenter to achieve professional results easily.
The transformation you'll learn to make is: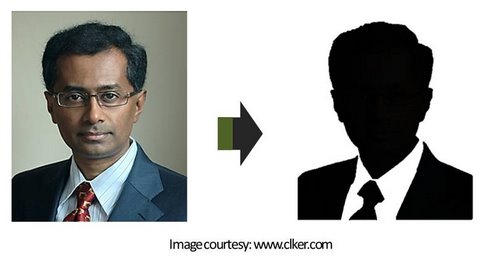 The result you get from the method is quite stunning. You don't have to learn any advanced image editing software to achieve this result.
Where can you use this?
Such shapes are highly useful to add emotional context to your slides. They can help you avoid making unintentional racial or cultural reference when you present to a global audience.
Business such black and white images help you keep the discussion at a conceptual level, while helping your audience imagine themselves in the situation you portray.
Take a look at some PowerPoint templates below to get ideas on how to creatively use the black and white images you will learn to generate.
Here are some of the situations where you can use silhouettes:
Use them to capture a business dilemma as shown in the following template. The small figure also acts as a visual cue by making the boxes and world map look large in comparison.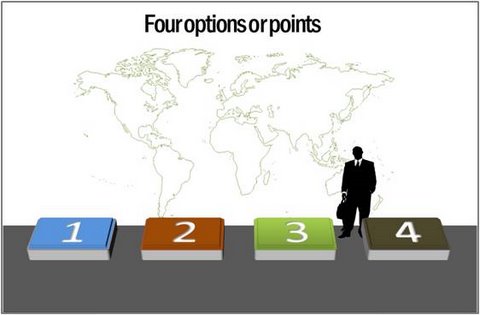 Source: PowerPoint Lists from CEO Pack 1
Use them to portray conversation between various stakeholders or groups of people like in this diagram.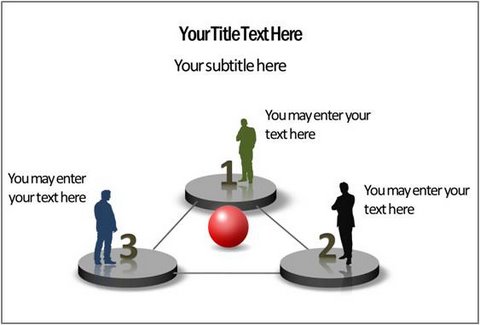 Use these profiles to capture the life cycle of an organization or brand. As you can see, figures add depth and meaning to the change over time depicted here.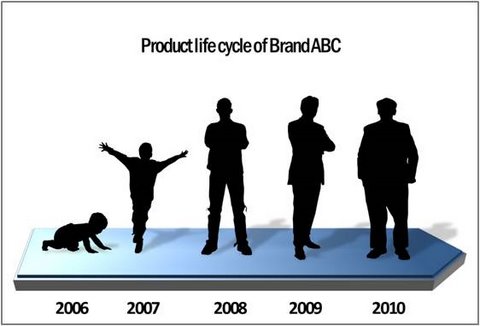 Source: Product Life Cycles from CEO Pack 1
Use black and white images to capture any kind of emotion as in this presentation diagram for question and answer session. Since you won't be using photos of real people your audience won't be distracted by the images.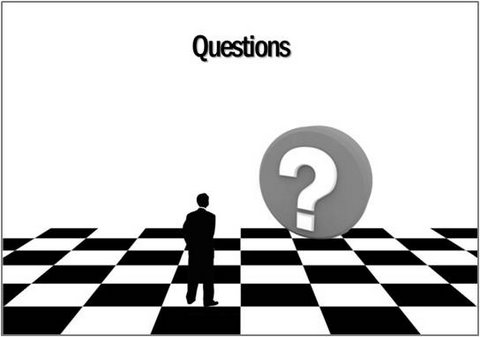 Source: Questions Slides Templates from PowerPoint CEO Pack 1
The best way to use such figures is to combine them with other elements in a slide. You can see how the following template captures the contemplation of a business executive. The diagram of SWOT analysis combined with 3D text of Business captures the mood correctly.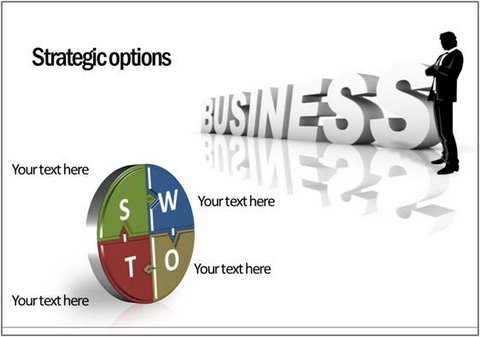 Source: SWOT Templates from PowerPoint CEO Pack 1
Now that we have seen how creatively the versatile images can be used…
Watch the video below on how to create a silhouette from any image in PowerPoint
Click PLAY to watch the following video to create the portrait silhouette in PowerPoint 2010:
This video has voice over. Please turn up the volume.
Some additional comments on the video:
The video can also help you learn how to remove background in a photo.
Remember, Set transparent color option available in the earlier versions of PowerPoint can't help you remove backgrounds shaded in gradients. That's why this 'Remove background' option in PowerPoint 2010 is a great addition.
Making silhouettes is quite easy when you use photo editing tools like Photoshop. If you are familiar with the software, there are a number of useful business silhouettes available for free at All-Silhouettes.
Conclusion:
In a business presentation, many times your slides represent the clarity of your thinking. A good presentation can be the difference between winning a deal and losing it.
The time you spend in learning our tutorials is definitely worth it.
Related: Roadmap in PowerPoint with Milestones
Return to Top of Silhouettes PowerPoint Page