Home  > Slide Design > Creating Slide Background
Learn the things you should consider before choosing your slide background. Avoid the traps that waste your precious time and effort.
The trap called 'Cool backgrounds':
Take a look at these presentation backgrounds. Don't they look cool?
While these backgrounds look attractive when you look at the slides in isolation or with dummy content, they look quite unprofessional when you put your content on them.
The same holds good even when you buy PowerPoint templates from certain sites. Take a look at this purchased template for example:
Most slide backgrounds are designed assuming that you'll include only text content in them. They look messy the moment you include use some graphs, diagrams and images.
So, here is our recommendation:
---
Choose a plain white background for your slides
---
You may want to add a rectangular bar at the bottom or on the sides – to include some essential details about the slide numbers or section title.  But, as far as possible, keep the main body of the slide a a clean white.
Here are a few reasons why we advocate a clean white background for your slides:
1.    White background gives you an opportunity to use isolated images
Take a look at these two slides:
The slide on the left looks clean with the isolated image of a chess board. If you want to use the same image on a fancy background using 'Set Transparent Color' option you get a very messy result. Take a closer look at the result here:
Read: 5 ridiculous ways to use PowerPoint Images
2.    White background makes your graphs look cleaner:
Take a look at the following comparison: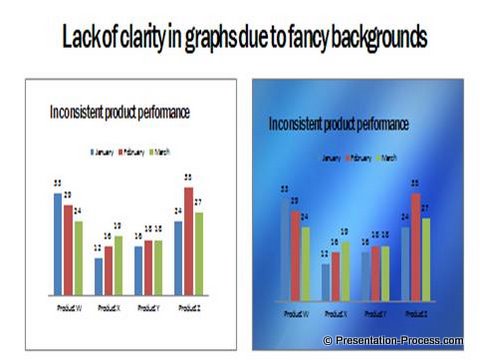 When you use a complex background you need to keep tweaking the color palette for every design element on the slide to make it look harmonious with the background. It not only wastes your time, but also gives a poorer result compared to a plain white background.
Remember, white goes with just about any color you choose.
Read: How to use graphs and charts with impact
3.    White background makes your diagrams look more professional
Take a look at the following two slides:
We used the same diagram (from our 301 Mega PowerPoint diagram Templates pack) in both the slides. But, in the second option, the attention of the audience is diluted by the strong color of the background.
Sustaining audience attention is a tough job already. Why do you want to make it tougher by using a complex background?
If you must use some color in the background of your slides…
Here are a couple of alternatives to clean white background:
Use a slight gradient of a neutral color in a light shade. Example:
We used a linear gradient fill with 3 stops. In the first 2 stops we filled white. In the third stop we used a light blue shade. You can choose any other light color to break the monotony in the look and feel of your slides.
Read: PowerPoint Tutorial on how to create your own PowerPpoint Template
Even if you do use a fancy background make sure that the body of the slide is left clean. For example:
If the title template you chose is like the one below, let the body of the presentation have slides with clean white body content as shown here:
Recommendation: To know more about matching title templates and slide backgrounds, you can look through our 12 professional PowerPoint Title set collection here. You can learn from looking through the professional template sets there.

Conclusion about using a Slide Background:
So, while selecting a slide background keep in mind the various visual elements that will be includedin your slides later. As far as possible, keep the body of the slide completely white, so it does not affect the look and feel of your critical visual elements.
If you are looking for good PowerPoint templates with professional backgrounds to make your presentations look good, we recommend you to visit www.buyapresentation.com. Our sister site has some stunning PowerPoint templates that add strength to your content like these….
Source: BuyAPresentation
Source: BuyAPresentation
Return to Top of Creating a Good Slide Background Page
Return to main Slide Design Page