Home  > PowerPoint Slides > Slide Design: Connector Slides
When designing slides, presenters need to realize that there are 3 different types of slides and each type needs to be dealt with differently to make it more effective. This article shows explains the difference with examples.
In slide design, presenters typically concentrate on making the slides more beautiful. However, this doesn't always help the presenter make the slides more effective or engaging. Take a look at this slide example of Earthier Travels. They have made over their key proposition slide:

We haven't added any value to the slide with the picture or the design. The audience attending the presentation gets distracted by the image and dark background instead.  As we go ahead in this section, we will also see why this makeover did not add any value to the audience.
It is mainly because…
There are 3 different types of slides
You can classify the typical slides presenters use into 3 types. Based on the type you decide how it needs to be structured. You will know whether your slides are effective and what you need to do to make them better.
We classify the type of slides based on their content. The 3 types of slides are:
Most presentations are a combination of all 3 slide types. Let us see each slide type in detail.
Slide Type: Connector Slides
These are slides that connect the presentation story and make it flow. Connector slides include title, sub heading slides, agenda slides, thank you slides, question and answer session slides, introductory and closing slides. These slides in themselves do not add anything to the presentation content. But they ensure that the presentation looks good and hangs together.
When you have connector slides in your presentation, you should focus on 'beautification'.  Ask yourself these questions:
Does the title match the subject of the presentation?
Does it look good?
Are there images or visuals to add an impact?
Does it help the presentation flow or hang together?
Do they draw the right emotions from your audience?
Here are 3 ways to 'beautify' your connector slides
1. Use a metaphor or analogy to make the slide interesting.
For example, here is a creative presentation agenda slide that is made more appealing with the use of an analogy. This analogy also ensures that audiences remember the key points easily.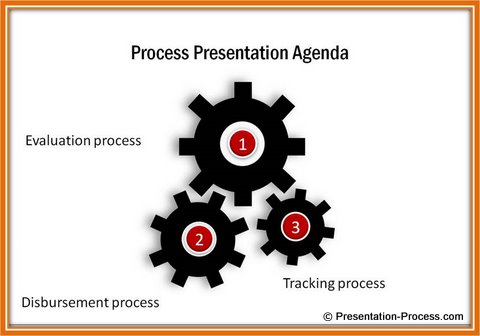 Source: 301 Mega PowerPoint Diagrams
2. Use a high-quality image to draw audience emotions
A high-quality image draws audience emotions. A good sub-heading or a connector slide can add an element of emotion to any number-based or logical presentation.  It also provides visual relief without taking away from the key point being made.
You can get high resolution images from the Microsoft website for use in PowerPoint. There are a number of other sites that provide royalty-free images that you can use in your presentations.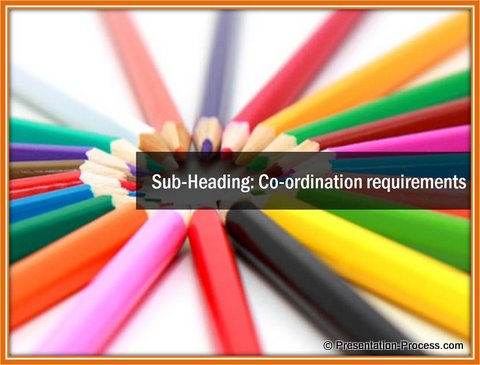 Source: Public Domain Pictures
3.  Use Pre-Designed Professional Templates
This is a very important consideration in the welcome or Title slide. This is the slide that the audience sees when they enter the meeting room. It sets the tone for the presentation and well as the topic. A boring and standard title slide design makes a negative impression on your business audience.
There are a number of websites that sell premium Presentation Titles. You can check the ones relevant to your industry and presentation and use them. Here is an example of a business PowerPoint slide taken from our own PowerPoint Title pack.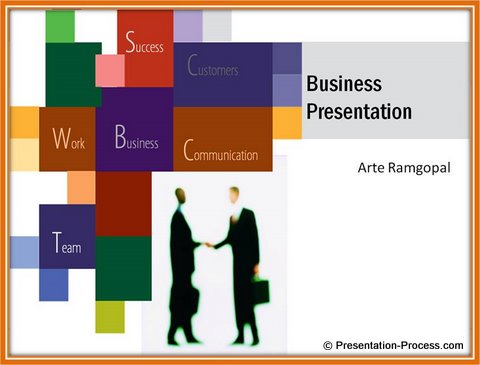 Source: PowerPoint Title sets
As you can see, connector slides benefit from being made more beautiful.  However, the main part of the presentation is made up of idea slides and information slides.
Idea slides are those that represent a concept like a slide that presents strategy. Information slides are simply those that present any form of information like lists, tables, charts and diagrams.
This is the also, the reason why making over the Earthier Travels slide above which was an 'idea' in the using images and design (beautification) did not help. We will cover other slide types and how their slide design principles in another article.
Return to Top of Designing Slides for Connector slide Page
Return to Main PowerPoint Slides