Home >  Presentation Design> Slide Layout
Let start with a question on slide layout…
Have you ever seen presentations with a lot of content on each slide? It makes you makes you wonder, "Where should I look first?"
When there are charts, text and pictures all in one place, audiences get confused. Realize that, such complex violates all principles of good presentation design.
Example of complex layout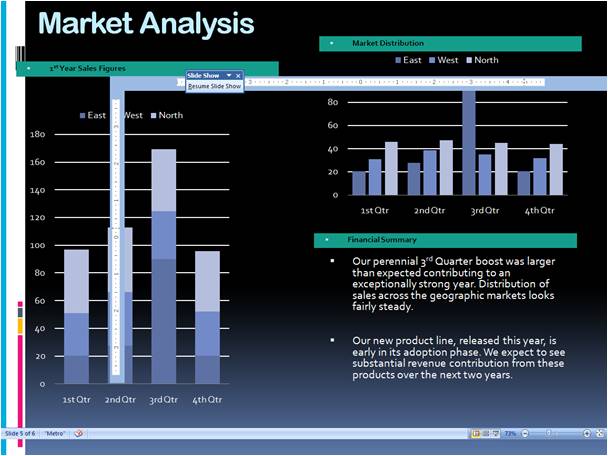 Most presenters assume that they are showing their expertise with such complex information on their visual aids.

They forget that presenting their material in a way audience can grasp quickly is a critical part of an effective presentation.
What is the real issue?
The reason why audience get disoriented and lose attention with complex visual aids is the way they usually read.
When reading, eyes typically travel in the following order:
From left to right
Top to down and lastly
Clockwise
See Eye Movement chart summary below…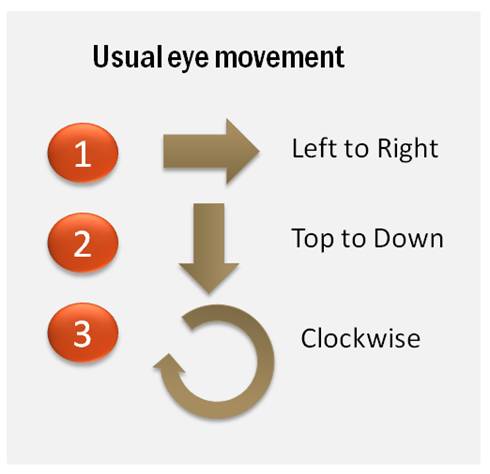 Given this order of reading, can you imagine how confused the audience becomes when reading a lot of content in one place?
What is the better way to layout a slide?
The best layout is one that is Minimal®.
It has content placed in a way that anyone can read easily. Your aim is to always keep the audience focused on your message.
It does not matter what kind of presentation software you are using – Power Point or Keynote or Open Software.
The Rules for PowerPoint slide layout
1.    Follow natural eye movement:
Place content in any one direction –left to right or top to bottom. This keeps it simple for audience eyes to follow.
2.    Two is company, three is a crowd:
If there are more than 2 types of elements on the slide, it is probably too complex.
By elements, I mean a text box or graph or an image.
Adding a new slide does not cost you anything. So the next time you open up your presentation, remember to process the information yourself and make the content easy for your audience to understand.
Your real task as a presenter is to keep your audience focused on your message.
Return to Top of Slide Layout Page