Home > Presentation of Data Page>Visual Metaphors
Find some interesting ideas on using metaphors for your PowerPoint charts. Add visual interest to your data charts and make your message memorable.
Quick word about Visual metaphors:
One of the most effective ways to make your audience visualize and understand complex concepts is to use simple and relevant metaphors. (In case, you didn't notice – 'one of the many ways' is a metaphor).
Many popular business charts like Pie chart and Doughnut chart are already based on metaphors. In this article, we will explore some more useful charts that are derived from visual metaphors.
Note: All the data driven chart templates you see in this article are from our 'Visual PowerPoint Graphs' pack. The pack has 320 business relevant graphs that are super easy to use. Just replace sample data in the embedded worksheets and the charts update themselves. Making effective data presentation slides has never been easier.

Marketing Funnel Chart
This chart uses the metaphor of a funnel to illustrate percentage conversion across each step of the sales process: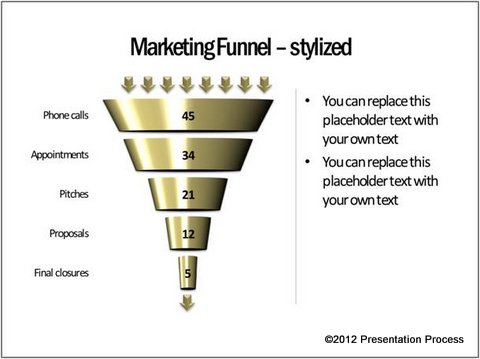 Source: Marketing and Sales Funnels From Graphs Pack
The concept is so simple and intuitive that anybody can understand the significance of numbers shown in the chart.
If you are a business manager, it is helpful to have a pre-formatted chart template of the funnel where you can just input relevant numbers and the chart updates itself. You can even have this chart as a standard part of your performance dashboard (Metaphor again!).
Speedometer chart
The following chart uses the metaphor of speedometer to show performance against predefined qualitative parameters: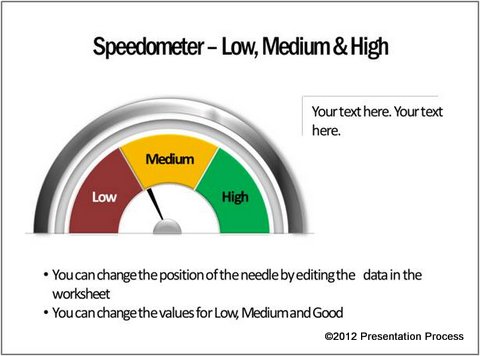 In one quick glance your audience understands the significance of your performance numbers. If you preformat your speedometer chart, you can update the position of the needle by changing just a single number in the accompanying worksheet.
The two charts you saw above are quite commonly used in business presentations. We wish to show you a couple more chart types that use interesting visual metaphors.
Related: Creative Speedometer Chart Ideas
Iceberg chart
The following chart uses the metaphor of an iceberg floating in water. When you see the chart you can easily understand why the chart is called so.
Source : Conditional Charts from Visual Graphs Pack
This conditional chart shows data labels for values that are above a certain benchmark. It is easy for the audience to quickly identify significant data points in a large data series.
Water bubbles chart
The following chart uses the metaphor of water bubbles rising out of water.
Source: Winners and Achievers Charts from Visual Graphs Pack
This conditional chart shows performance numbers that are above and below certain target benchmark. The bubbles under water show poor performers, the bubbles floating above the surface are winners.
Interestingly, these conditional chart templates are quite easy to update. Just input your performance numbers and target benchmark number. The chart updates itself automatically.
Smart option for business presenters:
Data driven charts with visual metaphors not only add visual interest to your business slides, but also make your message memorable. However, it is not easy to create these charts from the scratch each time you want to make a data presentation. That is why we came up with our 'Visual PowerPoint Graphs Pack'. The chart templates are preformatted. So, you can make stunning charts in seconds. Please take a look at this demo page to see how easy it is to update the chart templates.
So, why waste time constructing your charts from the scratch, when you have such useful resource like 'Visual Graphs pack' available off the shelf?
Related: Creating Survey Reports In PowerPoint
Return to Top of The Visual Metaphors for PowerPoint Charts Page